'Pokémon Go' Suicune Raid Day: Start Time, Counters and Everything You Need to Know
The completion of the Global Challenges in Pokémon Go has unlocked a special Suicune Raid Day event in the popular mobile game.
For a few hours, Pokémon Go players will be able to take on as many Suicune as they can find in Raids. It also marks the debut of Shiny Suicune in the mobile game.
If you're looking to take advantage of the special Suicune Raid Day event in Pokémon Go, here's all the information you'll need including the start and end time, how to determine if you've found a Shiny Suicune and the best counters.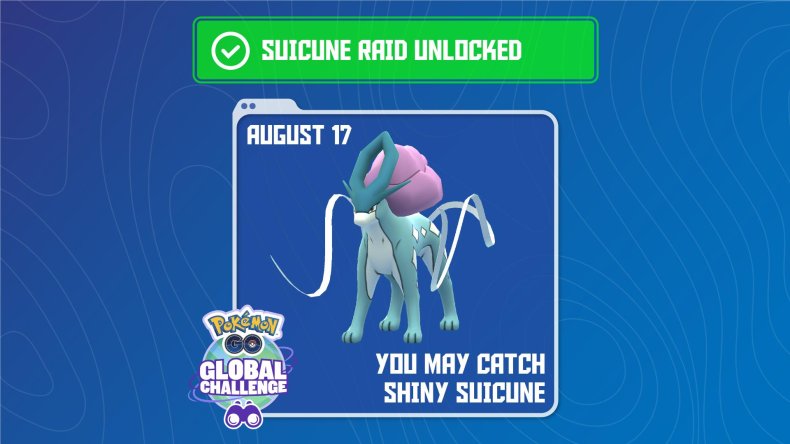 WHAT TIME DOES SUICUNE RAID DAY START AND END?
Suicune Raid Day begins Saturday, August 17 at 4 p.m. local time and, while Niantic hasn't confirmed when the event will end, past Raid Days lasted for three hours. Expect an end time of 7 p.m. local time.
HOW TO GET SHINY SUICUNE
Shiny Suicune makes its debut in Pokémon Go this Sunday, and to catch it players need to battle and defeat the Legendary in Raid Battles during the event.
Players won't know whether the Suicune they can catch is a Shiny until they defeat it in battle and get to the capture step. Shiny Suicune is a little different from its original coloring. While regular Suicune is light blue and purple, its Shiny turns the purple parts into more of a dark blue. Trainers should check for the shiny symbol as well, which will appear next to Suicune's name.
Trainers will receive up to five free Raid Passes, so be sure to go to each one when you can on Saturday.
BEST SUICUNE RAID BOSS COUNTERS
Suicune is a pure Water-type Pokémon making it weak to Grass and Electric-type attacks. It can resist Ice, Water, Fire and Steel-type attacks, so try to avoid using Pokémon that have those types of moves.
Also, you'll want to bring at least two friends with you into battle as these Legendary Raids often need as much power as possible to complete.
Here are the best options to take on Suicune in Pokémon Go Raids:
Electivire with Thundershock and Wild Charge
Raikou with Thundershock and Wild Charge
Zapdos with Thundershock and Thunderbolt
Magnezone with Spark and Wild Charge
Luxray with Spark and Wild Charge
Roserade with Razor Leaf and Grass Knot
Sceptile with two Grass-type attacks (preferably Frenzy Plant)
Mewtwo with Confusion and Thunderbolt
Venusaur with two Grass-type attacks (preferably Frenzy Plant)
Breloom with two Grass-type attacks
What Pokémon are you going to bring into battle with Suicune? Let us know in the comments section.