'Pokémon Go' Community Day: Shiny Swinub, Star Time, Mamoswine and More
It's time for another Community Day event in Pokémon Go. This time, the Ice and Ground-type Pokémon Swinub takes the spotlight on Saturday.
For three hours, trainers will have more opportunities to catch a Swinub (or lots of them) and have the chance to catch a Shiny Swinub for the first time. However, this event also marks the first time Mamoswine can be obtained in the popular mobile game.
Here's all the information you'll need need to know about the Swinub Community Day.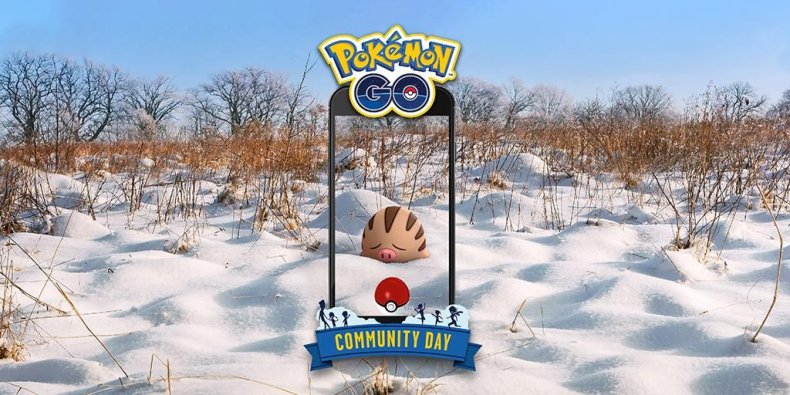 POKEMON GO SWINUB COMMUNITY DAY START/END TIME
The Pokémon Go Swinub Community Day events begins at 2 p.m. EST on Saturday, February 16 and ends at 5 p.m. EST .
SHINY SWINUB
Like past Community Day events, Pokémon Go players will get a brand new Shiny Pokémon to try and catch. Since it is Swinub's Community Day, it's only right that the Ice and Ground-type Pokémon will get its Shiny version.
Shiny Swinub is a noticeably different color from its normal counterpart. Swinub is usually brown but the Shiny is lime green, which stays that way through its evolutions.
Pokémon Go trainers should note that Swinub will not appear Shiny in the overworld, you'll need to engage with one to see if its the special one. A Shiny icon will appear next to Swinub's name if it is.
MAMOSWINE
Many older generation Pokémon received evolutions with the Sinnoh Region and Piloswine, Swinub's evolution, is one of them.
In Pokémon Go , most of the evolutions from Gen 4 have been introduced but Mamoswine will finally be obtainable during and after the Swinub Community Day event.
ANCIENT POWER
This Community Day's exclusive move is Ancient Power. While the Rock-type attack may not be as special as Hydro Cannon or Blast Burn, Niantic has tweaked how Ancient Power works in the mobile game.
Ancient Power, Ominous Wind and Silver Wind will gain their mainline Pokémon game effects, and have a chance to increase the stats of the Pokémon that uses it in Trainer battles. This will give Mamoswine some extra bulk and attack power if you're lucky enough to activate it.
Pokémon Go players will have up to 6 p.m. EST on Saturday to teach their Mamoswine Ancient Power.
IN-GAME BONUSES
Lures during the Community Day event will last three hours instead of the usual one, and trainers will benefit from the triple stardust for catching Pokémon during the three-hour event.
Trainers can also get an abundance of Sinnoh Stones during the event by battling trainers and Team Leaders.
Are you excited for the next Community Day? How many Shiny Pokémon do you have? Let us know in the comments section below.