A new event is about to begin in Pokémon Go and with it brings new Shiny Pokémon into the popular mobile game.
Niantic is partnering with World Tourism Organization as one of its global Affiliate Members network to support innovation in the tourism sector by identifying trends and new ways of traveling in a digital world.
"At our General Assembly, UNWTO expressed its commitment to embracing technology and innovation in order to make our sector more sustainable, more inclusive and a real driver of social and economic change," said Zurab Pololikashvili, UNWTO Secretary-General in a press release. "This exciting new partnership with Niantic will help us meet these goals. I warmly welcome them into our Affiliate Members network and I am confident UNWTO and Niantic can work together to help transform the way we travel and better promote the many benefits of responsible tourism."
"We're excited to be part of UNWTO's global Affiliate Members network where together, we'll be able to expand our collective goal of promoting global tourism through the use of innovative technologies," said Anne Beuttenmüller, Niantic's Head of Marketing in Europe in a press release. " Real world games have proven to have an incredible impact on cities and communities around the world and we're honored to help raise awareness by providing Trainers in Pokémon GO access to a new in-game UNWTO shirt for their avatars to kick off World Tourism Day 2019."
This partnership celebration will bring permanent changes to Egg pools as well as temporary bonuses in-game. Here's everything you need to know about this upcoming event in Pokémon Go.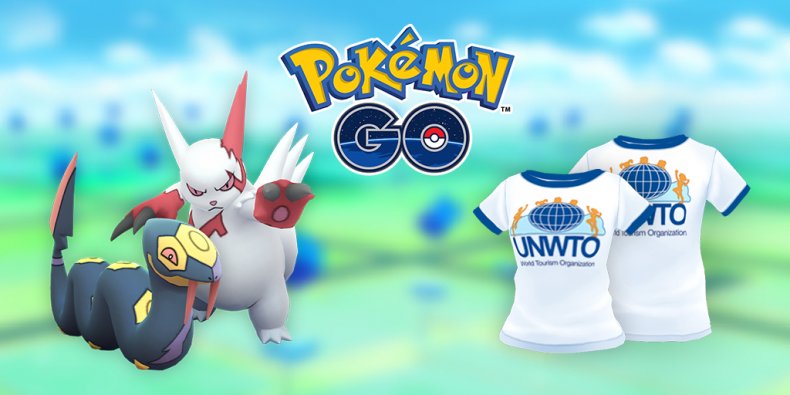 POKEMON GO UNWTO EVENT START TIME
The UNWTO event in Pokémon Go starts Thursday, September 26 at 4 p.m. EDT. Some features of the event will end on Tuesday, October 1 at 4 p.m. EDT.
SHINY SEVIPER, ZANGOOSE, MIME JR.
The first big feature of this new event is the Shiny forms of Seviper and Zangoose will debut in Pokémon Go. However, the Pokémon you find depends on your region. Currently, Seviper can be caught in the Americas and Africa while Zangoose can be found in Europe, Asia and Oceania.
The other Shiny Pokémon being introduced is Mime Jr., the pre-evolved form of Mr. Mime. This also marks the debut of Mime Jr. in Pokémon Go, but can only be found in Europe.
EGG CHANGES
This new event will permanently bring region-exclusive Pokémon to 5km Eggs in their respective area. Only Eggs picked up after 4 p.m. EDT on September 26 will have a chance to hatch into these Pokémon.
This is a permanent change to Pokémon Go. Here's a list of region-exclusive Pokémon that can be hatched:
Farfetch'd - Asia
Tauros - North America
Kangaskhan - Oceania
Heracross - Central and South America
Corsola - Coastal areas between 26 and 36 degrees latitude
Volbeat - Europe, Asia, Oceania
Illumise - Americas, Africa
Torkoal - India and South-East Asia
Seviper - Americas and Africa
Zangoose - Europe, Asia and Oceania
Lunatone - Europe, Asia and Oceania
Solrock - Americas, Africa
Tropius - Africa
Relicanth - New Zealand
Pachirisu - Northern Canada, Russia and Alaska
Chatot - Southern Hemisphere
Mime Jr. - Europe
Pansage - Asia Pacific
Panpour - Americas
Pansear - Europe, Africa
Heatmor - Western Hemisphere
Durant - Eastern Hemisphere
IN-GAME BONUSES
Trainers will receive a special UNWTO shirt for free to customize their avatar in-game.
Here are the other bonuses players will receive during the event:
Trades will cost 25 percent less stardust
Double experience from PokeStops
These bonuses will only be active until October 1 at 4 p.m. EDT so take advantage while you can. There will also be new research tasks involved with this event and we'll update this section when we learn more.
What do you think of this latest Pokémon Go event? Let us know in the comments section.