'Pokémon Go' Shiny Shuckle Coming This Weekend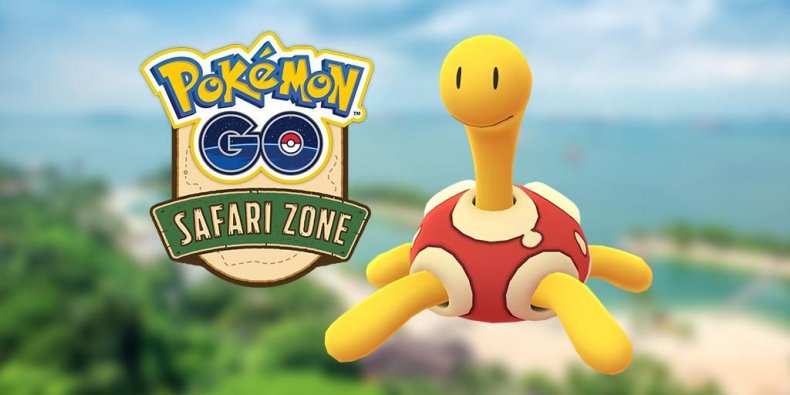 In celebration of Pokémon Go 's first Safari Zone event in Singapore, the popular mobile game will make some of the rare Pokémon available to the rest of the world, including Shiny Shuckle.
Starting Saturday, April 20 at 6 a.m. local time to Sunday, April 21 at 10 p.m. local time, Pokémon Go trainers will notice an increase in Shuckle spawns in the overworld. This is where Shiny Shuckle will make its Pokémon Go debut.
Of course, to find Shiny Shuckle trainers will need to encounter (tap) on the Bug and Rock-type Pokémon in the wild. When the capture screen appears, you'll know if the Shuckle is in its Shiny variant. If you're not familiar with how Shiny Shuckle looks, it's one of the more noticeable color changes. Its red shell turns blue.
Now the question becomes if the other Shiny Pokémon that made their debut during the Singapore Safari Zone will be available worldwide alongside Shuckle. Reports of Shiny Lapras appearing during the event poured-in this week, so the Water and Ice-type Pokémon could debut this weekend.
Niantic has yet to confirm, but if you see an increase in Lapras in the overworld this weekend there's a good chance the Shiny variant is now available in Pokémon Go. We'll update with confirmation when the event begins.
Shiny Lapras is also very easy to spot. It's light blue coloring turns into a deep purple so you can't miss it.
The Pokémon Go Safari Zone in Singapore is just one of a few summer events happening in the mobile game. Pokémon Go Fest returns to Chicago from June 13-16 while Dortmund, Germany will receive its own event from July 4-7.
Shiny Shuckle's debut in Pokémon Go is happening at the same time as this year's Eggstravaganza event where Baby Pokémon hatch from 2km Eggs. Shiny Buneary and Shiny Igglybuff are the confirmed Rare Pokémon for the week-long event.
What do you think of Shiny Shuckle making its way to Pokémon Go ? Do you think Shiny Lapras will appear too? Let us know in the comments section below.
'Pokémon Go' Shiny Shuckle Coming This Weekend | Gaming