It's that time of year again! Pokémon Go is celebrating the most romantic day on the calendar with its own Valentine's Day event that debuts new Pokémon, Shiny variants and much more.
Unova region Pokémon have slowly but surely been added to this popular mobile game, and this year's Valentine's Day celebration brings two more into the fold. Niantic also has pink Pokémon appearing more frequently in the wild, in Field Research and in Eggs.
If you want to take advantage of everything coming to Pokémon Go in the 2020 Valentine's Day event, read on for all the details including its start time.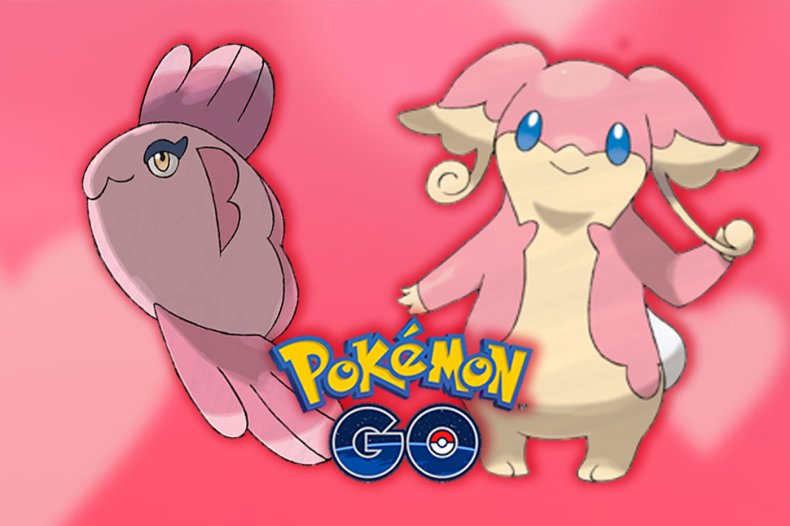 POKEMON GO VALENTINE'S DAY EVENT START TIME
The 2020 Pokémon Go Valentine's Day event runs Friday, February 14 at 8 a.m. local time through Monday, February 17 at 10 p.m. local time.
SHINY CHANSEY AND HAPPINY
There are two new Shiny variants making their debut in Pokémon Go, but they are from the same evolutionary line.
Happiny, and its evolution Chansey, will have their Shiny forms unlocked in the popular mobile game. Happiny can only be hatched from 7km Eggs, and there will be an increased chance of hatching its Shiny form during the event.
Chansey, on the other hand, will appear more frequently in the wild, and its Shiny form will also see an increase in encounter rate.
Of course, trainers can still evolve Shiny Happiny into Shiny Chansey by using 25 Chansey candy and walking 15 km with Happiny as your Buddy Pokémon. Shiny Chansey can evolve into a Shiny Blissey by feeding it 50 Chansey Candy.
Shiny Happiny changes its coloring to lighter shade of pink, while Shiny Chansey goes through a more drastic change. Shiny Chansey transitions from pink to a light green color.
AUDINO AND ALOMOMOLA DEBUTS
The two big debuts during the event are Audino and Alomomola.
Audino is a Normal-type Pokémon that helps nurses in Unova region Pokémon Centers, essentially replacing Chansey. Alomomola, despite looking like an evolved form of Luvdisc, is a pure Water-type Pokémon with no evolutions.
Both Pokémon will only appear in the wild in rare chances, so trainers should spend time exploring this weekend if they want to find both.
RESEARCH TASKS
The latest event-only Research Tasks include an easier way to catch a Lickitung and Chansey.
Here are the four new Research Tasks for the Pokémon Go Valentine's Day event:
Catch 5 Slowpoke or Whismur - 1000 Stardust
Defeat 3 Team Rocket Grunts - Chansey
Hatch 3 Eggs - Lickitung
Evolve a Hoppip - Cherubi
We'll update this section with more information as we get it.
IN-GAME BONUSES
Other in-game bonuses coming to Pokémon Go are double Catch Candy and Lure Modules lasting six hours during the event. This will allow trainers to catch as many Pokémon as possible while stocking up on candy to evolve and power up their Pokémon.
Saturday, February 15 will also be a special Raid Day featuring Lickitung. For three hours, trainers will have an increased chance at encountering a Shiny Lickitung in Raids.
What do you think of this upcoming Valentine's Day event in Pokémon Go? Let us know in the comments section.