'Pokémon Let's Go Pikachu and Eevee' Features: No Hold Items or Abilities Confirmed
Pokémon Let's Go Pikachu and Pokémon Let's Go Eevee release on the Nintendo Switch very soon (Nov. 16) and some influencers and game journalists were treated to an extended demo of the upcoming title— what they found may turn off some fans of the series.
Some of the more competitive aspects of the Pokémon series seem to be missing from Let's Go Pikachu and Eevee, namely hold items and a lack of abilities in the demo.
Joe Merrick of Serebii wrote an extensive post of his experience and what he noticed from his time playing the game. The main takeaway is that it's not for the uber-competitive Pokémon players. Here's a bit of what he noticed.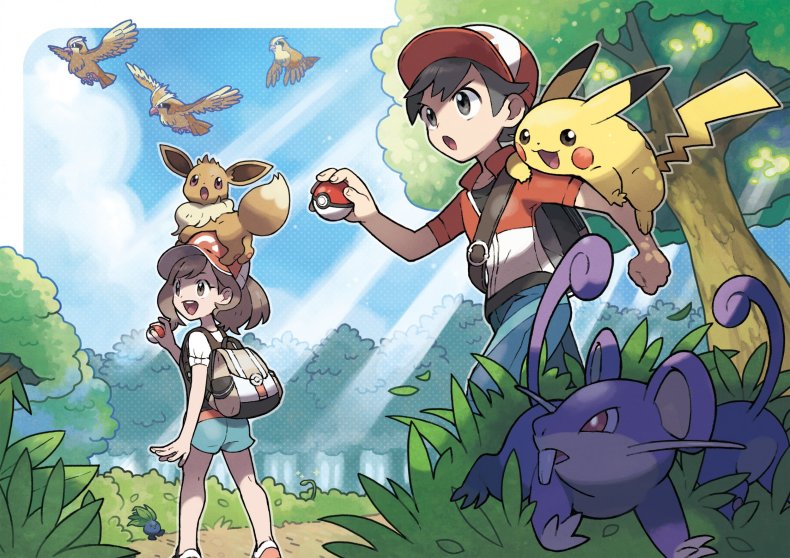 ITEMS
There are no hold items in Let's Go Pikachu and Eevee, confirming speculation from past trailers and demos. There is also no option for Pokémon to hold items.
As for what items are in the game, many of them are berries. The Pinap Berry was confirmed to increase the chance of finding an item after catching a Pokémon. The bag does have multiple compartments for various items and they are broken up into Capture Items (berries and pokeballs), Healing Items and Battle Items (Guard Spec., Mega Stones, Candy are given as examples).
There is also a Key Item compartment that holds Lures, Fossils, the Town Map and other items like it.
ABILITIES
Unfortunately, the speculation on a lack of Pokémon abilities was confirmed. Pokémon do not have abilities in Let's Go Pikachu and Eevee, a staple of the games since Generation 3 in 2002. Let's Go is definitely trying to bridge the gap between Pokémon Go and main Pokémon game players through this simplified gameplay.
To be fair, Let's Go is a reimagining of Pokémon Yellow, which didn't have abilities.
CO-OP PLAY
When playing local co-op, the second player will have the second Pokémon in your party follow them.
However, the second player will not be able to interact with wild Pokémon, items or trainers.
EFFORT AND INDIVIDUAL VALUES
Merrick's account for EVs and IVs was a bit murky. He reports that IVs appear fully within the game, but the time allotted to him wasn't enough to determine if the spreads are identical to how they have been since Ruby and Sapphire.
EVs, on the other hand, was not easy to determine if they were in Let's Go or if they worked the same as in past games. Merrick noted that a plus-one appears in one stat after some battles, but the same happens when using candy received from transferring Pokémon.
Pokémon Let's Go Pikachu and Eevee will release Nov. 16.
What do you think of the features for Let's Go? Are you going to pick up the game? Let us know in the comments section below.