'Pokémon Let's Go Pikachu and Eevee' TM Locations: Where to Find Every Attack in the Game
Technical Machines (TMs) in Pokémon games are hugely important, giving trainers options to customize movesets for various situations. The latest entries in the series, Let's Go Pikachu and Eevee are no exception to that rule.
There are just 60 TMs, less than most games, in Let's Go, but longtime Pokémon fans may be surprised by the variety of attacks available. Moves that have not been TMs in previous games can be used to boost the strength of Pokémon teams.
Like in past games, TMs in Pokémon Let's Go have infinite uses and trainers can swap out attacks for certain types of Pokémon or situations.
Let's Go introduces the new trainer class to test your skill: the Coach Trainers. Defeat them and they'll give you a TM to use.
Newsweek subscription offers >
Here's all 60 TMs in Pokémon Let's Go Pikachu and Eevee and their locations.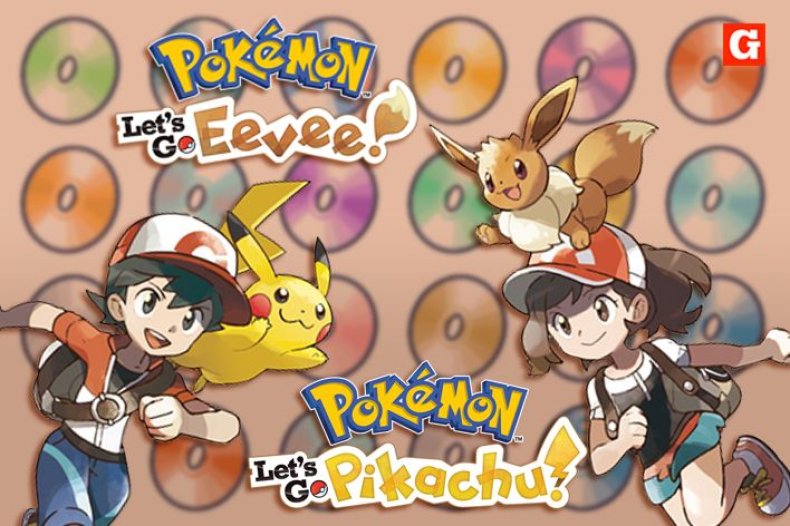 TM LOCATIONS
TM01 - Headbutt
Newsweek subscription offers >
Defeat Brock in the Pewter City Gym
TM02 - Taunt
Speak to scientist in Cinnabar Lab
TM03 - Helping Hand
Speak to store clerk on Floor 3 of Celadon Department Store
TM04 - Teleport
Pokemon Tower (Lavender Town)
TM05 - Rest
Celadon City Game Corner - B2
TM06 - Light Screen
Give the little girl on the roof of Celadon Department Store a Fresh Water from vending machine
TM07 - Protect
Give the little girl on the roof of Celadon Department Store a Lemonade from the vending machine
TM08 - Substitute
Talk to the little girl in North Saffron City with Clefairy in your Party
TM09 - Reflect
Give the little girl on the roof of Celadon Department Store a Soda Pop from vending machine
TM10 - Dig
Defeat the Team Rocket Grunt after defeating Misty
TM11 - Will-O-Wisp
Talk to man in pink shirt in Viridian City (behind cut bush)
TM12 - Facade
Defeat the Coach Trainer on Route 7
TM13 - Brick Break
Defeat Coach Trainer outside of Rock Tunnel on Route 10
TM14 - Fly
Speak to woman in house on Route 16 (behind cut bush)
TM15 - Seismic Toss
Defeat Coach Trainer on Route 24 - East of Bill's house
TM16 - Thunder Wave
Route 24 behind cut bush
TM17 - Dragon Tail
Celadon Department Store - 2F (20,000 Poke Dollars)
TM18 - U-Turn
Celadon Department Store (20,000 Poke Dollars)
TM19 - Iron Tail
Celadon Department Store - 2F (50,000 Poke Dollars)
TM20 - Dark Pulse
Celadon City Game Corner - B3
TM21 - Foul Play
Pokemon Mansion - 3F (Cinnabar Island)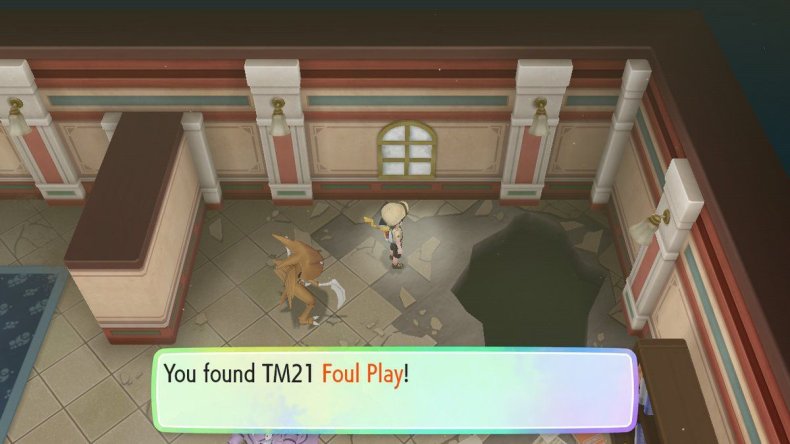 TM22 - Rock Slide
Defeat Coach Trainer in Pokemon Mansion - 2F (Cinnabar Island)
TM23 - Thunderpunch
Defeat Coach Trainer in Fighting Dojo (Saffron City)
TM24 - X-Scissor
Route 12 (need Surf)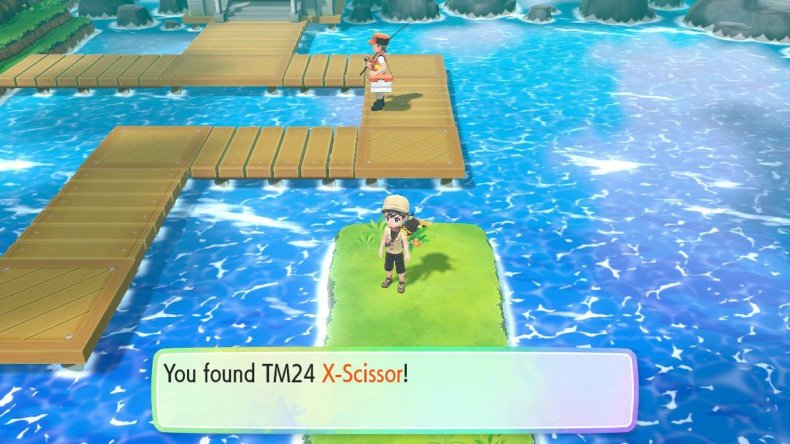 TM25 - Waterfall
Celadon Department Store (30,000 Poke Dollars)
TM26 - Poison Jab
Talk to the old man with the pond in front of his house in Celadon City (need Surf)
TM27 - Toxic
Defeat Koga in the Fuchsia City Gym
TM28 - Tri Attack
Celadon Department Store - 2F (30,000 Poke Dollars)
TM29 - Scald
Defeat Misty in the Cerulean City Gym
TM30 - Bulk Up
Celadon Department Store (10,000 Poke Dollars)
TM31 - Fire Punch
Defeat Coach Trainer on Route 15
TM32 - Dazzling Gleam
Talk to forgetful old man in house on Route 12
TM33 - Calm Mind
Defeat Sabrina in the Saffron City Gym
TM34 - Dragon Pulse
Silph Co. 7F (Saffron City - need Card Key)
TM35 - Ice Punch
Defeat Coach Trainer on Route 21
TM36 - Thunderbolt
Defeat Lt. Surge in the Vermillion City Gym
TM37 - Flamethrower
Silph Co. 10F (Saffron City)
TM38 - Thunder
Power Plant
TM39 - Outrage
Defeat Coach Trainer in Victory Road - 3F
TM40 - Psychic
Talk to man in the house South of Silph Co. in Saffron City
TM41 - Earthquake
Defeat Giovanni in the Viridian City Gym
TM42 - Self-Destruct
Talk to female Silph Co. employee on 2F in Saffron City
TM43 - Shadow Ball
Celadon City Department Store (30,000 Poke Dollars)
TM44 - Play Rough
On the roof of Celadon Condominiums (enter through the back)
TM45 - Solar Beam
Victory Road - 2F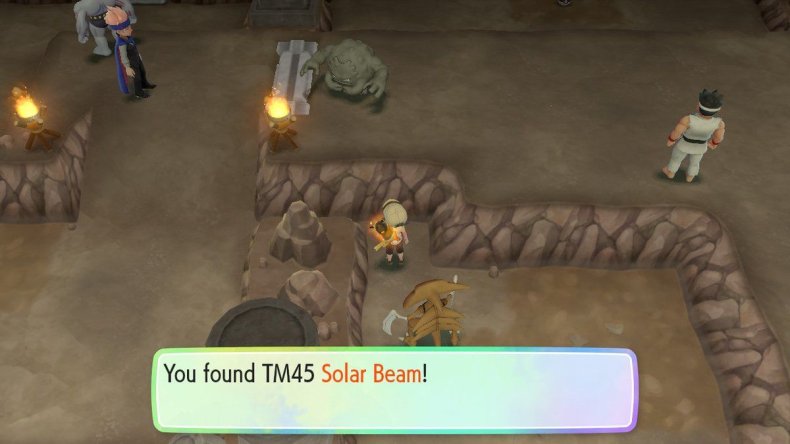 TM46 - Fire Blast
Defeat Blaine in the Cinnabar Island Gym
TM47 - Surf
Route 15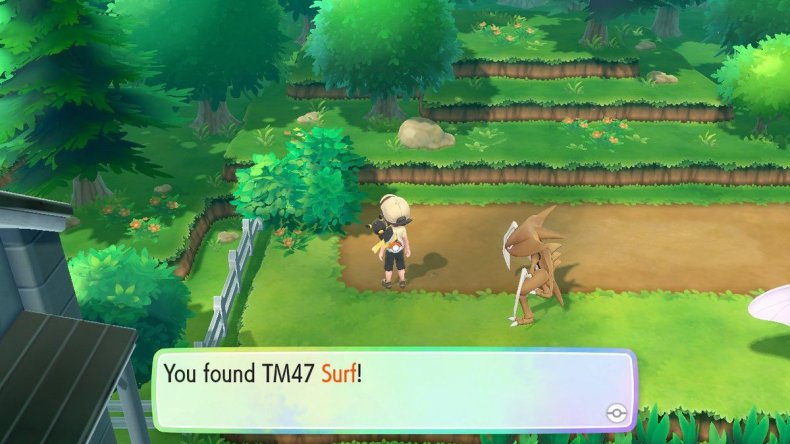 TM48 - Hyper Beam
Celadon Department Store - 2F (100,000 Poke Dollars)
TM49 - Superpower
Victory Road - 2F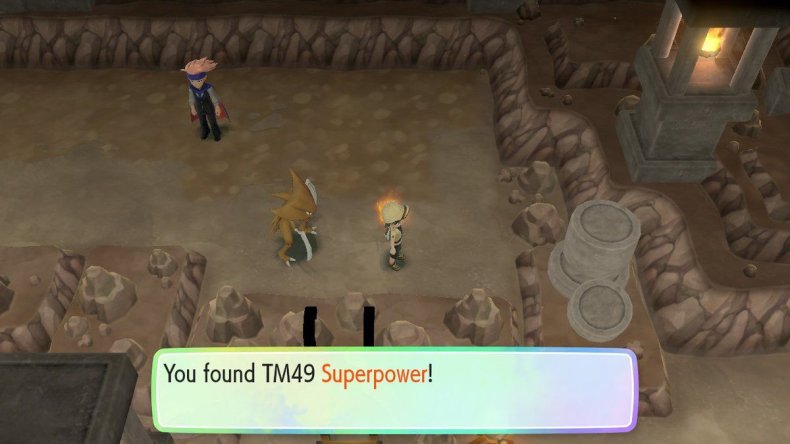 TM50 - Roost
Talk to little girl on Route 12 security house (top floor)
TM51 - Blizzard
Victory Road - 3F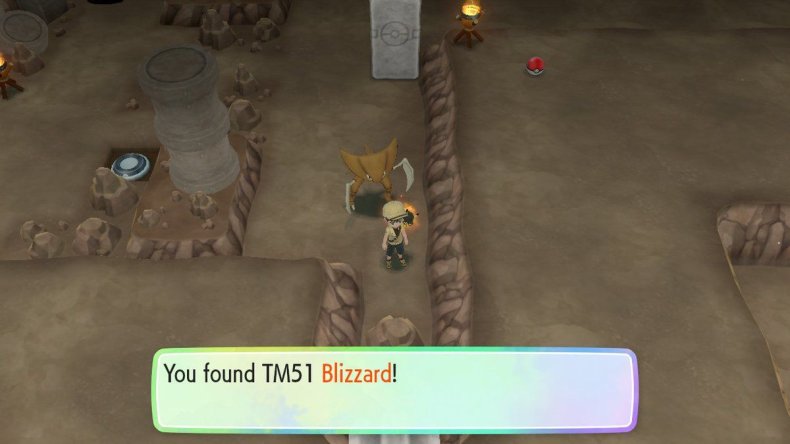 TM52 - Sludge Bomb
Pokemon Mansion (Cinnabar Island)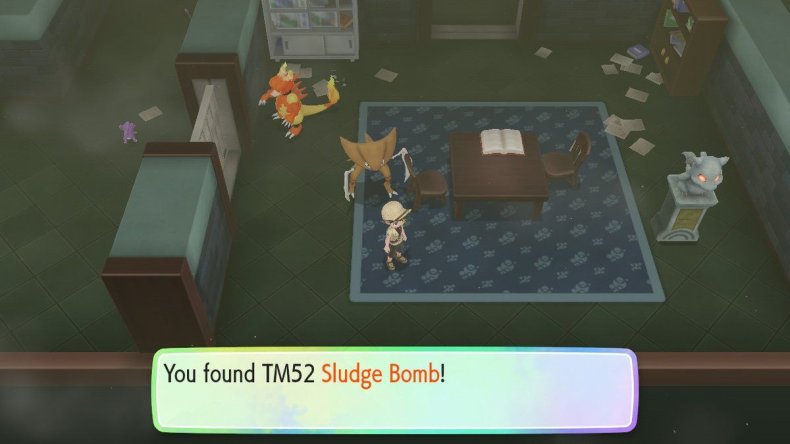 TM53 - Mega Drain
Defeat Erika in the Celadon City Gym
TM54 - Flash Cannon
Silph Co. 5F (Saffron City - needs Card Key)
TM55 - Ice Beam
Seafoam Islands - B3
TM56 - Stealth Rock
Victory Road - 1F (behind Strength Rock)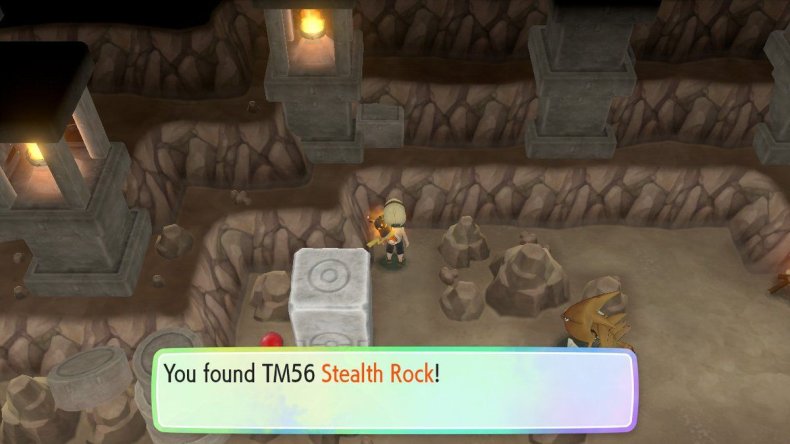 TM57 - Pay Day
Defeat the Coach Trainer on Route 3 (outside of Mt. Moon)
TM58 - Drill Run
Coach Trainer on Route 17
TM59 - Dream Eater
Defeat Coach Trainer on Route 12
TM60 - Megahorn
Defeat Coach Trainer in front of Cerulean Cave after defeating Pokemon League
'Pokémon Let's Go Pikachu and Eevee' TM Locations: Where to Find Every Attack in the Game | Gaming