'Pokémon' Anime Poster Showing Ash, Pikachu & New Character May Have Leaked
The Pokémon Sun and Moon anime is about to end in Japan, which will then lead into the next sub-series in the long-running show.
On Friday, a supposed poster for the next series in the Pokémon anime was posted on various Japanese message boards. The poster shows Ash, Pikachu, a new trainer and Scorbunny, the Fire-type starter of the upcoming Sword and Shield games.
It should be noted that this poster did not come from official sources so it is not confirmed, but the contents of it seem legit enough for trusted Pokémon site, Serebii to tweet about it.
Check out the alleged Pokémon Sword and Shield anime poster below.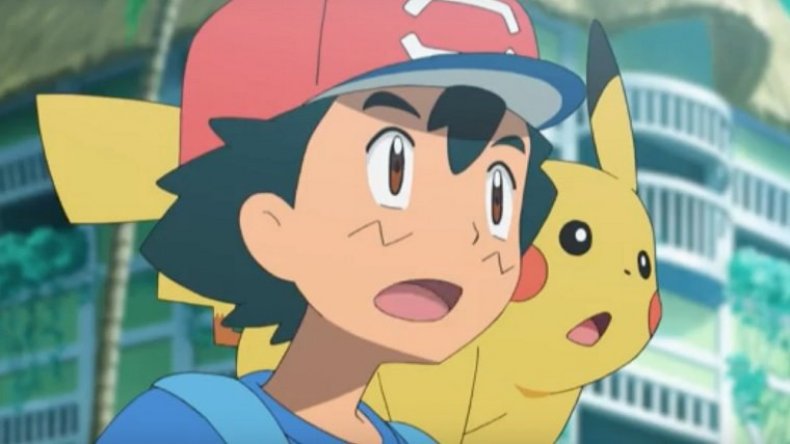 There are quite a few points to note from this supposed trailer. The first is that Ash and Pikachu are involved, which seemingly debunks rumors that the duo would not be in this series after winning the Alola League.
Another point is the background, which showcases all seven generations of the Pokémon franchise up to this point. There were rumors that the next series of the Pokémon anime would explore past regions, and if true, this poster seemingly confirms it.
Then we have the new character alongside Ash. This young boy is likely from the Galar region if his starter Pokémon is Scorbunny, one of the three chosen to be a trainer's partner at the beginning of their journey. Whenever Ash comes to a new region, he catches at least one of the starter Pokémon, so this poster means he either has Scorbunny or one of the other two starters, Grookey or Sobble.
Confirmation and more information on the new series of the Pokémon anime is coming this Sunday, September 29 in Japan, so it won't be long before fans learn where Ash and Pikachu's journey will take them next.
In Japan, the Sun and Moon anime is reaching its conclusion, with Ash recently winning the Alola League and preparing to face Professor Kakui. The dub of the anime is about 20 episodes behind, so the English conclusion won't air until the beginning of 2020.
The Sword and Shield games are set to release in November with a region full of new Pokémon, Galarian forms of older generation Pokémon and new battle mechanics.
Pokémon Sword and Shield release November 15 on Nintendo Switch.
What do you think of the supposed poster? Which Pokémon do you hope Ash catches in this series? Let us know in the comments section.