'Pokémon Sword and Shield' to Add Gigantamax Toxtricity This Week
The Pokémon Company is taking a new approach to adding content in Sword and Shield. One way they are doing so is by introducing new Gigantamax forms post-launch.
Pokémon fans first saw it with Gigantamax Snorlax and will see it again when the Galar region Starter Pokémon, Cinderace, Rillaboom, Intelleon, get their own Gigantamax forms with the release of the DLC. Now, Toxtricity is soon to get theirs.
The first Poison and Electric-type Pokémon's Gigantamax form will become available in Sword and Shield for the first time starting February 6 at 7 p.m. EST through March 9. Although Gigantamax Toxtricity was in the game's code, it was not available at launch.
Check out Gigantamax Toxtricity in action below courtesy of the Japanese Pokémon Company YouTube channel.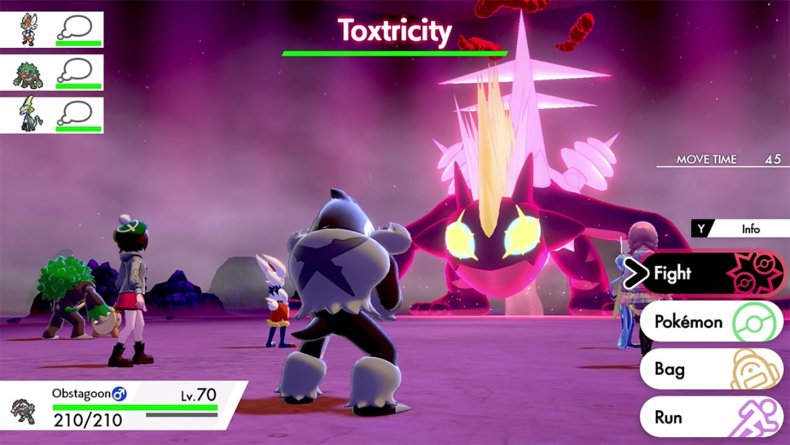 Gigantamax Toxtricity will change Electric-type attacks into G-Max Stun Shock, which not only deals damage but also paralyzes and poisons all opponents. This makes Giganatamax Toxtricity a powerful Pokémon in doubles battles.
Toxtricity is a unique Pokémon in the Galar region as it has two forms: Low Key and Amped. Depending on the nature of Toxel - Toxtricity's pre-evolution - when it reaches Level 30, it will evolve into either the Low Key or Amped forms.
Amped Form is the yellow and Purple Toxtricity that evolves from Toxel if its nature is Adamant, Brave, Docile, Hardy, Hasty, Impish, Jolly, Lax, Naive, Naughty, Rash, Quirky or Sassy.
Low Key is the blue and purple Toxtricity that evolves from Toxel if its nature is Bashful, Bold, Calm, Careful, Gentle, Lonely, Mild, Modest, Quiet, Relaxed, Serious or Timid.
The Pokémon Company also announced that Online Competitions have begun in Pokémon Sword and Pokémon Shield on Nintendo Switch, and with them, some minor changes to how these battles operate. As a result, players should link their Nintendo Account to their Pokémon Trainer Club credentials to earn Championship Points (CP) for competitions that award them. Players do not need to link their account to register and compete in the competition, but if they choose not to, they will not be eligible to earn CP.
These announcements arrive ahead of official Pokémon Day events happening February 27. On that day, a brand-new Mythical Pokémon will be revealed for Sword and Shield. Be sure to check back for more details when they arrive.
Pokémon Sword and Shield is available now on Nintendo Switch.
Are you excited for Gigantamax Toxtricity? Which form of Toxtricity is your favorite? Let us know in the comments section.