G-Max Melmetal: How to Obtain Mythical and Transfer to 'Pokémon Sword and Shield'
With the Pokémon Go to Pokémon Home connectivity feature now live, trainers can finally receive the special Gigantamax Melmetal for Sword and Shield.
Gigantamax is a brand new battle mechanic introduced in Pokémon Sword and Shield, allowing for certain Pokémon to change their appearance and obtain a special G-Max Move upon Dynamaxing.
Melmetal, the Mythical Pokémon of the Alola region, had its Gigantamax form leaked in Sword and Shield's code when it was released in late 2019, but it was unobtainable until now.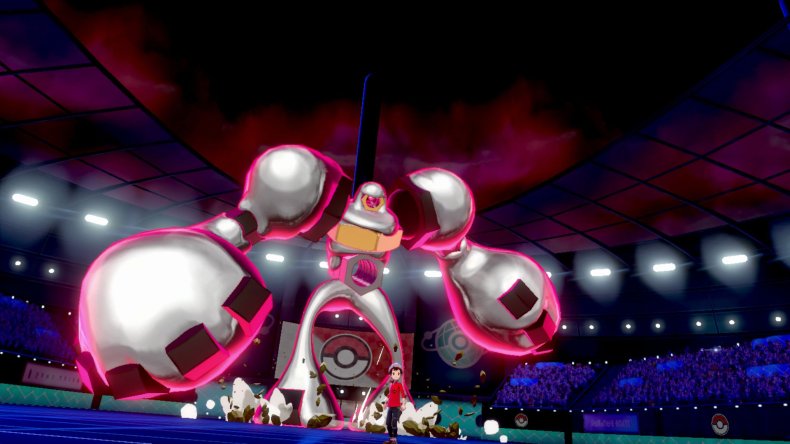 HOW TO GET G-MAX MELMETAL
To obtain your Gigantamax Melmetal trainers simply have to transfer at least one Pokémon from Pokémon Go to the Pokémon Home app.
Trainers have to connect their Pokémon Go app to Pokémon Home using the same Nintendo account log-in. Once you've done that, find the "Pokémon Home" feature in your Pokémon Go settings.
After accessing the feature, select one Pokémon to transfer over to Pokémon Home. To learn more about how the transfer process works, read our in-depth guide.
Once you've transferred at least one Pokémon to Pokémon Home, access the Pokémon Home mobile app. Select green button on the bottom of the screen and then the "Mystery Gifts" tab.
Select the "Gift Box" button to see a list of gifts that are ready to claim. If you transferred a Pokémon using Pokémon Go, G-Max Melmetal should appear at the top of the list. Select it, and then select "claim" to move the special Pokémon to your box in Pokémon Home.
HOW TO TRANSFER G-MAX MELMETAL FROM HOME TO SWORD AND SHIELD
To transfer your new G-Max Melmetal from the Home app to Sword and Shield, you'll first need to download the app from the Nintendo Switch eshop. If you've done so already, you can move on and follow these easy steps:
The Switch app will ask if you want to transfer all the Pokémon in the boxes as is or if you want to manually place them in the Switch version.
After the transfer, the main menu will have two options, the Pokémon you deposited and a Pokédex. For this process, select "Pokémon."
Select the game that you want to connect with Pokémon Home. Your only choices here are Sword, Shield, Let's Go Pikachu, and Let's Go Eevee.
Choose your game and select "yes" to connect
The next screen will show your Pokémon Home Pokémon on the left screen with your Switch game boxes on the right. Manually select Pokémon and transfer them from left to right or vice versa
Note: Pokémon that are not included in your game will have a sign signifying that they can't be transferred yet.
Once finished, select the plus sign to quit and "save changes and exit"
What do you think of G-Max Melmetal? Let us know your favorite Gigantamax Pokémon in the comments section.