'Pokémon Sword and Shield' Online: How to Join Max Raids, Trade and Battle
A common function of Pokémon games is the ability to trade and battle with other trainers. From the Link Cables to online functionality, Pokémon games were always intended to bring trainers together and Sword and Shield is no different.
Sword and Shield not only brings Trading and Battling back to Pokémon games, but brings Max Raid Battles for the Gen 8 titles.
Max Raids now allow up to four trainers to fight together to defeat and catch Dynamaxed (and sometimes Gigantamaxed) Pokémon in the Wild Area. It's a new cooperative way to play that trainers will likely enjoy.
Here's everything you need to know about the online features in Sword and Shield, including how to set up and join Max Raid Battles.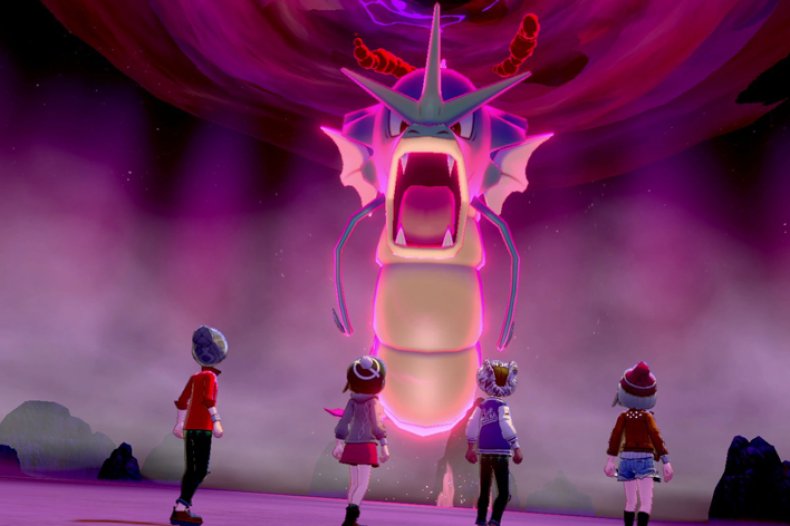 HOW TO SET UP/JOIN MAX RAIDS
There are two ways to join a Max Raid Battle in Sword and Shield. You can enter a Max Raid alone with three other NPCs.
To do this, you can find a Max Raid den with a Red beacon of light coming out of it. You can enter the den to and battle the Pokémon solo by selecting "Don't Invite Others" to enter with NPCs.
If you're a trainer who wants to invite anyone from around the world to join you against the Dynamaxed/Gigantamaxed Pokémon you can select "Invite Others." This will notify other trainers via the Y-Comm that you are looking for trainers. Once you receive trainers you can enter the battle.
Trainers looking for a Raid to join, you can follow these steps utilizing the Y-Comm and the Stamps:
Press Y to open the Y-Comm
Check the top right of the screen, it should say "Internet"
If it does not, press the + button to connect to online
Then go down to "Search Stamps"
Select "Max Raid Battles"
This filters all recent stamps to just Max Raid Battles
Find the latest Max Raid Battle and select it to join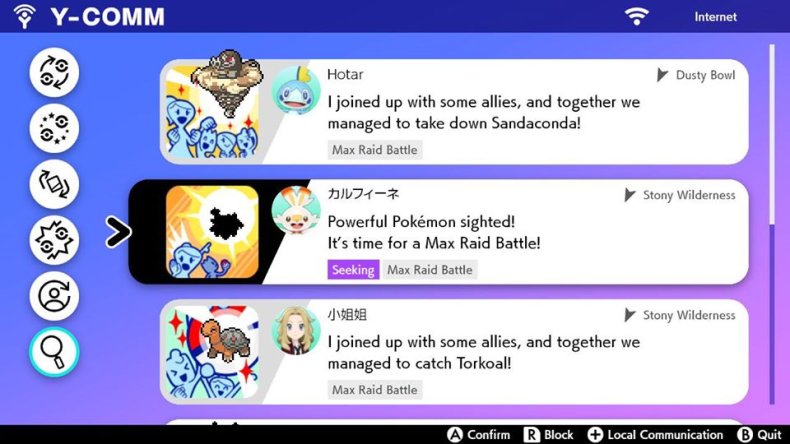 You can also use the Stamp filter to have your feed show only friends' activities.
If you want to set up a private Max Raid Battle with friends, one member of the party will need a Link Code. Once you enter a Max Raid, press the Plus button where you can create a four-digit Link Code. Share this with your friends so they can enter the code and join your party.
You can also input a friends' four-digit Link Code to join a friend's group.
HOW TO TRADE
Trading is the best way to fill your Pokedexes in Sword and Shield and there are a couple of ways to trade with friends and strangers.
The first is by selecting Link Trade in the Y-Comm. In this feature, you can select "Start Trading," which allows you to start searching for another player to trade with. Sword and Shield automatically has you connected to local, but pressing the plus button will connect you to the internet to trade with a stranger.
If you want to trade with someone in particular, you can "Set Link Code" that allows for you and another player to connect with one another.
Surprise Trade
Similar to Wonder Trade, this function allows for trainers to trade Pokémon and receive a random Pokémon in return.
The best way to utilize this function is to connect to the internet. Select the Pokémon you want to trade and the game will search for a trading partner. You can continue playing as it searches and will notify you when your Pokémon was traded.
HOW TO BATTLE
There are a couple of ways to battle in Sword and Shield.
The first way is through the Y-Comm and "Link Battle" feature. Selecting this function will send trainers to set the parameters of the battle.
Trainers can choose a Single, Double or Multi Battle. They can also set a Link Code by pressing the plus button to make it a private affair. Similar to the Max Raids and Trading, you can find a trainer to battle through the Y-Comm's stamps.
Sword and Shield also has the VS (Victory Station" mode. This allows for a more online battle-centric experience.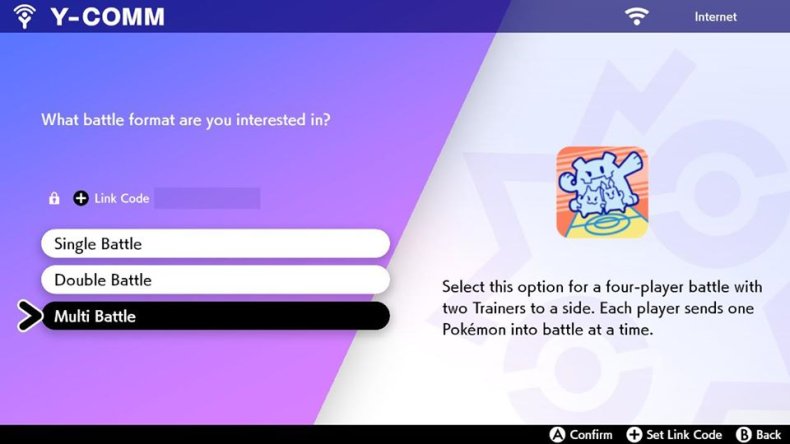 Battle Stadium
In the battle stadium, you can connect to other trainers around the world to take part in link battles and various battle competitions against one another.
Casual battles let you easily connect with all kinds of other players for battles while Ranked Battles are where trainers want to battle to reach new ranks.
Online competitions use different system to measure your skill as a trainer. Here you earn a number rating and is likely where The Pokémon Company will hold their own competitions like they did in the Sun and Moon era.
Rental Teams allow you to borrow a battle team from another player or you can make your Battle Team public
Live Competition
This modes allows trainers to have competitions with one another. These can be casual friendly competitions, which are hosted among friends, or Official Competitions.
Pokémon Sword and Shield is available now for Nintendo Switch.
Have you enjoyed the online features of Sword and Shield? Let us know in the comments section.