Pokémon World Championships 2018: Full Schedule and How to Watch Online
This year's Pokémon World Championships take place in Nashville from Friday Aug. 24 to Sunday Aug. 26 and feature the best players in the world for the Pokémon video games, trading card game and Pokken Tournament.
Like with past regional and world championships, The Pokémon Company will stream events on the company's various Twitch channels, so fans won't miss a beat of the Pokémon action. The main stage stream will alternate all three Pokémon games (VCG, TCG, Pokken ) so fans can watch it on the Pokémon Twitch channel. On the final day of the Championships, fans will want to head to the main stream to catch the last rounds of all three formats. The opening ceremony will begin at 10 a.m. EDT. on Friday.
Here's all the information Pokémon fans need to know this weekend: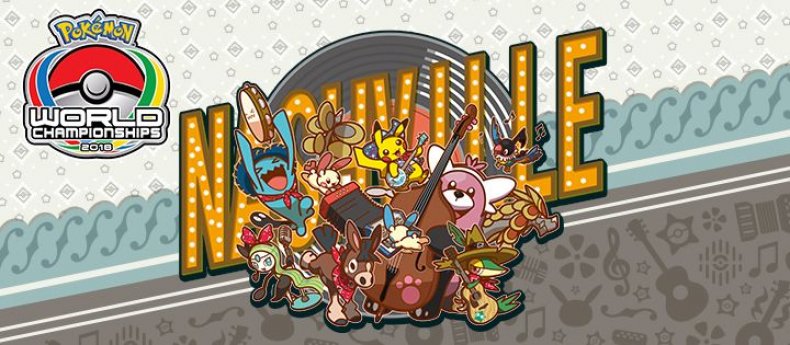 POKEMON VGC
The main attraction of the Pokémon World Championships is the VGC. Top players from all over the world will duke it out in the doubles format using Pokémon Ultra Sun and Ultra Moon. Fans can expect to see a variety of teams and Pokémon, especially the Legendary Pokémon Landorus as well as Incineroar.
To watch the Pokémon VG championships, you can head over to the Pokémon VGC Twitch Channel during the below times. All times listed are EDT.
Friday (Aug. 24)
12:45 p.m.: VGC Swiss Rounds
8 p.m.: Off Air
Saturday (Aug. 25)
10 a.m.: VG Day 2 Swiss Rounds
5:30 p.m.: VG Top Cut
8:45 p.m.: Off Air
POKEMON TCG
The Pokémon Trading Card Game has become steadily more competitive every year. In 2018, the top players from around the world will bring their decks to see who is the best TCG player.
To watch the Pokémon TCG rounds, you can head over to the Pokémon TCG Twitch Channel during the times below:
Friday (Aug. 24)
10:45 a.m.: TCG Swiss Rounds
6:30 p.m.: Off Air
Saturday (Aug. 25)
12:30 p.m.: TCG Day 2 Swiss Rounds
7:15 p.m.: TCG Top Cut
11:15 p.m.: Off Air
POKKEN TOURNAMENT DX
The third Pokémon tournament involves the franchise's fighting game, Pokken Tournament DX, which received new life when it was ported to the Nintendo Switch and offered new Pokémon to choose from.
Catch all the Pokken Tournament action on the game's Twitch channel at the below times.
Friday (Aug. 24)
10:45 a.m.: Last Chance Qualifier, Masters Division
6 p.m.: Off Air
Saturday (Aug. 25)
10 a.m.: Pokkén Tournament Championship Series Masters Bracket
4 p.m.: Off Air (Finals matches will be shown on main stream)
FULL SCHEDULE
Friday, Aug. 24:
Opening Ceremony on all four streams at 10 a.m.
Main Stream:
10:45 a.m.: VGC Swiss Rounds
3:45 p.m.: TCG Swiss Rounds
7:45 p.m.: Off Air
Pokémon VG Stream:
12:45 p.m.: VGC Swiss Rounds
8 p.m.: Off Air
Pokémon TCG Stream:
10:45 a.m.: TCG Swiss Rounds
6:30 p.m.: Off Air
Pokkén Tournament DX Stream:
10:45 a.m.: Last Chance Qualifier, Masters Division
6 p.m.: Off Air
Saturday, Aug. 25:
Pokémon Main Stream:
10 a.m.: TCG Day 2 Swiss Rounds
4 p.m.: Pokkén Tournament Senior Finals, followed by Masters Finals
7:15 p.m.: VG Top Cut
10:15 p.m.: Off Air
Pokémon VG Stream:
10 a.m.: VG Day 2 Swiss Rounds
5:30 p.m.: VG Top Cut
8:45 p.m.: Off Air
Pokémon TCG Stream:
12:30 p.m.: TCG Day 2 Swiss Rounds
7:15 p.m.: TCG Top Cut
11:15 p.m.: Off Air
Pokkén Tournament DX Stream:
10 a.m.: Pokkén Tournament Championship Series Masters Bracket
4 p.m.: Off Air (Finals matches will be shown on main stream)
Sunday, Aug. 26:
Pokémon Main Stream:
10 a.m.: The following matches will be played in order: TCG Junior Finals, TCG Senior Finals, TCG Masters Finals, VG Junior Finals, VG Senior Finals, VG Masters Finals
Afterward: Closing Ceremony