Protest Against Polish Abortion Plan Comes to New York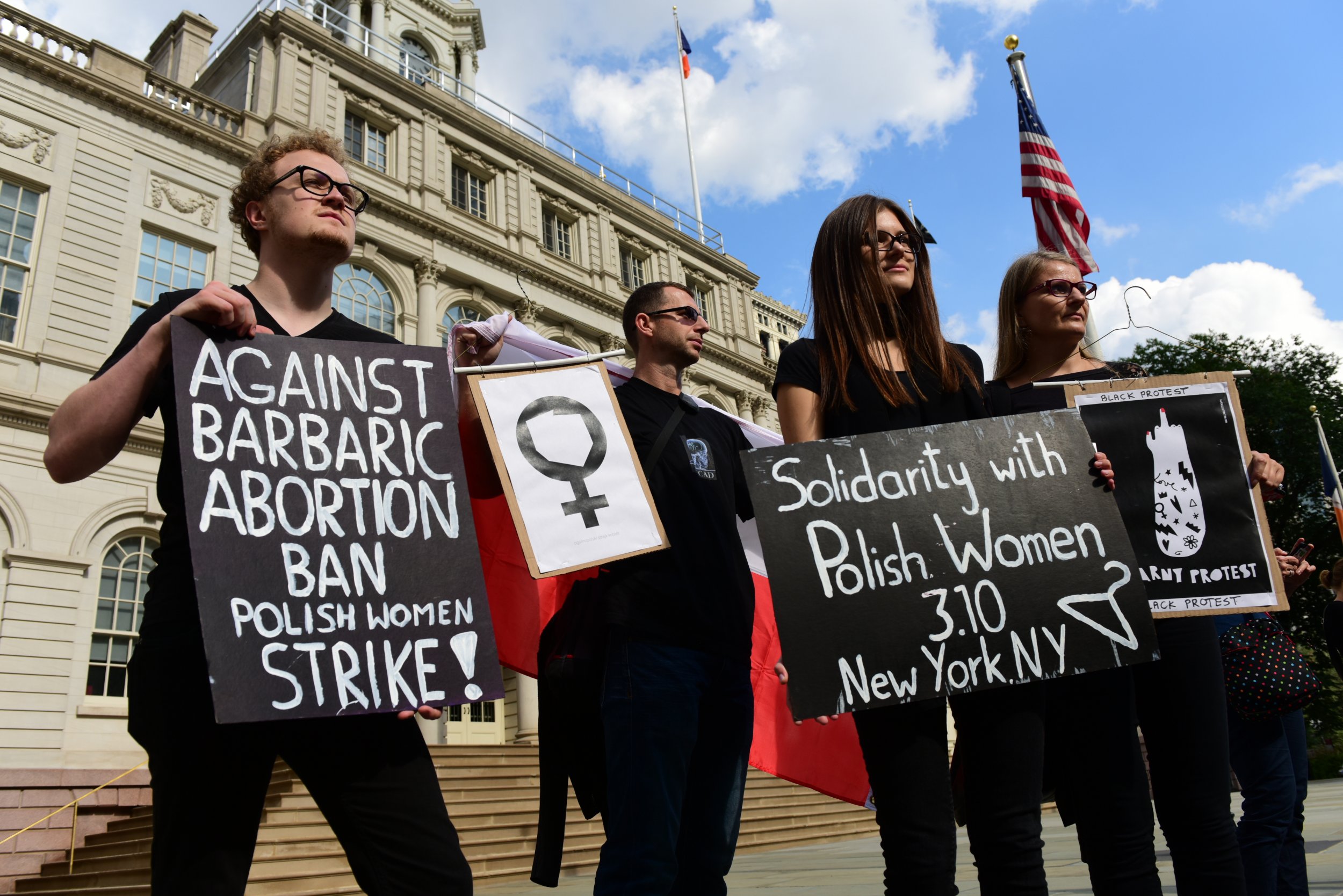 Like millions of Polish women, Jagoda Mielcarek went on strike over a strict anti-abortion proposal that, if passed, many believe will threaten the lives of women in Poland. Because she could not be in her home country, the 23-year-old hospitality management student organized a New York City solidarity protest with the October 3 "Black Monday" action that saw an estimated 6 million women in Poland go on strike.
Demonstrators wore black to signify what could be a further loss of women's rights in Poland, a majority-Catholic country of 39 million people that already has some of the most restrictive abortion laws in Europe. In addition to New York, solidarity protests were held around the world, including in the U.K., Sweden, France and India. Demonstrators used the #BlackProtest and #CzarnyProtest hashtags.
"We gathered here today to show our support for Polish women and the disagreement with the new law that is supposed to be introduced [in Poland]," says Mielcarek, who was joined by around 50 black-clad people on the steps on City Hall in Manhattan. "We do not want women not to have their right about their bodies."
The proposal, which passed its first legislative hurdle last week, would see abortion outlawed under most circumstances, including in cases rape, incest and if the health of the woman or the fetus was at risk. (Currently, abortion is allowed in Poland only in those cases.) Also, women who miscarried would be investigated to ensure they didn't induce abortions, and women could face five years in prison for procuring abortions illegally. Doctors could also face prison time for performing an abortion or helping a woman get one, and for performing prenatal checks. Contraception and sex education in Poland are severely limited due to the influence of the Catholic Church.
The international human rights group Amnesty International calls the proposal "a dangerous backward step for women and girls." Official statistics say there are 1,000 abortions performed every year in Poland, but several women Newsweek spoke with at Monday's protest scoffed at that number; some women's organizations say the real figure could be as high as 150,000.
Marta Lempart, who called for the "Black Monday" strike, tells Newsweek that "we are heading toward women's hell" in Poland if the proposal becomes law. She backed an effort by a group called Save Women that attempted to expand Poland's abortion law to allow termination for up to 12 weeks of pregnancy. Despite gathering 200,000 signatures, it was defeated. The anti-abortion plan now making its way through parliament grew out of a push by a group called Stop Abortion that gathered 450,000 signatures.
"This law means that hundreds of Polish women will be dying, suffering and even get imprisoned in case of a 'suspicious' miscarriage. It is a total abortion ban," says Lempart. "We do not expect it to be passed. We will not allow it."
Monday's strike was held nearly 40 years after women in Iceland took a "day off" from working, including child care and cooking, to protest gender discrimination. By most accounts, the country came to a standstill. Lempart said the next Poland protest may be held on October 24, marking the 40th anniversary of the Icelandic women's strike.
"We are aiming for the parliament majority to see how angry we are and get scared. We are not asking, and we are not hoping," Lempart tells Newsweek in an email. "We also want the parliament majority to know, that they are not going to get away with this. If that is the start of their fall, let it be."
She adds: "After that, the next and every other government will know not to anger Polish women."
Agnieszka, a senior account director at a creative agency who declined to give her last name, attended the New York City protest with her 10-month-old son, Owen. Outside City Hall, she told Newsweek about her concerns about another piece of Polish legislation that would limit the success of in vitro fertilization (IVF), the procedure used by couples unable to conceive naturally. That legislation would require one embryo to be fertilized at a time and would ban freezing embryos.
"We all want Polish women to have choice. My first point on the agenda would be for them to have access to prenatal checks, and to have the possibility of having IVF. Having a choice [to terminate] if the baby, let's say, is severely debilitated," she says.
"I understand science and that's why I believe every woman should support this movement," says Agnieszka, who is also a pharmacist.
Monika Miscicka, a treasury analyst for a telecommunications company in Krakow, Poland, protested with colleagues in that city on Monday. She decided against hanging posters supporting the strike in her car, however, fearing the windows could be smashed in. Over email, Miscicka says it's "crazy" to think that just because abortion could be banned in Poland, women won't seek to undergo the procedure.
"So I should die because the life inside me is more important than me? What if I already have three kids?" she says. "For whom it is better to allow me die?"