'This Is a Pogrom!' Polish Sports Body Echoes Memory of Anti-Semitic Massacres After Victory Over Israeli Team
Poland's soccer association has celebrated the country's victory against Israel by invoking the memory of historic massacres of Jews, calling its match yesterday a "pogrom."
The Jewish Telegraphic Agency reported the Facebook of the Polish Football Association carried the message following the European nation's 4-0 victory over Israel in the 2020 European Championship Qualifiers. "This is a progrom! Winning over Israel 4:0!" the message posted at the close of Tuesday's game in Warsaw read.
In English the word pogrom has become shorthand for an organized massacre of an individual ethnic group. But the word is most specifically used in reference to anti-Semitic mass killings, particularly in Russia.
The Russian word entered the English language in the 19th century where it was most commonly used to describe attacks on Jews in the Russian empire. In Poland it is used to refer to the 1846 Galician slaughter. During the so-called uprising Polish peasants killed non-Jews of the ruling classes.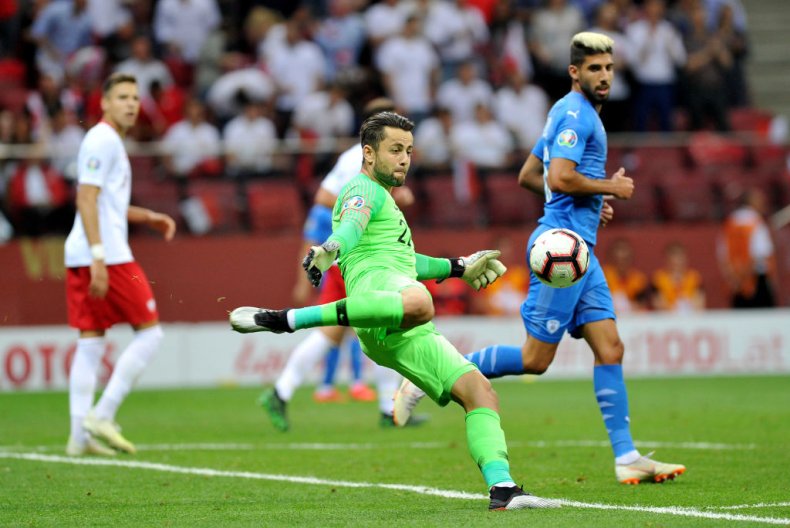 Relations between Israel and Poland's right-wing government have reached a nadir in recent years. Ties between the two counties have suffered principally as a result of new Polish laws that have made it illegal for Poland to be implicated in The Holocaust.
In February Poland's Prime Minister cancelled a trip to Israel after Israeli Prime Minister Benjamin Netanyahu was quoted in the country's media as saying "Poles co-operated with the Germans" during the Nazi genocide. Netanyahu's office later issued a clarification explaining he "spoke of Poles and not the Polish people or the country of Poland," Reuters reported.
A number of Poles have refused to accept historic research which show that thousands of individuals in the country collaborated with the Nazis and facilitated the Holocaust. Thousands of Poles in the country also risked their lives to help the Jews. During World War II, six million Jews were killed in the Holocaust, many of them transported for extermination from other parts of Europe to Polish soil.
There has been an unsettling revival of anti-Semitism in Poland, as across Europe in recent months. Over Easter, the government was forced to denounce an anti-Semitic ritual held in the small town of Pruchnik in the country's southeast. Residents hanged and burned an effigy of the apostle Judas, depicted as a stereotypical Jew.
The U.S. ambassador to Poland was peripherally dragged into a spat on Twitter over Easter after she wished Jews a happy Passover on social media. Georgette Mosbacher was accused of offending Poland with her tweet that showed items for a Passover Seder. Far-right activist Robert Bakiewicz, criticized the U.S. diplomat using similar anti-Semitic tropes. "Christ died and was resurrected also for you, pagans and traitorous Jews," Bakiewicz said according to AP.