Poland Buys $6B of U.S. Military Gear as Russian Troops Sit Near Its Border
Poland is purchasing $6 billion of military gear and equipment from the U.S. amid concerns over the Russian troop buildup near the Ukraine border and a potential invasion.
"Some of those forces [are] within 200 miles of the Polish border," U.S. Secretary of Defense Lloyd Austin said during a press conference Friday.
The planned deal would include 250 Abrams main battle tanks, 250 short-range jamming systems, 26 combat recovery vehicles, almost 800 machine guns and more, a press release from the U.S. State Department said.
While Ukraine is facing the most immediate threat, Poland is part of NATO and a top U.S. ally in eastern Europe, ABC reported.
Austin said during the press conference, which he held jointly with his Polish counterpart in Warsaw, that a Russian invasion of Ukraine could lead to Poland seeing "tens of thousands of displaced Ukrainians and others flowing across its border, trying to save themselves and their families from the scourge of war."
Poland's military gear purchase will help the U.S. support its own national security and foreign policy by aiding such a key NATO ally, the State Department said.
"The proposed sale will improve Poland's capability to meet current and future threats by providing a credible force that is capable of deterring adversaries and participating in NATO operations. Poland will have no difficulty absorbing this equipment into its armed forces," a department statement read.
Austin said that an additional 4,700 U.S. troops are now in Poland. Those soldiers "are prepared to respond to a range of contingencies," he said.
"They will work closely with our State Department and with Polish authorities should there be any need to help American citizens leave Ukraine," Austin added.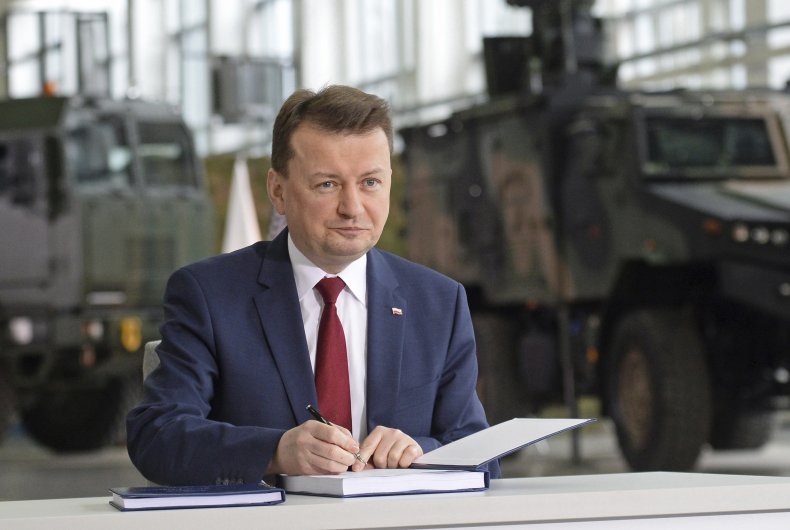 Polish Defense Minister Mariusz Blaszczak said during the press conference that his meeting with Austin was "of special importance" in light of the situation with Russia, and said that he appreciated the presence of U.S. forces in Poland.
Austin said that despite the preparations for a potential war between Ukraine and Russia, "there is still time and space for diplomacy." The U.S. and its allies, such as Poland, have offered Russian President Vladimir Putin "a path away from crisis and towards greater security," Austin said.
"Whatever path he chooses, the United States and our allies and our partners will be ready," Austin said.
Austin also met with Polish President Andrzej Duda in Warsaw to discuss Russia's military actions in and near Ukraine, according to a readout from Pentagon Press Secretary John F. Kirby.
"Both leaders agreed on the importance of maintaining the close security relationship between the United States and Poland to defense and deterrence along NATO's Eastern Flank," the readout said.
Update 2/18/22, 9:57 a.m. ET: This story has been updated with additional information and background.