Poland's Cities Erupt in Protest Over Plan to Force Out U.S. Broadcaster Discovery
Poles took to the streets on Sunday to stage nationwide protests, with thousands rallying outside Poland's presidential palace over a controversial media law that would force out U.S. broadcaster Discovery Inc.
The legislation, yet to be signed into law by President Andrzej Duda, was unexpectedly rushed through parliament on Friday. It seeks to force the U.S. media giant to sell a majority in its local unit, TVN—the country's biggest independent broadcaster which often airs reports critical of Poland's ruling Law and Justice (PiS) party.
The government led by the PiS has maintained that the legislation seeks to limit foreign influence over local media. Discovery is the only media company that would be affected by the bill if it were to be signed into law, Politico hasreported.
TVN Discovery on December 17 called the decision to push the bill through parliament on Friday "an unprecedented attack on the free media."
"This is not just about one channel," Rafal Trzaskowski, mayor of the capital Warsaw and a former opposition presidential candidate said in an address to demonstrators on Sunday. "In a moment [there will be] censorship of the internet, an attempt to extinguish all independent sources of information—but we will not allow that to happen."
As thousands demonstrated outside the president's palace, Emilia Zlotinska, 38, told Agence France-Presse: "We need free speech. I would like the president not to sign it."
Footage aired by the popular news channel TVN24 on Sunday as protests took place across the country showed demonstrators in the country's capital shouting "free media" and waving Polish and EU flags.
"We have to be here today because free media are a pillar of democracy," protester Beata Laciak, a sociology professor, told Reuters in Warsaw.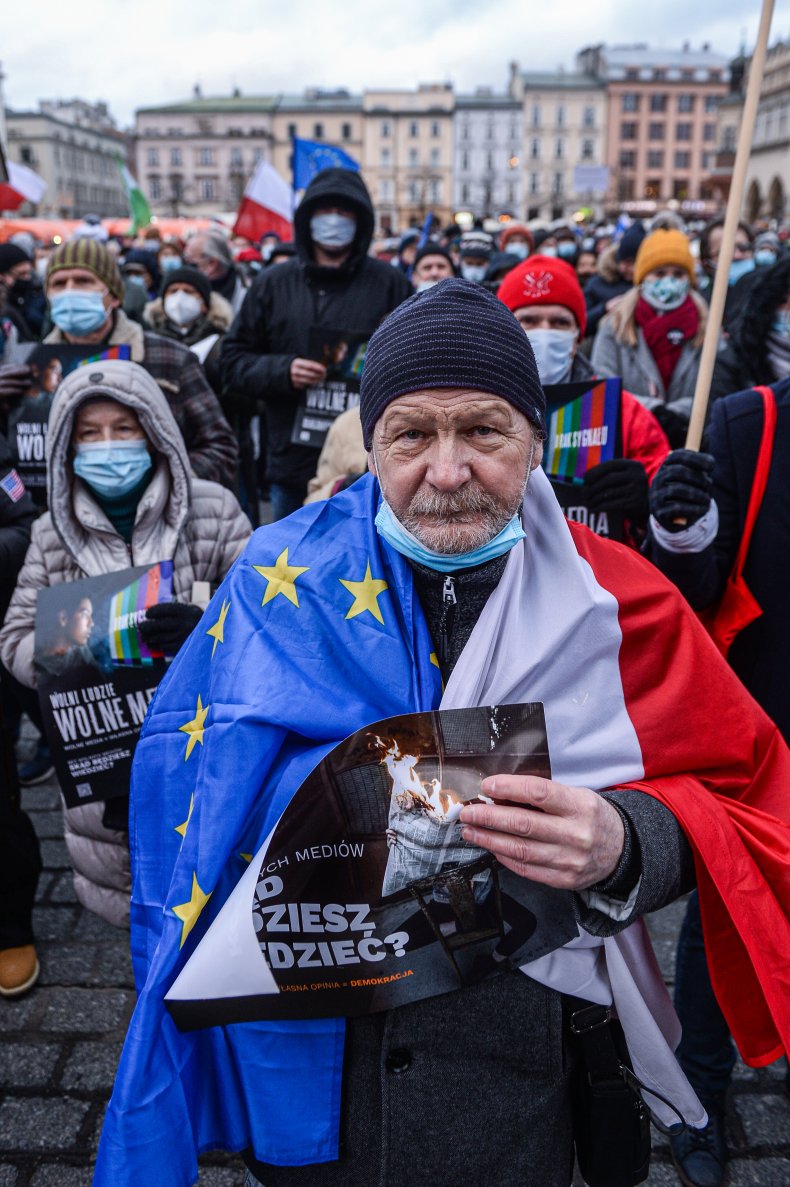 Rallies also took place in the southern city of Kraków, with protesters holding banners advocating for press freedom. Slogans read "Hands off TVN" and "Free Poland, Free People, Free Media."
TVN Discovery said in a statement that it is "extremely concerned" about the result of the vote, but "remains resolute in its defense of the rights of the Polish people and the TVN business."
"The act as adopted is an attack on core democratic principles of freedom of speech, the independence of the media and is directly discriminatory against TVN and Discovery," the company added.
The company also said that it would "use all legal means to continue the mission of our media in Poland," adding that it trusted the president would veto the legislation.
Duda hasn't yet signaled whether he will sign the controversial bill into law, but on Friday, he said he would "analyze" it.
U.S. State Department spokesperson Ned Price issued a statement on Friday urging Duda to protect press freedom.
"The United States is deeply troubled by the passage in Poland today of a law that would undermine freedom of expression, weaken media freedom and erode foreign investors confidence in their property rights and the sanctity of contracts in Poland," Price said.