Russia Accused of 'Blackmail' by Europe As It Cuts Off Gas
Russia has been accused of "blackmail" after it halted gas exports to Poland and Bulgaria, signaling that the Ukraine war will impact Europe's energy supplies.
Russian energy giant Gazprom announced Wednesday it would stop exporting gas to Poland and Bulgaria after they refused to pay for the fuel in roubles, a demand President Vladimir Putin has made to "unfriendly" countries following his invasion of Ukraine.
European Commission chief Ursula von der Leyen said the move was "unjustified and unacceptable" and the European Union (EU) would enact a contingency plan to find the fuel from other suppliers.
She said there would be a co-ordinated EU response and that the bloc "will also continue working with international partners to secure alternative flows."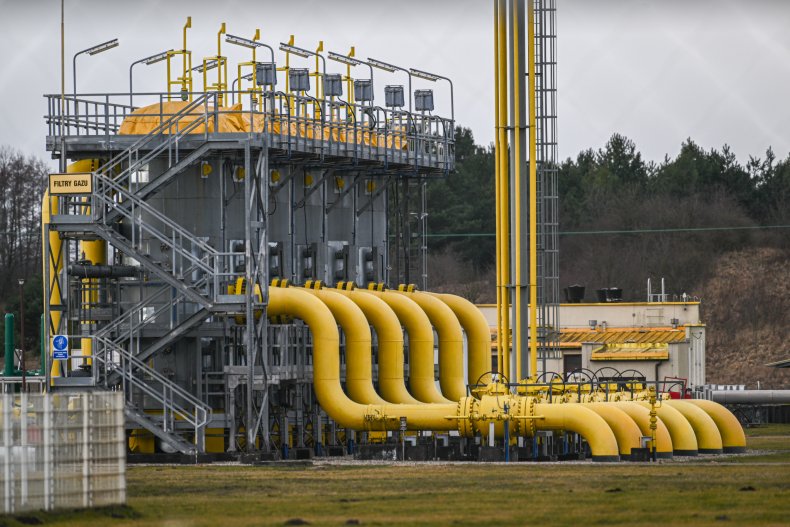 "Europeans can count on our full support," she added.
The cutoff will affect deliveries of Russian gas to Poland through the Yamal-Europe pipeline and to Bulgaria via the TurkStream pipeline.
Polish Deputy Foreign Minister Marcin Przdacz said his country would look to other partners, such as the U.S. and Gulf nations, to meet its gas needs.
"I'm pretty sure that we will manage to handle this," he told the BBC.
Meanwhile, Poland's climate minister, Anna Moskwa, said there would be no need to take from reserves and that a contingency plan had been in place to reduce reliance on Russian energy.
"There will be no shortage of gas in Polish homes," she said.
Bulgarian Energy Minister Alexander Nikolov accused Russia of using gas as a "political and economic weapon."
The EU has rejected in principle Putin's demand for payment in rubles but with deadlines looming other EU governments will have to decide whether to accept the terms or lose supplies and face rationing. European gas prices jumped by 17 percent after Wednesday's news.
Katja Yafimava, senior research fellow at the Oxford Institute for Energy Studies told Newsweek that the European market "will become increasingly nervous" about whether other countries will face similar cuts in the coming weeks.
"My contention is that any EU country which will not pay in line with the new payment procedure, or will not secure an exemption from the Russian government...is likely to see its supplies cut. "
"In the interim, it is likely that buyers will nominate higher volumes on their Gazprom contracts while supplies continue to benefit from the price differential," she said.
Putin's decree requires companies to set up two accounts. One would be in a foreign currency and the other in rubles with Gazprombank, which would convert the payments into the Russian currency to be transferred to Gazprom PJSC.
However, other countries that have refused Moscow's terms such as Austria and Germany, were continuing to receive their gas supplies as normal, the BBC reported.
The only EU country to meet Putin's demand is Hungary, whose president, Viktor Orban, is a Putin ally.
Newsweek has contacted Gazprom for comment,
Update 27/04/22, 7:02 a.m. EDT: This article has been updated with further information and comment.