Poland Moves to Ban Abortions in All Circumstances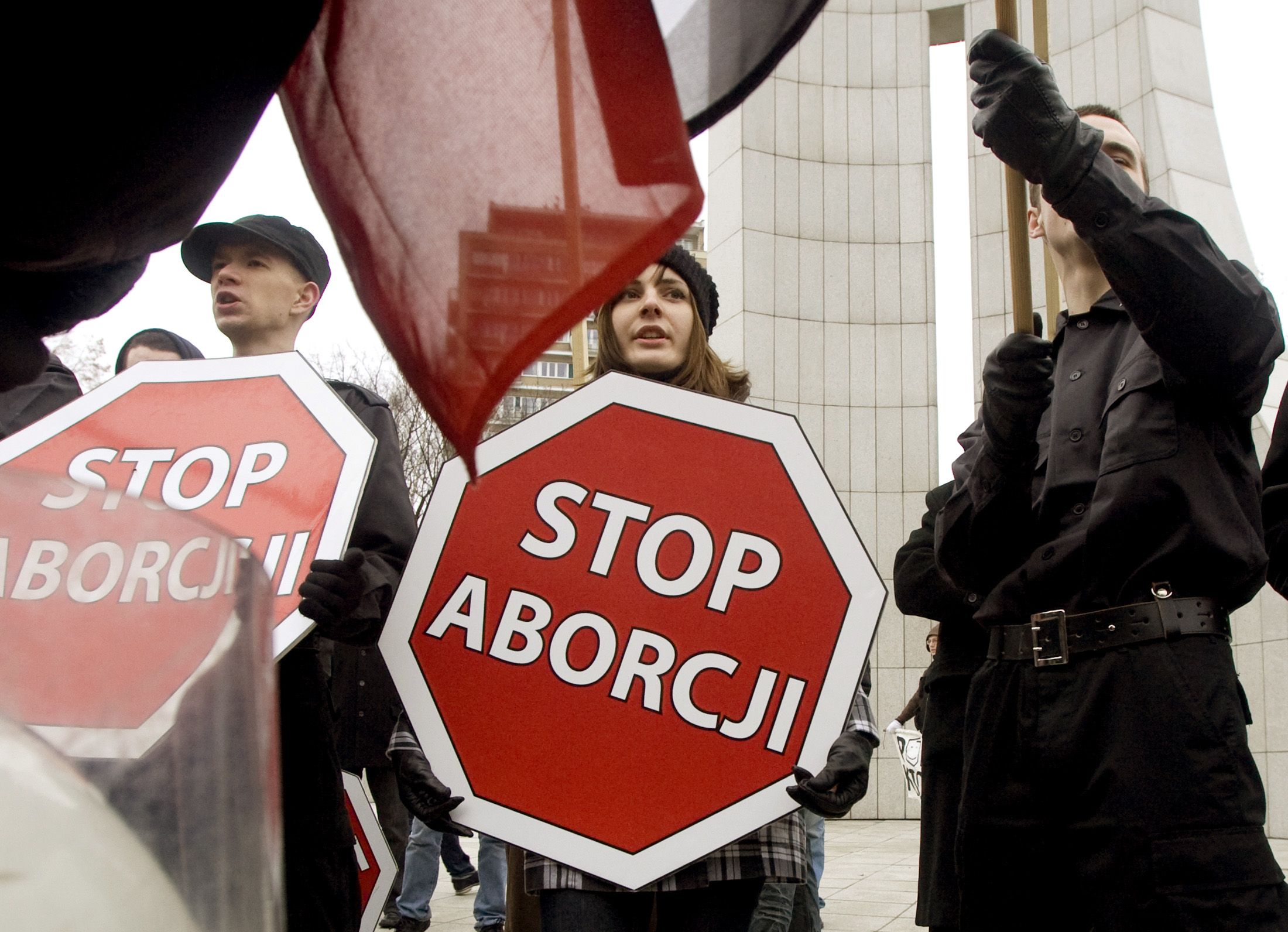 This article first appeared on the Conversation.
When the right-wing anti-Europe party PiS (or Law and Justice) won a majority in the Polish parliament last year, it was expected that its pro-family manifesto would result in a resurgence of anti-abortion rhetoric.
PiS, which is closely affiliated with the Roman Catholic Church in Poland, is critical of homosexuality, vocal in its opposition to same-sex marriage and IVF and largely supportive of banning abortion in most cases—even if the pregnancy is the result of rape or incest.
Now, attempts are underway to introduce a total ban on abortion in Poland. This has the backing of the Roman Catholic Church and key figures in PiS. But many Poles, already alarmed by a spate of actions that appear to endanger civil liberties, are taking to the streets.
A street movement has been growing since November 2015, and abortion is the latest battleground. Some even argue that an abortion ban would represent a form of "repayment" to the church for supporting PiS—backing that helped it to become the first party to win a parliamentary majority since the fall of communism. At the very least, the proposed ban strengthens the ties between the Church and PiS.
Abortion Law in Poland
Along with Ireland and Northern Ireland, Poland already has some of the most restrictive abortion laws in Europe.
Abortion is only legally permissible under certain strict conditions. If the pregnancy constitutes a threat to the life or health of a woman, if prenatal examination indicates heavy, irreversible damage of the embryo, or if an incurable illness threatens the embryo's viability, then it is legal. It is also legal if there is justified suspicion that the pregnancy is the result of an illegal act—but that must be confirmed by a prosecutor.
The law was briefly liberalized in 1996 to allow for abortions on social grounds until the 12th week of pregnancy. But that decision was ruled unconstitutional, and the country reverted to previous legislation.
Official statistics are hard to come by, but the Federation for Women and Family Planning has estimated that around 150,000 illegal abortions are carried out each year.
Proposed Changes
The number of legal abortions carried out remains very small. That's partly because the grounds on which a procedure can be requested are so restrictive, and partly because obtaining an abortion remains very difficult because of the so-called conscience clause, which allows medical staff to refuse to perform an abortion if it goes against their personal beliefs.
Despite how difficult it is to get treatment, the pro-life lobby (which is closely affiliated with the Roman Catholic Church) remains extremely active. It wants nothing short of a total ban on abortion.
And the ascendance of PiS means such pro-life rhetoric is now being echoed by those in political power. Among others, Prime Minister Beata Szydło and ruling party leader Jaroslaw Kaczyński have both said that they favor a complete ban on abortions.
On Sunday April 3, a formal campaign for a ban began. Polish bishops the length and breadth of the country read a joint open letter aloud in churches. In it, they claim life begins at the moment of conception and ends with natural death. The letter calls upon all people, parliamentarians and government officials to ensure the legal protection of "unborn children." In a church in the Gdańsk region, women and men walked out of a service in protest.
The Stop Abortion civic committee has drafted a bill that would lead to a complete ban and a new criminal offense of "prenatal murder". This will introduce a penalty of three to five years in prison for women, doctors and anyone helping a woman to perform an abortion. Even if the abortion is unintentional, the penalty will be up to three years in prison.
It's not yet clear if they will succeed but the legislative initiative is currently awaiting a decision from the parliament's speaker on whether it will be registered. If successful, the Stop Abortion committee will have three months to collect 100,000 signatures to ensure that the law will be debated in the Sejm—the lower house of the Polish parliament.
Vocal Backlash
These attempts to mobilize support in favor of restricting abortion yet further are, however, being fiercely resisted. There have been mass protests across Poland and even a show of support in London, with more action planned.
Since coming to government, PiS has taken direct control of state media, the appointments of senior civil servants, and passed a law designed to paralyze the constitutional court.
In response to this crisis, a mass opposition movement called KOD was founded in November 2015. This argues that the PiS agenda represents a wholesale attack on democracy, the rule of law and human rights in Poland. It believes the separation between church and state is being eroded and that the country is moving away from the European Union.
Abortion may have been difficult to access before now, but this debate has further galvanized a section of the Polish public already deeply concerned about the actions of a new government that appears to show scant regard for basic rights.
Left-wing politicians have previously resisted attempts to curtail abortion rights, but there are significantly fewer of them in parliament following the PiS victory.
If the legislative initiative makes it to parliament, there is a very real chance that it will find some degree of support, even if that does not amount to a complete ban. A further erosion of women's access to abortion in Poland seems likely.
Anne-Marie Kramer is a lecturer in the faculty of Social Sciences, University of Nottingham. She has received funding from the ESRC to carry out research into reproductive politics in Poland.