Poland Nationalist Rally With Neo-Nazi Slogans, Calls For 'Islamic Holocaust' Draws Biggest Crowd Ever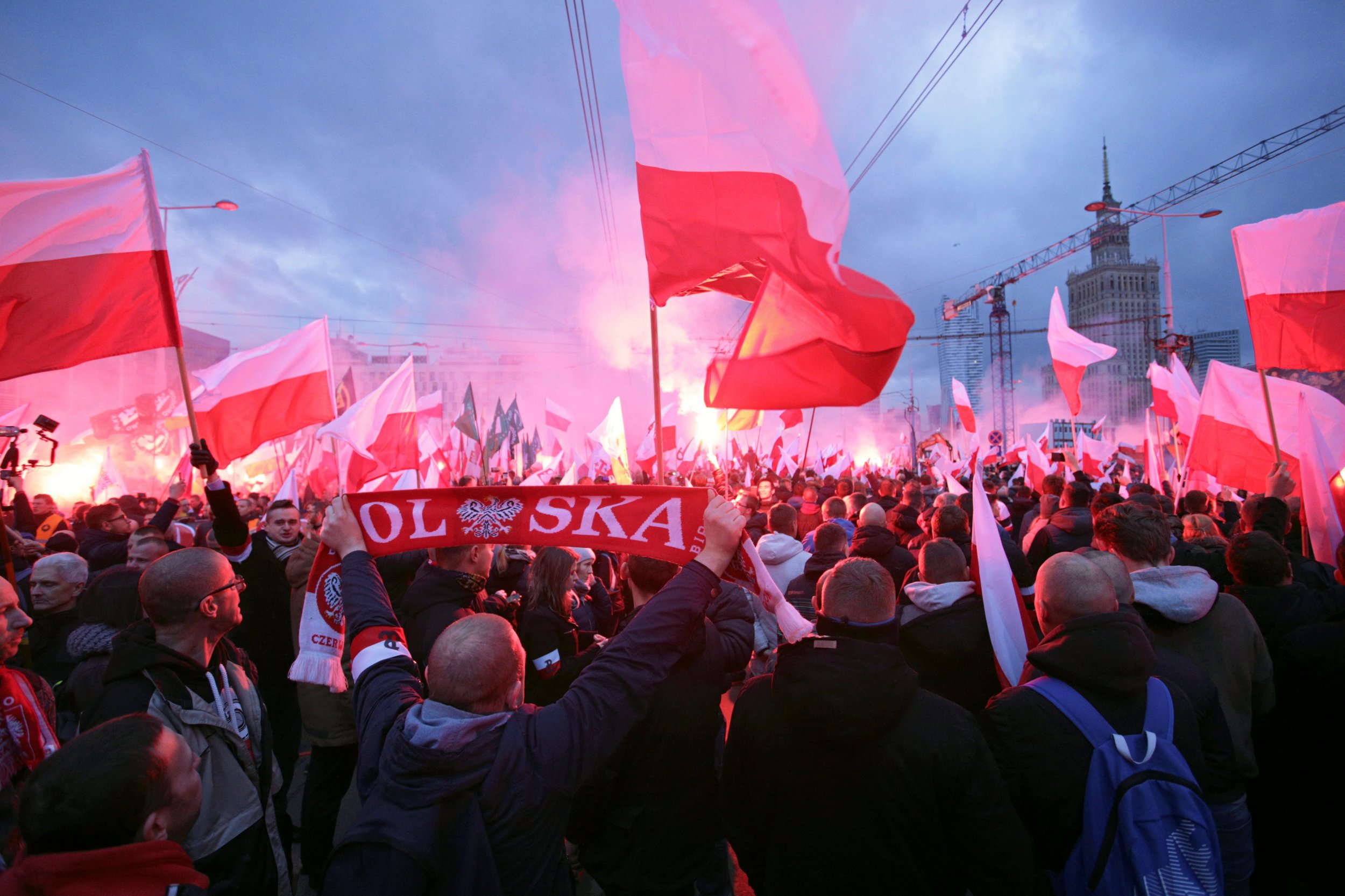 An annual nationalist rally in Poland drew all-time high attendance Saturday as tens of thousands of young, angry demonstrators marched through the streets of Warsaw brandishing Nazi and white supremacist slogans and calling for an "Islamic holocaust."
Police said the eighth annual independence day rally from the far-right National Radical Camp drew an estimated 60,000 people — a staggering spike for an event that used to draw only a few hundred people after starting in 2009. It is now the largest independence day event in Poland and one of the biggest nationalist marches anywhere in Europe.
The march also drew about 2,000 counter-protesters, according to BBC, and led to police detaining about 50 people.
One of its most famous would-be guests — the American white supremacist Richard Spencer, who has at times been banned from more than 20 European countries — did not take his invitation to the event, after the Polish government had told him to stay home.
But the rally needed little help in attracting attention, as thousands of members of neo-Nazi, white nationalist and racist groups joined force for a rally condemned (but still approved) by the city's government.
At the march, demonstrators tossed red smoke bombs and carried banners with phrases like "White Europe," "Clean Blood," "Europe Will Be White" and "Pray for Islamic Holocaust," according to the Wall Street Journal. They also introduced a new slogan — "We want God" — which reflects the chant from more than a million Poles who saw Pope John Paul II visit the country, his homeland, in 1979. President Donald Trump evoked that phrase during his July visit to Warsaw, saying it represented Poland's striving to become a better nation.
"As I stand here today before this incredible crowd, this faithful nation, we can still hear those voices that echo through history," Trump said in his July 6 address in Krasiński Square. "Their message is as true today as ever. The people of Poland, the people of America, and the people of Europe still cry out 'We want God.'"
Poland has one of the fastest-growing far-right movements in Europe, as nationalist groups rally against the influx of Syrian refugees to the country and the continent. The Radical Camp has told its followers on social media that the Syrian migration is part of a conspiracy between Jewish financiers and Communists to destroy the European Union with Islam, Sharia law and homosexuality. The group considers itself the new version of a movement with the same name in the 1930s that tried to drive out Jews from Poland years before the Holocaust started.