Poland Ready to Send Ukraine Game-Changing Weapon as Russia Makes Gains
Poland said on Monday that it's willing to provide Ukraine with F-16 fighter jets, which could give Ukrainian President Volodymyr Zelensky a weapon he's been imploring the West for at a time when Russia has seen incremental gains on the battlefield.
When asked about the F-16s during a press conference, Polish Prime Minister Mateusz Morawiecki said the transfer of any aircraft to the Eastern European country could happen only in agreement with NATO countries, but added that his country "will act in full coordination."
Andriy Yermak, the head of Ukraine's Presidential Office, also commented on the matter in a Monday post on his Telegram channel.
"The work on obtaining F-16 fighters is ongoing," he wrote. "We have positive signals from Poland, which is ready to transfer them to us in coordination with NATO."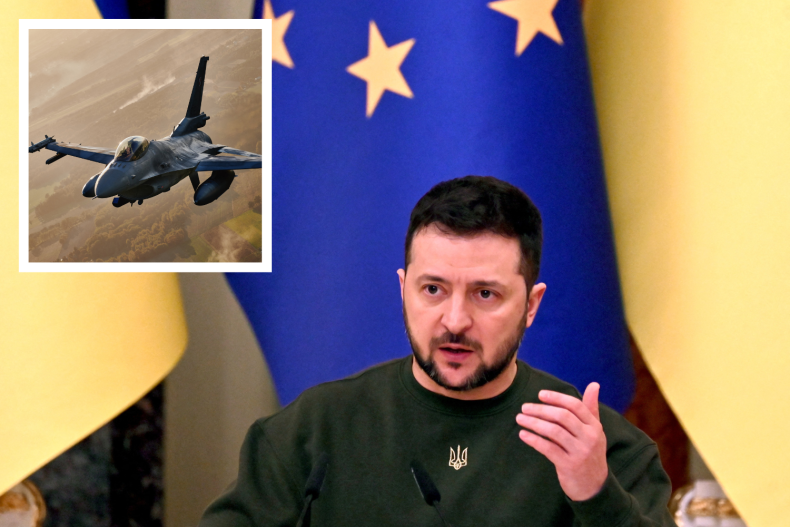 The news from Poland comes after a Sunday assessment by the Institute for the Study of War (ISW), which said that "Western reluctance" to give major weapons to Ukraine has allowed Russian President Vladimir Putin's military to gain momentum and seize recent victories against Zelensky's troops.
"Ukraine had no meaningful defense industry going into the war and was therefore almost entirely reliant on its Western backers to provide the materiel it needed to stop the initial Russian offensive and then, even more so, to initiate and sustain counter-offensives," the ISW wrote.
The U.S.-based think tank added that Russia's forces took advantage of recent delays Ukraine experienced in getting weapons from the West "to benefit from the windows of vulnerability their own defeats and incompetence produced by mobilizing manpower and equipment and starting to rationalize their own forces."
Meanwhile, Russia on Monday said its forces are winning in Vuhledar, a city in the Donetsk province, which has been the sight of intense fighting recently. The Wagner Group—the group of Russian mercenaries that has seen heavy action in the war—declared on Sunday that it had taken the village of Blahodatne. Fighting also remains fierce in Bakhmut, a key city that lies not far from Soledar, which Russia also recently claimed to have captured.
As Ukraine experiences setbacks on the battlefield, government officials from the country began amplifying its calls for more weapons. After Ukraine successfully lobbied its allies for tanks, those officials recently set a new weapons goal.
"The next big hurdle will now be the fighter jets," Yuriy Sak, an adviser to Ukraine's Defense Minister Oleksiy Reznikov, told Reuters last week.
A government official from the Netherlands recently said his country would consider supplying F-16s to Ukraine. John Spencer, a retired U.S. Army major and chair of Urban Warfare Studies at the Madison Policy Forum, told Newsweek earlier this month that F-16s would be a "huge add" to Zelensky's military and would provide a significant impact.
Now, however, Poland—a country that recently pledged Leopard 2 battle tanks to Ukraine—could be the first to give Zelensky F-16s.
George Mason University Schar School of Policy and Government professor, Mark N. Katz, provided Newsweek on Monday with some reasons why Poland may be more willing than some other countries to arm Ukraine.
He said Poland might be "especially supportive" of the war-torn country because it fears that "if Russia defeats Ukraine, then Poland will become a target for Moscow."
"For Poland, NATO support for Ukraine is not just a matter of altruism, but an effort to make sure that Russia cannot defeat Ukraine and be in a stronger position to threaten Poland," Katz added.
Newsweek reached out to the Ukraine's ministry of foreign affairs for comment.