Poland to Require COVID Vaccine to Hold Jobs in Medicine, Education and as First Responder
Poland's Health Minister Adam Niedzielski announced Tuesday that starting March 1, 2022, being fully vaccinated against COVID-19 will be mandatory for medical workers, teachers and first responders like police, military, firefighters and uniformed security guards.
Poland has seen an average of up to 500 coronavirus-related deaths per day in recent weeks, adding to its total of around 86,000 COVID deaths in their population of about 38 million through the course of the pandemic.
Niedzielski said the new steps will be taken in an effort to bring down the recent spike in cases, with several days registering over 20,000 new infections, according to data from Johns Hopkins University.
Starting December 15, nightclubs in the country will be closed, and hotels, restaurants, theaters and churches are to be reduced from a maximum of 50 percent capacity to 30 percent, and the capacity level can only be exceeded by fully vaccinated individuals.
The rise in cases, and tightening of restrictions is a trend being mirrored around Europe.
Last week, Germany put in place measures restricting access of unvaccinated residents to certain stores, restaurants and sporting events as the country tries to reach a goal of at least 75 percent of the eligible population vaccinated, as they currently are just above 68 percent, according to EuroNews.
Stricter regulations have also led to conflict in several European countries, with protests erupting in recent weeks in Belgium, Austria, Croatia and Switzerland.
A reported estimate of about 40,000 people protested in the Austrian capital Vienna for the third consecutive week against the country's lockdowns and vaccination mandate. Austria became the first European country to lock down again last month, along with an announcement from Chancellor Alexander Schallenberg that as of February 1, vaccination will be mandatory for all eligible Austrian citizens.
Several other countries like Italy, France, Switzerland and Ireland have introduced various versions of a health pass in recent months, requiring residents to prove negative tests or vaccination status for different activities from public transportation to sporting events and indoor dining at restaurants.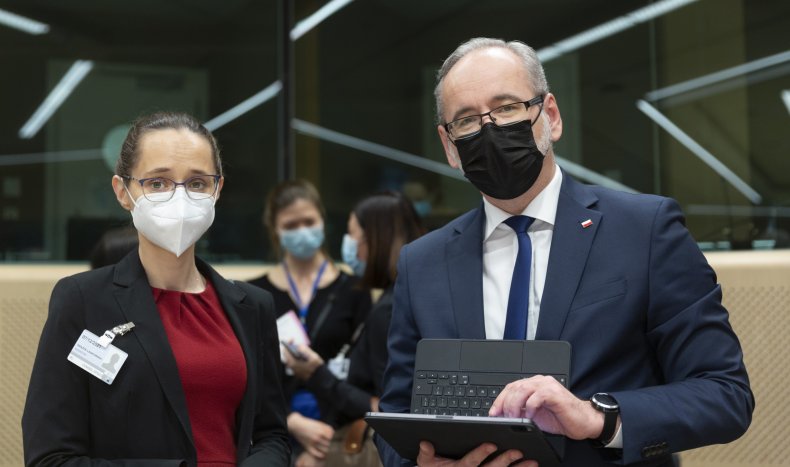 Niedzielski said amid a continuing high level of daily new infections, Poland was following in the footsteps of Germany and Austria in requiring vaccine jabs for these three professional groups.
All primary and middle schools switch to online learning December 20 through January 9. Most of that time is the Christmas vacation.
The ruling conservative party is also debating a draft law, to be prepared within days, that would empower employers to see results of COVID-19 tests of their employees.
The Associated Press contributed to this report.