Donald Trump Refuses to Criticize Russia During Joint Press Conference With Poland's Leader
During a joint press conference between President Donald Trump and Poland's President Andrzej Duda, Russia appeared to be on everyone's mind. Nevertheless, President Trump was unwilling to acknowledge the contentious history between Poland and its neighbor Russia or the threat Moscow poses.
Speaking from the White House Rose Garden, President Duda slammed Russia for its role in World War II, when Poland was invaded by both the Soviet Union and Germany and millions of its inhabitants died.
"Our country vanished from the map of Europe after the attack of the Soviet Union against Poland. That is our history. It is a very difficult one," Duda said on Wednesday.
"Russia again is showing its unkind, unfriendly imperial face," Duda added later about modern Russia.
Trump, however, responded that he hopes "we will have a great relationship with Russia."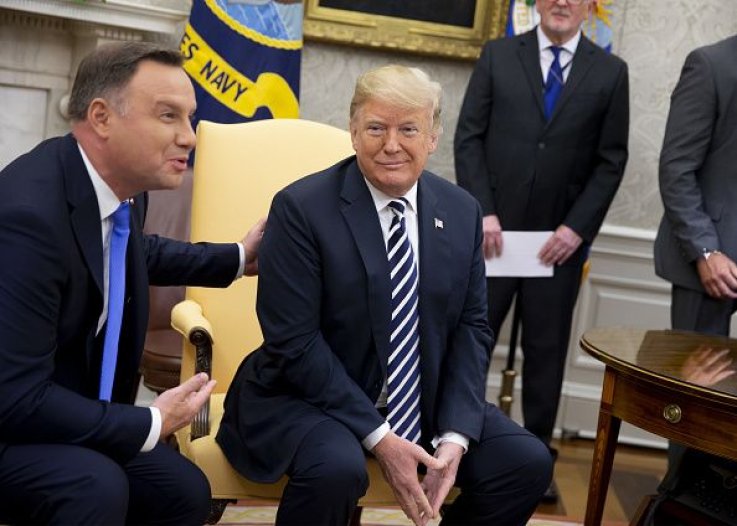 "I think that Russia will treat Poland with respect, just like the rest of the world is treating. Poland has really built up a great country. You know, they get hurt, unfortunately, too often. Right? Too often. They're in the middle of everything. And when bad things happen, it seems that Poland is always the first one that's in there. And it's unfortunate," Trump said.
"No, I hope that Russia and Poland and Germany and everybody is going to get along. That's what I want. I want everybody to get along," he added.
During the press conference, Trump announced that Poland would continue to support the U.S. troops stationed in the country.

"The Polish government will build these projects at no cost to the United States. The Polish government will pay for this," Trump said.
"Poland's burden sharing also extends to the [North Atlantic Treaty Organization] alliance, where it is among 8 NATO allies including the United States currently meeting the minimum 2 percent of GDP for defense spending… Poland is there, and you've been there from a very early day and we appreciate that very much," Trump said.
He did not, however, acknowledge the fact that Poland spends more on defense than the majority of other NATO members in order to deter Russian aggression and to keep Russia from interfering in the country.

Trump also highlighted Poland's need for energy independence without specifying that it is Russia in particular which dominates much of Europe's energy market.
"Reliance on a single foreign supplier of energy leaves nations totally vulnerable to coercion and extortion," Trumps said, without calling Russia out by name. Instead, he announced that Poland will buy more liquified natural gas from the U.S. and will cooperate with the U.S. on nuclear technology.
Donald Trump Refuses to Criticize Russia During Joint Press Conference With Poland's Leader | World