Poland announced that work has started on a 115-mile wall along the country's border with Belarus, saying two construction companies will work around the clock to complete the wall in June.
According to the Associated Press, reporters were allowed to see work being done near a closed border crossing in the village of Tolcza in eastern Poland on Thursday. Military and border guards patrolled the area while excavators and cranes prepared the ground for the 18-foot metal wall that will be topped with barbed wire, cameras and electronic alarm systems and that will ultimately cost around 1.6 billion zlotys ($394 million).
The wall is being built to stop migrants pushed from Belarus into Poland, which is opposed to taking large numbers of migrants across its border, the AP reported. The European Union has called the situation a "hybrid attack."
According to the Arab News website, Bulgaria, France, Macedonia, Slovenia and Spain have created similar border walls.
"The Belarusian side is ready to do anything when it comes to provocations, so we have to be ready for any kind of event," Major Arkadiusz Tomaszewski was quoted by the AP. He is the deputy commander of the Polish Border Guard in Kuznica, an eastern border crossing in the country.
Last year, Poland sealed the border with razor wire and increased guard patrols, according to the AP. Lithuania also started building a wall on its border with Belarus.
According to Central Europe's Kafkadesk news site, Polish border guards have reported that about 800 people have tried to cross the border since the start of 2022.
Grupa Granica, a Polish border group that provides aid to migrants and individuals seeking asylum, told the AP that it received requests for help from nearly 350 people, 51 of which were children, in the first three weeks of 2022.
"It doesn't stop desperate people who are fleeing danger from trying to cross," Natalia Gebert from Grupa Granica told the AP regarding the border wall.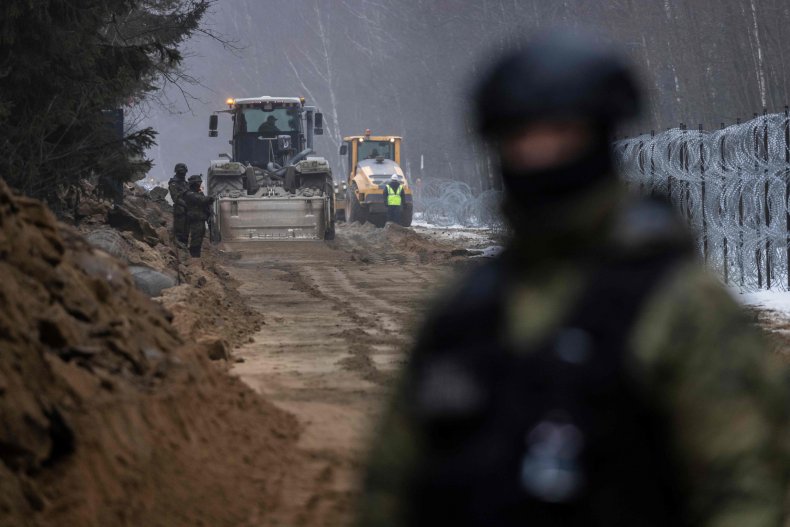 According to Schengenvisainfo News, human rights organization Amnesty International indicated that it has received reports of migrants being beaten by batons and rifle butts at the hands of authorities in Belarus.
According to the AP, 12 migrants were reported dead in the Bialowieza Forest due to worsening conditions and sub-freezing temperatures.
Critics and environmentalists have also expressed concern over wildlife and the environmental impact the border will have, as it is in a mostly forested area, according to the AP and Kafkadesk.
"Our intention is for the damage to be as small as possible," Anna Michalska, a Polish border guard spokeswoman, told Kafkadesk.