U.S. media company Discovery will no longer have to sell its share of Polish TV network TVN.
This decision was made by Polish President Andrzej Duda on Monday after he vetoed a bill that would force the deal to take place. The bill's unpopularity with citizens was cited as the primary reason for the veto.
"Contracts have to be kept," Duda told reporters at a press conference. "For us Poles it is a matter of honor."
Without the veto, the bill would have forced Discovery to sell its stake in TVN due to non-European entities being prohibited from owning more than a 49 percent stake in broadcasters. While politicians argued that the bill would help European companies have more control over its messaging, many citizens were concerned that it would be a push towards censorship. TVN helps to broadcast an all-news television station and an influential evening news program on its main channel.
Discovery issued a statement on the ruling on Monday. "We commend the president for doing the right thing and standing up for core democratic values of a free press and the rule of law," the company said, "and we want to thank all the viewers and everyone that has supported this important issue."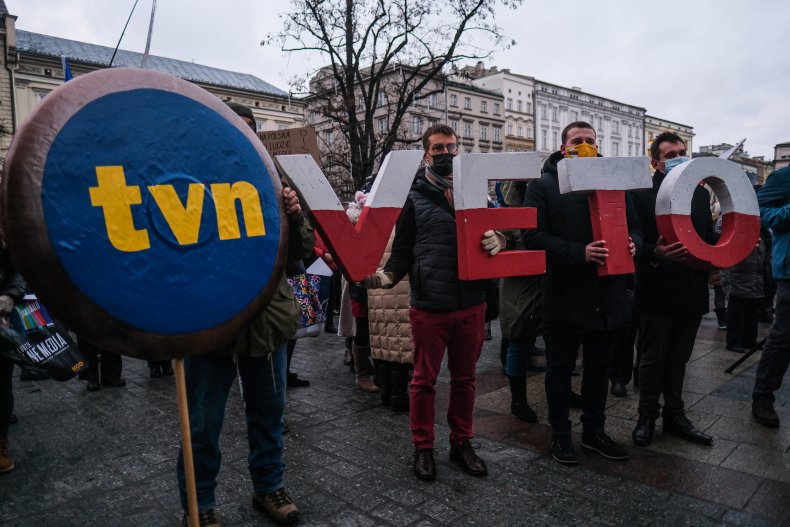 Mass nationwide protests were recently held in support of the station and of freedom of speech more broadly. Donald Tusk, the leader of the centrist Civic Platform opposition party who spoke at that demonstration, said Duda's decision showed the importance of pressure from the U.S.—and pressure from the street.
"Let no one say anymore that it is not worth it, that it is impossible, that we cannot do anything. We can and we must," Tusk said on Twitter.
Discovery had threatened to sue Poland in an international arbitration court, saying it would fight for its investment. The network was first bought by another U.S. company, Scripps Networks Interactive, for $2 billion and later sold to Discovery.
It represents the largest-ever American investment in Poland and the company now puts TVN's value at $3 billion.
Duda said the bill would have violated the provisions of a Polish-U.S. economic treaty signed in the 1990s, and Poland could have faced possible penalties reaching in the billions of dollars if he had signed it.
Duda said he agreed in principle that countries should limit foreign ownership in media companies, saying many other democratic countries—including the United States, France and Germany—have such legislation.
He said that he would support such legislation that would affect future investments. But he argued that in the case of TVN, the law would have hurt a business already operating legally in Poland.
The Associated Press contributed to this report.