Polar Bear Breaks Into Norwegian Hotel, Gets Stuck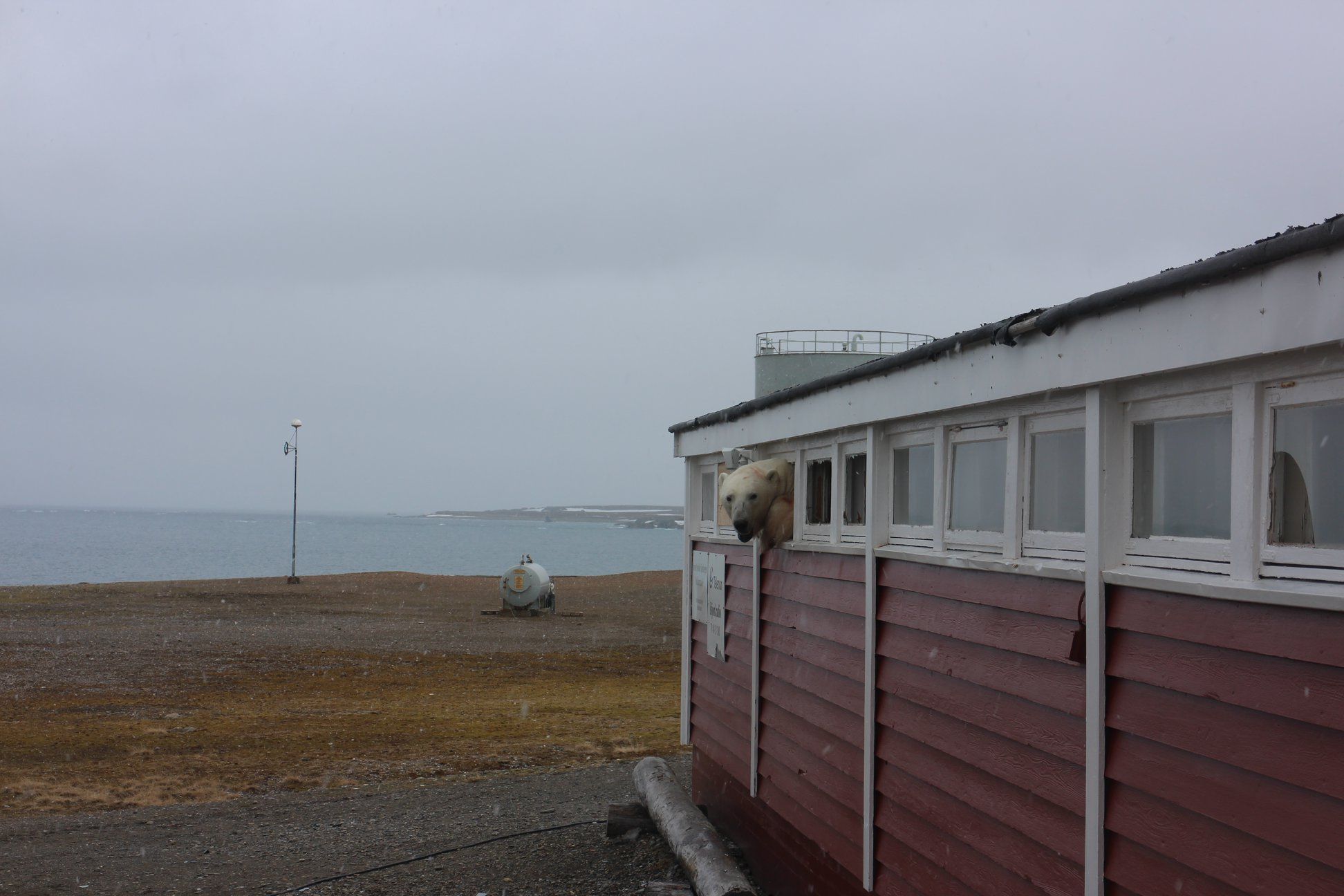 A polar bear broke into a Norwegian hotel in search of food, got stuck and had to be rescued by the local governor.
The bear wandered onto the premises of the seaside Isfjord Radio hotel in Norway' Arctic Svalbard region in the early hours of Sunday morning, forcing its way unnoticed into a storage hut on the seafront. Getting out, however, was more difficult. Although the bear's head was sticking out the window in plain sight, it was not until daybreak that the animal was first noticed.
Nature guide Malin Stark from Sweden was the first to approach the hut, not seeing the bear but spotting muddy paw prints leading to a broken door - not an uncommon occasion on the island. Her annoyance turned to surprise when she realized this bear never left.
Related: Bears in Finland and Estonia are wreaking havoc because of their love of honey
"I realized that it was still in the garage," she told Swedish daily Aftonbladet. The door had slammed shut behind the bear and some of the other windows had cracks and breaks, suggesting the animal had tried to break out in distress, making any approach dangerous.
"With a stressed bear that has been stuck for several hours, it's not the time to try to go and open a door for him," Stark said, according to the The Local website. Instead, she alerted the hotel, who then notified authorities, with the governor deciding to visit the site himself.
The bear, disturbed by the approach of the governor's helicopter, slid its paw out of the small window and with another push managed to squeeze out. Its escape was filmed on a phone camera and published by local newspaper Svalbardposten.
The animal ran out, leaving a mess in the hut, including some broken glass. Its foot appeared bloody and Stark assumed it could have cut itself by accident. The bear, obviously afraid, was soon back in the water.
The animal apparently approached the hotel again the following day but was not allowed to walk freely into its facilities. "This time we didn't let him get as far as he did the night before," Stark wrote on Facebook, with a new picture of the polar bear.