Polar Bear Cub Rescued After Getting Tongue Stuck in Tin—Video
An emaciated polar bear cub has been rescued after getting getting its tongue caught in a metal can of condensed milk while roaming around an Arctic outpost in northern Russia.
The alarm was sounded when the young female bear was seen wandering up to huts in the remote settlement of Dikson in the Krasnoyarsk region on Wednesday.
A team from Moscow Zoo flew out to help the bear, arriving in the region in the evening after a delay due to bad weather.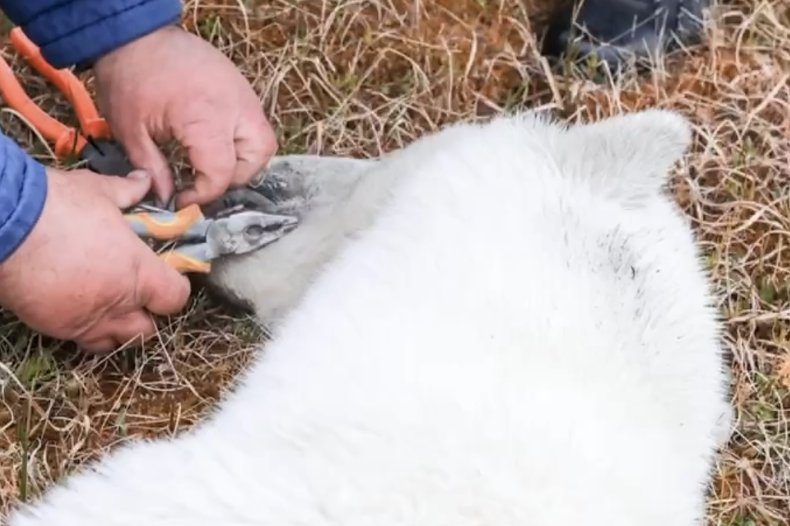 "After disturbing reports about a bear that came out to people with a metal can of condensed milk in its mouth in the village of Dikson in the north of the Krasnoyarsk Territory, an emergency meeting of the working group on the polar bear cub rescue program was held," Svetlana Akulova, director general of Moscow Zoo, said in a post alongside video of the rescue on Telegram. "It was decided to provide urgent assistance."
The team managed to tranquilize the bear with a single dart and removed the metal from her mouth, Akulova said. A veterinarian also treated cuts to the bear's tongue.
The bear was taken away from the settlement and experts are continuing to keep a close watch. Multiple other Telegram channels also shared videos of the rescue operation, including Mash, a Russian-language breaking news agency.
"The next important stage is her recovery from the anesthesia. But our specialists will be nearby, watching the process," Akulova said in remarks distributed by the zoo, Reuters reported.
"We hope that everything will be fine. We left some fish near the bear because she had been without food and water for quite a long time."
Mikhail Alshinetsky, the zoo's chief veterinarian, added that bear was thin and slightly dehydrated, but that her injuries were expected to heal.
The bear will then be taken to her natural habitat.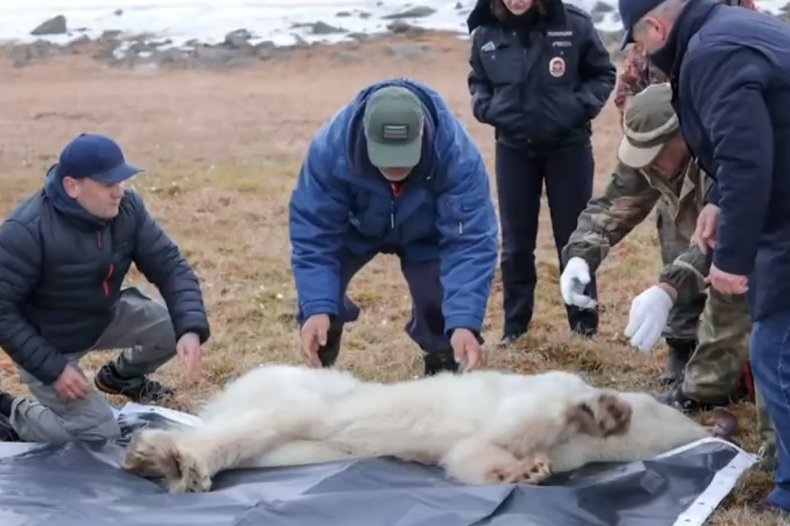 The incident comes after a team of Canadian and U.S. scientists warned that hungry polar bears are turning to garbage dumps for food as their icy habitat melts due to climate change.
Polar bears rely on sea ice to hunt seals. But sea ice is melting earlier in the summer and freezing later in the fall, forcing polar bears to spend more time foraging for food ashore and away from their natural prey.
In the report punished in the Oryx journal earlier this week, the scientists say trash from humans poses a threat to the already vulnerable polar bear populations.
It is leading to deadly conflicts with people, according to the report.
It is also dangerous because bears can be killed out of concern for public safety and consuming garbage can make the bears sick.
The report's co-author Andrew Derocher, a biologist at the University of Alberta, tweeted that the recent case was similar to others outlined in the paper. "Polar bears & garbage is a bad mix," Derocher wrote.