Polar Bear Shot and Killed after Attacking Tourist Cruise Ship Guard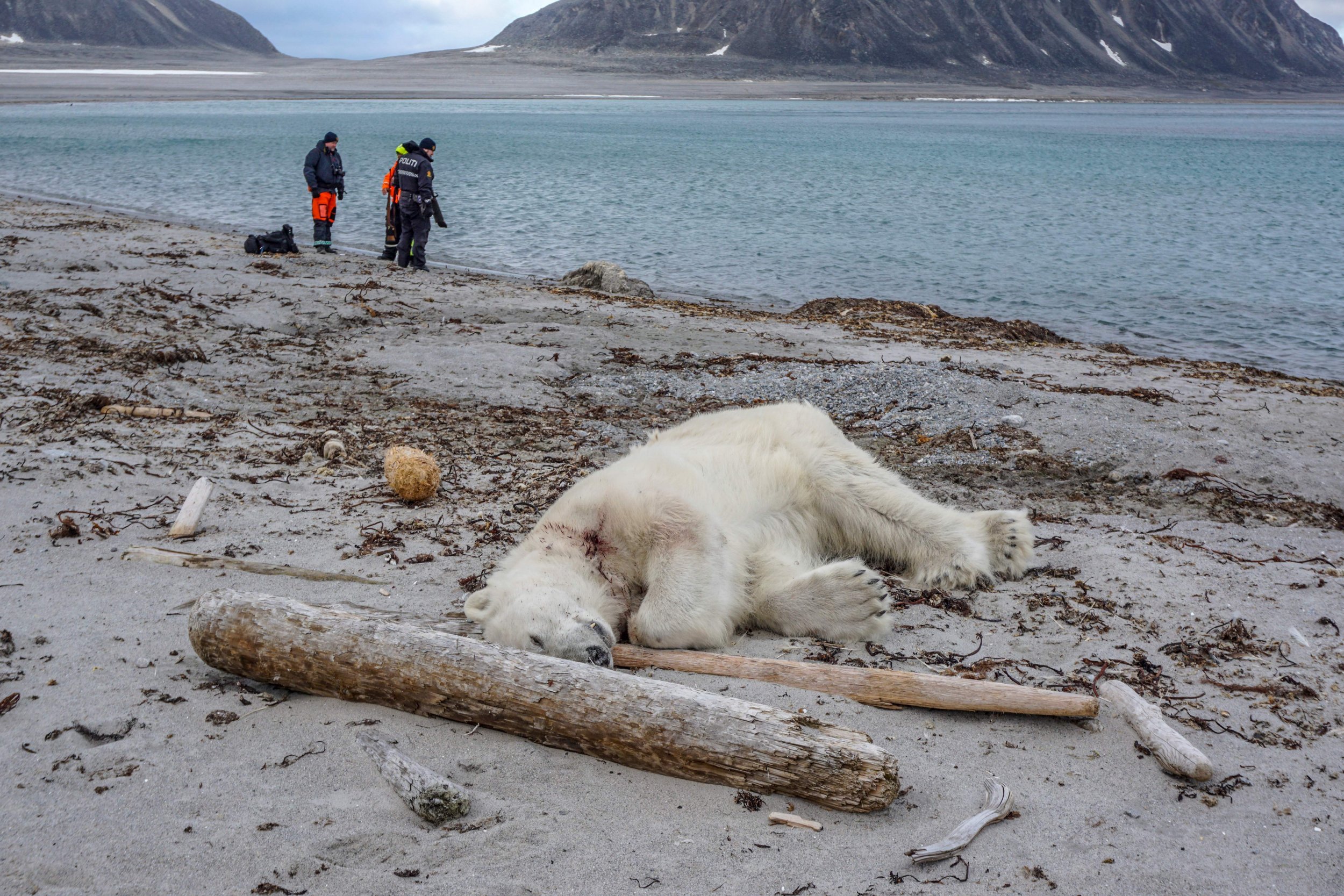 A polar bear was shot and killed this weekend after attacking a cruise ship guard who was helping tourists during an island expedition, Norwegian authorities have confirmed.
Rescue helicopters were sent from Longyearbyen, in Norway's Svalbard archipelago, on Saturday to respond to a report that a man had been injured by a bear. It is believed that the victim, who has not been named, is not in a life-threatening condition and is now receiving medical care.
The Joint Rescue Coordination for Northern Norway tweeted this weekend to confirm that the worker had been injured by a polar bear at Sjuøyane, which is north of Svalbard. "The incident occurred [when] tourists landed on one of the islands from a cruise vessel," officials wrote. "The condition of the injured should be stable. The polar bear was shot and killed."
The operator of the German cruise ship MS Bremen, the Hapag Lloyd Cruises company, told the Associated Press on Saturday that the bear had been shot "in an act of self defence" by a second guard after one of the crew members "was attacked by a polar bear and injured on his head."
Spokeswoman Negar Etminan explained that all of the firm's cruise ships have polar bear guards on board during trips. "[The victim] was flown out, was responsive," Etminan told the AP.
The Svalbard archipelago is a region between mainland Norway and the North Pole. Nearly two thirds of its surface is protected and "consists of several nature reserves, national parks, bird sanctuaries and even a geotopical area," according to VisitNorway.com. It is known for its barren landscapes and wild animals. Some cruise offerings advertise the chance to see wildlife.
"Polar bears can be seen anywhere on Sjuøyane," one website said about the region where the attack took place. "The polar bear distribution is strongly related to the distribution of sea ice," it added. "If there is drift ice around the islands it is more likely that there will be polar bears on the islands. Usually there are also a few polar bears remaining in the area over the summer."
Earlier this month, the Royal Canadian Mounted Police confirmed that a 31-year-old man called Aaron Gibbons had been killed in a tragic polar bear attack while protecting his children in the Canadian territory of Nunavut. The polar bear responsible for the attack was shot and killed.
Yet while the attacks may seem vicious, evidence suggests that the species' survival is currently at risk as key food sources—including seal blubber— are disappearing as the Arctic ice continues to melt. The scientific study, as reported, suggested polar bears lack a viable food alternative.