Beautiful Photos Show Polar Bears Living in Decaying Homes on Abandoned Island
Polar bears have taken over an abandoned island in Russia, beautiful images taken by a wildlife photographer show.
Wildlife and underwater photographer, Dmitry Kokh, visited the remote Kolyuchin Island to find a group of polar bears had claimed it as their own and moved into the abandoned, decaying houses.
His photos show how the polar bears have taken residence inside the buildings that were left behind by their former inhabitants around 30 years ago.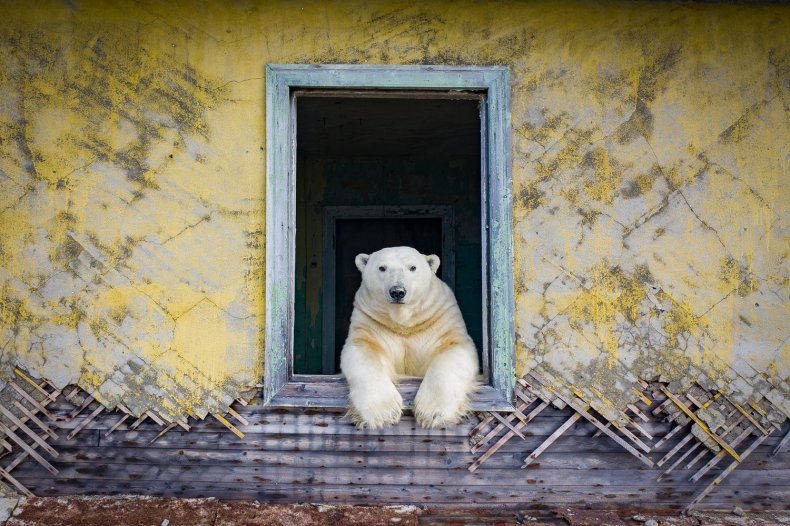 Kolyuchin Island is located in the middle of Chukchi Sea. It used to be home to a weather station that was built in the 1930s, according to the U.K.'s Daily Telegraph.
Humans have not had a permanent presence on the island for 30 years, much to the benefit of the polar bears observed by Kokh.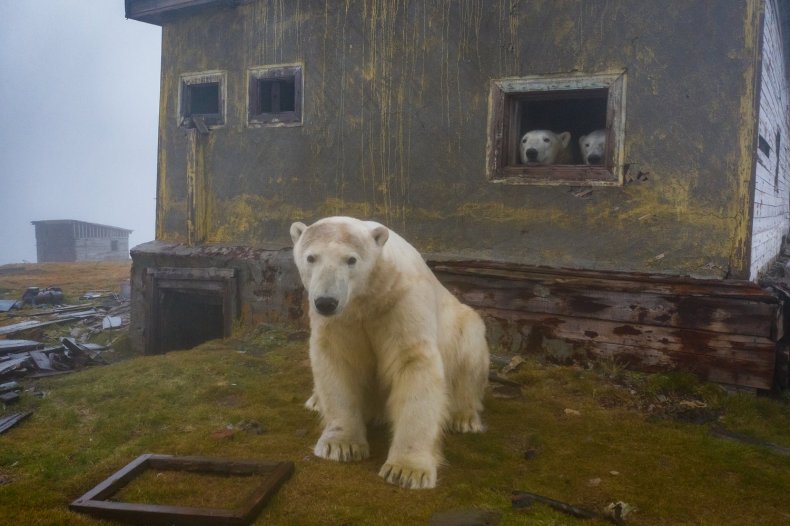 The photos were taken in September, 2021. Kokh and his team traveled 1,200 miles along the coast to explore Russia's untouched arctic, he told online magazine, my Modern Met.
His photos, which can also be found on Kokh's Instagram page, show polar bears taking shelter in the falling-apart buildings and walking around the island.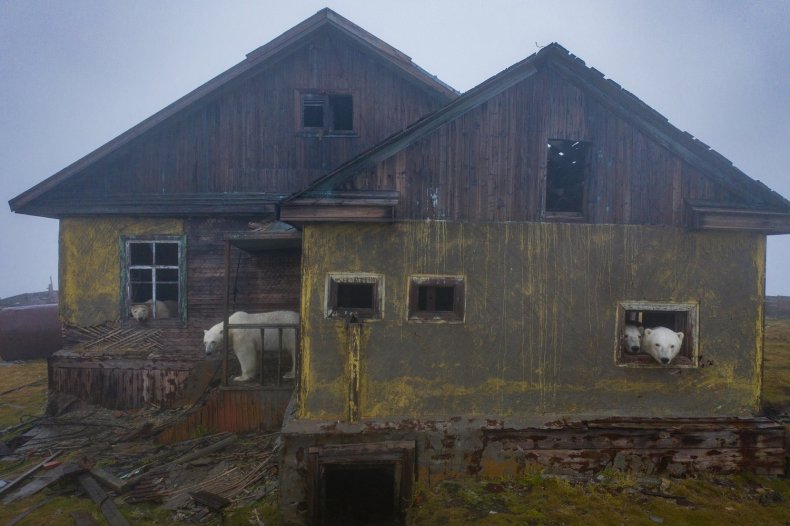 One particular photo shows a polar bear inside a building, hanging out the window, looking straight at the camera.
Another shows two polar bears inside a building and peering out the same, small window.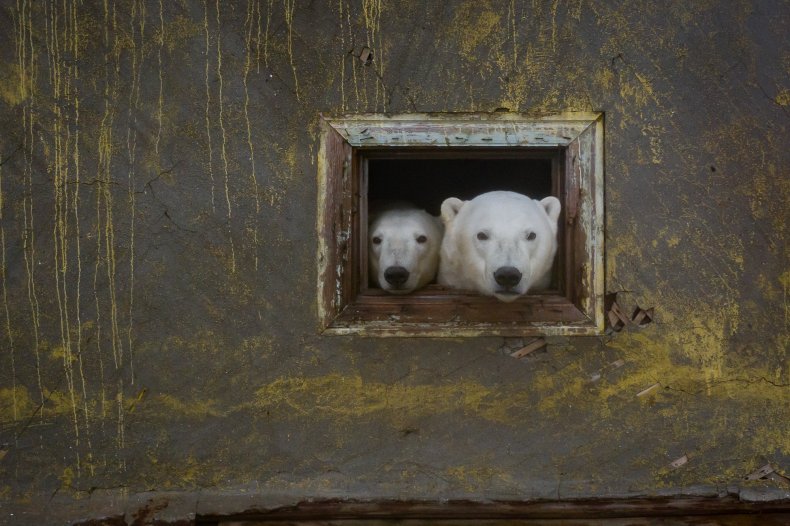 "Nature always sends you something when you least expect it," Kokh told My Modern Met. "When we passed through the Kolyuchin Island near the Northern coast of Chukotka, we saw some movements in the windows of the abandoned houses. And when we got close—those were bears! Never before they were seen in those buildings, so that was a once in a lifetime situation."
Kokh takes photos of "decisive moments" in nature, and specializes in showing wildlife contextually in its environment.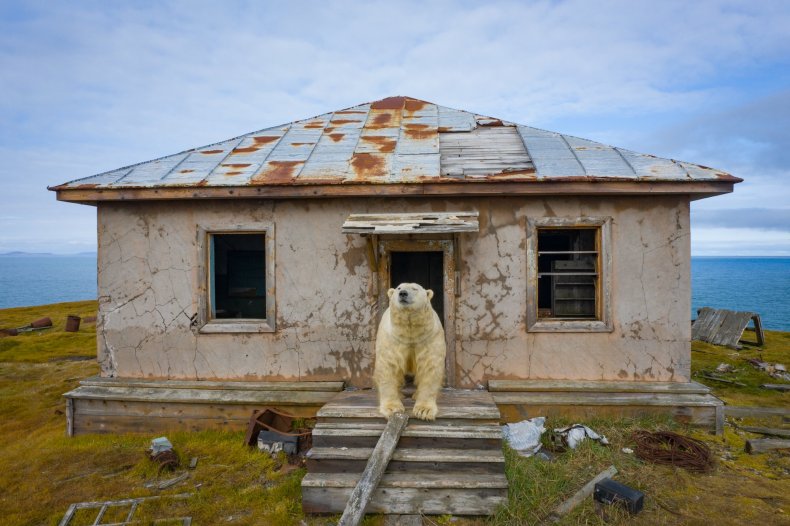 The photographer usually takes photos in far away places and the deepest parts of the sea.
The total number of polar bears on Earth now is estimated to be around 26,000, of which between 1,900 and 3,600 live in the Barents Sea region.
According to conservation group, Audubon Alaska, the Chukchi Sea is home to approximately 2,000 polar bears, which is about one-tenth of the world's population.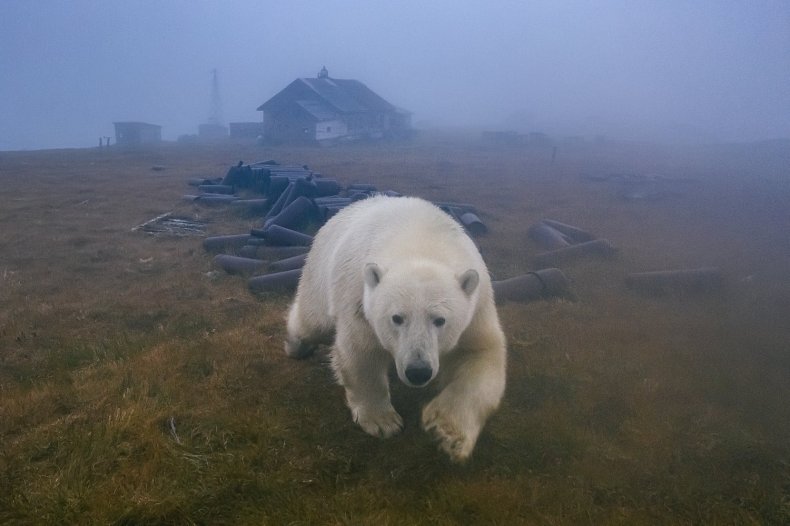 Polar bears are considered vulnerable animals as their habitats are suffering due to threats posed by climate change. Being near the sea is essential for the bears as they rely on it for hunting, resting, breeding, and denning.
A study published in 2020 suggested that polar bears could go extinct as early as 2100 if greenhouse gas emissions are not reduced and climate change continues on its current trajectory.