Polar Vortex Map, Updates as Blast of Freezing Cold Weather to Hit U.S.
Much of the U.S. has been experiencing extreme weather for days, with the polar vortex causing temperatures to plummet far below freezing.
The cold weather is supposed to continue from Friday, prompting weather warnings in Arkansas, Tennessee and Kentucky.
The National Weather Service has said the "frigid Arctic air" will remain across the central U.S. and continue expanding south.
Winter storms are expected to bring heavy snow and ice from the Northwest to the Midwest over the weekend, as well as icy conditions in the Lower Mississippi Valley to the Mid-Atlantic and rain and thunderstorms in the Southeast.
"A strong area of high pressure has an icy grip on much of the northern tier of the Lower 48 as an intrusion of Arctic air races south into the Southern Plains," the National Weather Service has said.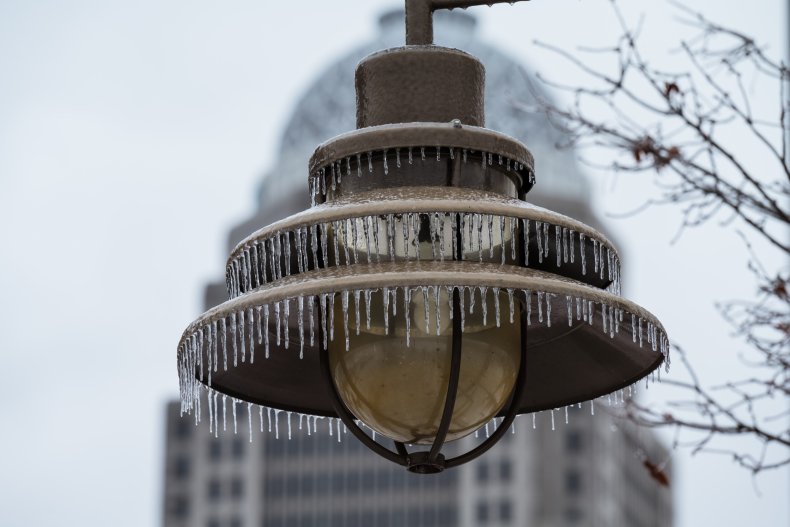 It added: "Sub-zero high temperatures are on tap in the northern Rockies and High Plains with some areas seeing morning lows both Friday and Saturday morning between -20 and -30 degrees.
"Daily temperature departures in the North Central U.S. will range between 30 to 40 degrees below normal. In addition, wind chills remain dangerously cold ranging between -40 and -55 degrees across the Northern Plains."
Much of the central U.S. from the Dakotas to Texas could see daily record low temperatures over the coming weekend.
"The expansive dome of sub-freezing temperatures across the northern tier of the country has laid the foundation for winter storms to wreak havoc from coast-to-coast not only going into this weekend, but also into next week," the National Weather Service said on Friday.
A Pacific storm will also lead to heavy snow and ice in the Pacific Northwest, from Portland to Seattle. This will likely lead to hazardous travel conditions over the weekend and beyond.
The polar vortex is a huge area of low pressure and cold air that typically resides surrounding both of the Earth's poles. This year, however, the vortex has weakened, allowing the freezing northern air to head south, leading to the frigid weather.
The National Oceanic and Atmospheric Administration explains: "The term vortex refers to the counter-clockwise flow of air that helps keep the colder air close to the poles (left globe).
"Often during winter in the Northern Hemisphere, the polar vortex will become less stable and expand, sending cold Arctic air southward over the United States with the jet stream (right globe).
"The polar vortex is nothing new—in fact, it's thought that the term first appeared in an 1853 issue of E. Littell's Living Age."