Midwest Polar Vortex in Pictures: Niagara Falls, Lake Michigan and Chicago River Frozen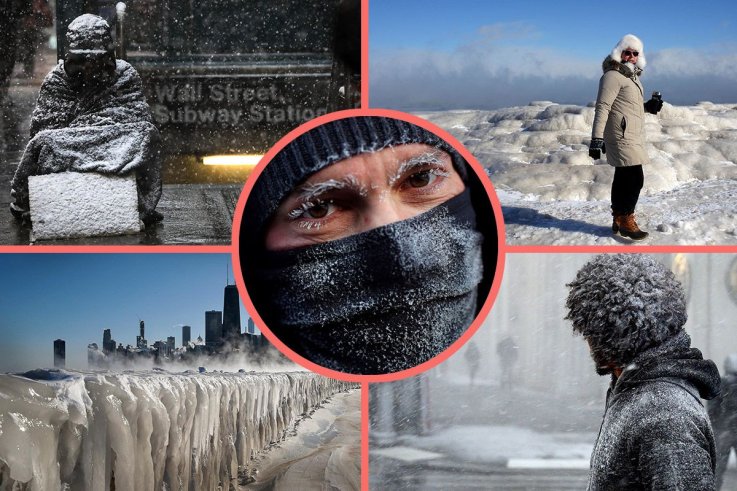 A deadly, icy polar vortex continues to blast the Northeast and Midwest, causing at least 12 fatalities since Saturday amid travel chaos and school closures.
The polar vortex is a mass of freezing air which usually hovers around the Arctic. But thanks to weakening jet streams that usually keep the cold air contained, North Americans have been blasted with streams of cold Arctic air. Snow squalls have ripped through New York, Philadelphia and other cities, bringing near-whiteout conditions.
The freak cold snap looks likely to continue. CNN said that over 200 million people will see temperatures at or below freezing over the next few days. The U.S. Postal Service wrote on Twitter that they have suspended delivery across parts of the Midwest "to ensure the safety and well-being of our employees."
The cold snap has claimed a number of lives, including a University of Iowa student found outside a campus building on Wednesday. The same day, a 70-year-old man was found dead on a street in Detroit. Other weather-related deaths have been reported as far afield as Indiana, Illinois, Wisconsin and Minnesota.
Residents of Chicago will be facing lows of minus 22 degrees Fahrenheit on Thursday, although sharp winds will make it seem colder. Much of the Chicago river has already frozen over, and over 4,000 flights were canceled on Wednesday and Thursday.
Concern for the area's homeless population continues. "I'm cold and I'm afraid," a homeless Chicago man told The New York Times on Tuesday. "My feet are cold, and these clothes are all I've got." Local government and homeless charities in Chicago have been setting up "warming centres" in community halls and CTA buses.
Schools in Chicago have been shut since Wednesday and all residents are warned to stay inside. The city hasn't experienced such temperatures since the record low of minus 27 F was set in 1985. Temperatures in Los Angeles felt 100 degrees warmer than in the Windy City on Wednesday morning, and Anchorage in Alaska was warmer than Jacksonville in Florida.
On Tuesday, Boston reported seven days in a row of temperatures below 20 F, matching a record that was set 100 years ago. Minnesota has been experiencing temperatures cold enough to cause frostbite on exposed skin within minutes. In Illinois, 21 people stranded in a broken down bus were rescued by police from the sub-zero temperatures.
Newsweek has collected images that illustrate the extreme weather, from frozen eyebrows in Chicago to snow-caked pedestrians in New York.