Polar Vortex Brings Snow and Life Threatening Temperatures to Midwest: In Pictures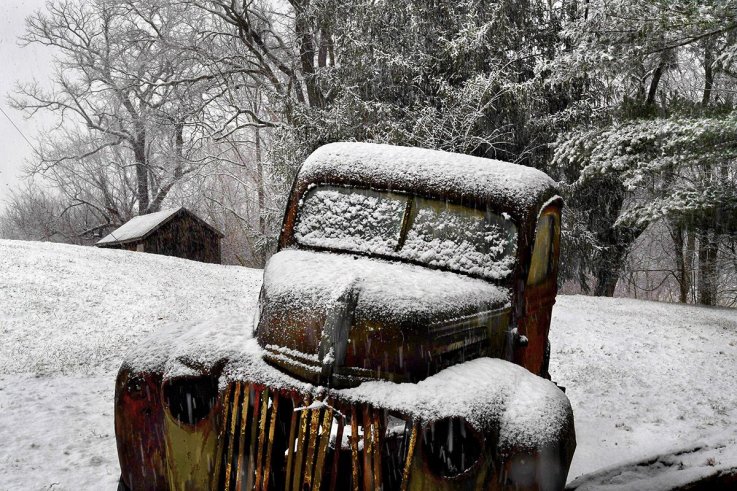 A blast of Arctic air known as a Polar Vortex has descended on the Midwest, bringing the coldest temperatures in a generation, if not on record. Life-threatening cold weather will affect a swath of the United States, stretching from North and South Dakota to Maine. Snow is expected as far south as Georgia.
The National Weather Service warned that the wind chill could make it feel like minus 63 degrees Fahrenheit in parts of the Midwest, bringing a severe threat of frostbite within minutes.
A Polar Vortex is a stream of cold air that normally spins around the North Pole, but which gets disrupted, blasting Arctic air across parts of North America.
National Weather Service meteorologist Mark Chenard told Reuters the term refers to the upper level jet stream that typically circulates around both the North and South Poles, keeping the coldest air there. When that jet stream occasionally weakens and buckles, he said, it disrupts weather patterns—bumping warmer air into Alaska and pushing cold winds down into the U.S. Midwest and East Coast.
The term 'Polar Vortex' has been used regularly in the past few winters, but scientists are not agreed on whether they have become more frequent. There is also much debate on how they may be affected by climate change.
President Donald Trump took to Twitter to wonder: "What the hell is going on with Global Waming?"
As much as two feet of snow is predicted in Wisconsin. The state's Governor, Tony Evers, has declared a State of Emergency throughout Wisconsin due to severe winter weather.
Chicago is expected to be colder than parts of Antarctica. The city's school system plans to cancel classes for all 360,000 students on Wednesday. Detroit also announced its schools would be closed.
The U.S. Postal Service has suspended its delivery service across several states including Illinois, Michigan and Indiana.
Temperatures in almost a dozen states are expected to plunge to record or near-record levels. Rich Otto, a meteorologist with the National Weather Service, told NPR, "These are probably some of the coldest temperatures that the area has seen, parts of the upper Midwest, since the mid-90s."
In this slideshow, we look at how the Polar Vortex and snow are affecting life across a swath of the United States.