Polarized Nation Picks Barack Obama and Donald Trump as Favorite Presidents of All Time
Americans named Barack Obama their favorite U.S. president of all time followed by Donald Trump while, among Democrats, Joe Biden is already as popular as Bill Clinton, according to a new scientific poll, the results of which were shared exclusively with Newsweek.
The poll, conducted by Barna Group, surveyed 2,007 adults of all demographics in early February and, though Biden had only been in office a few weeks, the current occupant of the White House still cracked the Top 10 with 4 percent calling him their favorite president in history.
The percentage, though, pales in comparison to Obama, who scored 28 percent with a whopping 61 percent of Black Americans calling him their favorite president among all 46 who have held the office. He scored a 48 percent with Democrats and 5 percent among Republicans.
Trump was second with 14 percent overall and 7 percent among Blacks. Just 1 percent of Democrats called Trump their favorite president but 37 percent of Republicans did likewise.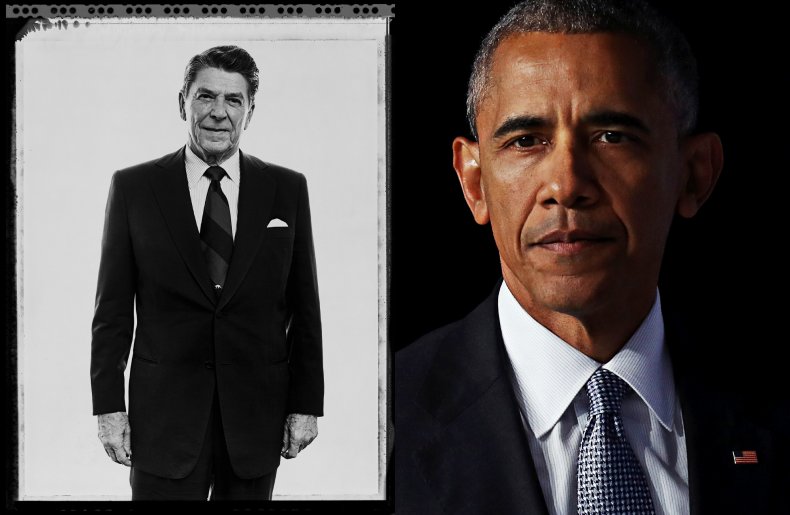 The poll was commissioned by the filmmakers behind an upcoming movie called Reagan that features Dennis Quaid playing the 40th president while Mena Suvari and Penelope Ann Miller play Ronald Reagan's first and second wives, respectively.
Reagan, in fact, took third place in the poll with 11 percent overall, 21 percent among Republicans and 3 percent for Democrats.
Part of the reason modern presidents scored so highly is a phenomenon known as recency bias, though John Pitney, the Roy P. Crocker professor of American politics at Claremont McKenna College, said that something else is at play, as well.
"The top two names suggest how partisan polarization is shaping attitudes toward history. Obama and Trump over Washington, FDR and Lincoln? Seriously?" he asked.
He added that there's still a "residual affection" for Reagan, though he "does not have the same standing with younger people because he left office 32 years ago. Nobody under the age of 55 had a chance to vote for him."
The poll also asked Americans if they had heard of the existence of the Reagan film, which is due next year. Curiously, more Democrats (17 percent) than Republicans (11 percent) have, even though Reagan was a member of the latter party.
Also curious was that more Democrats than Republicans called Lincoln their favorite president, even though he was the first Republican ever elected to the office.
The Top 12 Presidents, Along With Their Overall Scores
Obama: 28 percent
Trump: 14 percent
Reagan: 11 percent
John F. Kennedy: 10 percent
Abraham Lincoln: 9 percent
George Washington, Bill Clinton (tie): 5 percent
Biden: 4 percent
Franklin Delano Roosevelt: 3 percent
Theodore Roosevelt, Jimmy Carter, George W. Bush (tie): 2 percent
The Top Presidents Among Republicans
Trump: 37 percent
Reagan: 21 percent
Lincoln and Kennedy (tie): 7 percent
Washington: 6 percent
George W. Bush: 4 percent
The Top Presidents Among Democrats
Obama: 48 percent
Kennedy: 11 percent
Lincoln: 9 percent
Biden and Clinton (tie): 7 percent
FDR: 5 percent