Robert Mueller Testimony: The Polar Opposite Question Strategies by Democrats and Republicans
They came prepared.
That was perhaps the only similarity in the questioning strategy of Robert Mueller by Republicans and Democrats of the House Judiciary Committee Wednesday morning.
Democrats sought to highlight, what they believed, were the most damning portions of the former special counsel's 448-page report, including questions pertaining to the various potential obstruction of justice incidences and why Mueller was unable to indict President Donald Trump.
Republicans, on the other hand, sought to question Mueller's credibility, authority, the origins of the investigation, have him confirm the lack of criminal conspiracy between Trump and Russia and to rehash old personnel choices.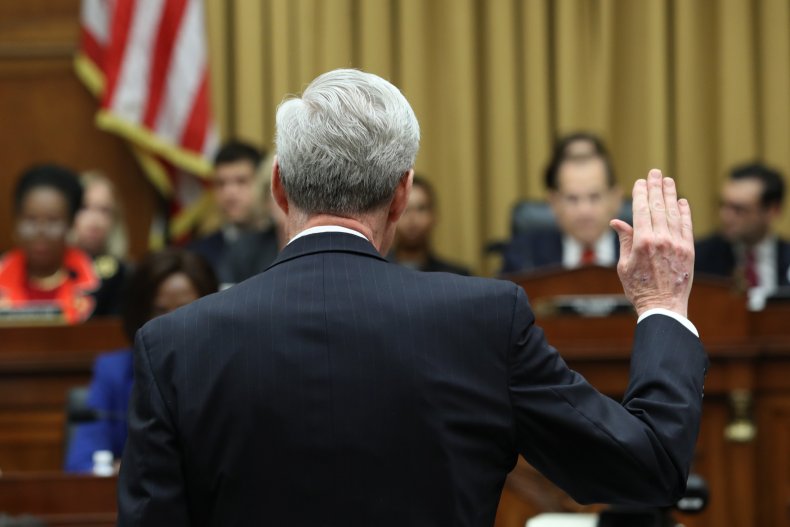 Democrats' questions largely hinged on one- or two-word answers from Mueller, in which he would confirm various portions of his report that were read aloud to him by lawmakers. The excerpts read aloud, for the most part, centered on the alleged obstruction incidents, which Democrats have argued amount to impeachable offenses.
Several of Democrats' questions related to the numerous efforts by Trump to have Mueller removed from his 22-month-long post as special counsel, as are detailed in the Mueller report.
"You state: 'We determined that there was sufficient factual and legal basis to further investigate potential obstruction of justice issues involving the president,'" asked Representative Sheila Jackson Lee, a Texas Democrat. "Is that correct?
Mueller: "Yes."
Jackson Lee continued: "Your report also describes at least 10 separate instances of possible obstruction of justice that were investigated by you and your team. Is that correct?"
"Yes," Mueller said.
"In fact," Jackson Lee further asked, "the [report's] table of contents serves as a very good guide... you describe those acts, and they range from the president's efforts to curtail the special counsel's investigation, the president's further efforts to have the attorney general take over the investigation, the president's orders for Don McGahn to deny that the president tried to fire the special counsel, and many others. Is that correct?"
"Yes," Mueller responded.
Democrats also wanted Mueller to confirm, in his voice, that Trump's repeated claims that he was completely exonerated by the report were false.
"Did you actually totally exonerate the president?" Judiciary Committee Chairman Jerrold Nadler, a New York Democrat, asked.
"No," Mueller said.
At another point, Nadler said: "The report did not conclude that he did not commit of obstruction of justice."
"That is correct," Mueller confirmed.
The former special counsel reiterated that, due to longstanding DOJ Office of Legal Counsel opinion, he could not indict a sitting president.
Republicans, as they've done in the past, sought to highlight that Mueller's probe did not conclude there was a criminal conspiracy, or as many have called it, "collusion," between the Trump campaign and Russians, which Democrats previously alleged.
Despite the report's conclusion the campaign "expected to benefit" from Russian interference, Mueller has previously stated "there was insufficient evidence to charge a broader conspiracy."
"Is it true that your investigation did not establish that members of the Trump campaign conspired or coordinated with the Russian government in election interference activity," asked Representative Doug Collins, the panel's top GOP member.
Mueller answered, "Yes."
Representative John Ratcliffe, a Texas Republican whom is under consideration for a Trump administration job, according to several media reports, accused Mueller of departing from DOJ regulations.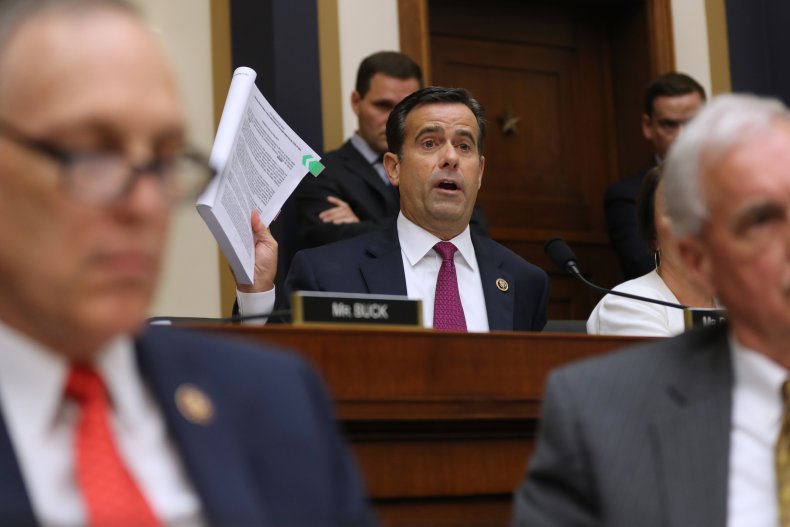 "You wrote 180 pages about decisions that weren't reached, about potential crimes that weren't charged," Ratcliffe said. "Respectfully, by doing that, you managed to violate every principle in the most sacred of traditions about prosecutors not offering extra prosecutorial analysis about potential crimes that aren't charged."
But that is not the case, according to Neal Katyal, a former acting U.S. solicitor general and current Georgetown University law school professor. Katyal said he knew this firsthand because he helped to draft some of those regulations years ago.
"Ratcliffe dead wrong about the Special Counsel regs. I drafted them in 1999," he wrote on Twitter. "They absolutely don't forbid the Mueller Report. And they recognize the need for a Report 'both for historical purposes and to enhance accountability.'"
Representative Louie Gohmert, also a Texas Republican, questioned Mueller about members of his investigatory team, including Peter Strzok and Lisa Page, the former FBI employees who were discovered to have had an affair and exchanged disparaging text messages about Trump during the 2016 campaign.
"Peter Strzok hated Trump. You didn't know that before he was made part of your team?" Gohmert asked.
"I did not know that," Mueller responded. "When we did find out, I acted swiftly to have him reassigned elsewhere."
Gohmert proceeded to tell Mueller that he "perpetuated injustice."
Representative Jim Jordan, the Ohio Republican who is a close ally to the president, also questioned Mueller about matters that precluded his investigation, topics of which he stated in his opening remarks he would not address. He asked several times about Joseph Mifsud, a former Maltese professor and former associate of Trump campaign adviser George Papadopoulos. A conversation between Mifsud and Papadopoulos about Russian "dirt" on opponent Hillary Clinton later helped to start the Trump-Russia probe.
According to Mueller's report, Mifsud lied to investigators, a crime that Papadopoulos was pinched for.
Jordan accused the FBI of opening its investigation after the agency "spied on two American citizens associated with a presidential campaign." The reference was to Papadopoulos and former Trump campaign aide Carter Page.
"I can't get into internal deliberations with regard to who would or would not be charged," Mueller said.