The Pole Creek and Bald Mountain fires in central Utah have grown to an alarming extent.
"Utah County will be submitting a crisis declaration Saturday morning," the commission wrote, according to KSTU. "Elected officials and fire officials will be providing additional comment and updates to the media regarding this declaration at approximately 10:45 am at the Spanish Fork Fairgrounds."
The Utah Wildlife Info posted to their Facebook account on Saturday that the Pole Creek fire has grown to 62,844 acres and is at two percent containment. The Bald Mountain fire is currently at 17,760 acres, according to the agency.
"The fire continued to be very active yesterday, making wind-driven runs to the north and northeast. Multiple ground and air resources worked yesterday to establish containment lines and actively conducted structure assessment and protection operations," the Utah Wildlife Info wrote.
The wildfires began on September 6 and were caused by a lightning strike, according to fire officials. The agency said crews on the ground will continue suppression efforts and additional resources such as hand crews, engines, dozers and air resources have been ordered to fight the growing blazes. There is currently 433 fire personnel battling the blazes, according to fire officials.
"The fire made a significant push to the north and east, forcing the evacuation of hundreds of homes in Utah County and temporary closures on Hwy 89 and Hwy 6. For public safety, due to the rapid growth of the fire and extreme fire behavior, the Forest has closed numerous roads and trails on the Spanish Fork Ranger District," the Utah Wildlife Info said in an update on their website.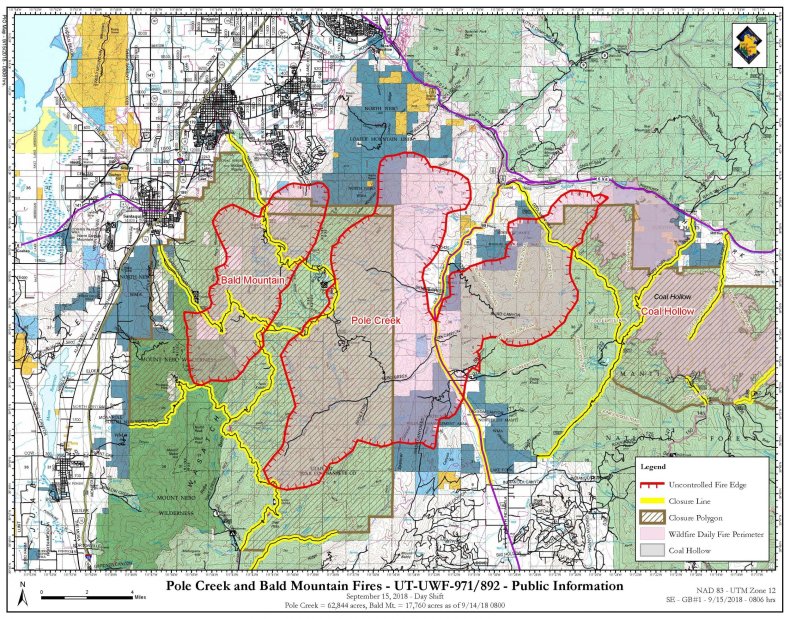 Affected areas that have been closed due to the flames include the Santaquin Canyon, Mona Pole Canyon and the Nebo Loop National Scenic Byway from Payson Canyon to Salt Creek Canyon, according to Utah Wildlife Info. Residents who live between Nephi and Provo have been asked by fire officials to conserve natural gas. A natural gas line in the area has been turned off in response to the fire, according to fire officials.
The agency expects the fire to grow to the north and east through Sunday due to high winds, low humidity, and warm temperatures. The air quality has declined to unhealthy levels and has caused the cancellations of events in the area, the Spanish Fork Police said in a statement on Saturday.
"Air quality monitors have been reviewed throughout the night and again this morning. At this time, the air quality has declined to unhealthy levels. Youth Flag Football games, Youth Soccer games, and Adult Soccer games scheduled for today HAVE BEEN CANCELLED. This includes accelerated league rentals," the police department wrote.