Police: 14-Year-Old Charged in 13-Year-Old Tristyn Bailey's Death Posted Snapchat Asking if Anyone Had Seen Her
A 14-year-old boy who was arrested and charged in connection with the death of 13-year-old Tristyn Bailey posted an eerie Snapchat photo asking if "anyone had seen her," while police conducted a missing persons search over the weekend.
Aiden Fucci was arrested and charged with second-degree murder on Monday after Bailey's body was discovered in a wooded area a day earlier in St. Johns, Florida.
According to the St. Johns County Sheriff's Office, police are now searching through social media posts as part of the ongoing investigation. Among those, include a post from Fucci's snapchat account taken from the back seat of a deputy's vehicle while police searched for Bailey on Sunday.
The photo shows Fucci with his hands up in a peace sign with the caption, "Hey guys has inybody (sic) seen Tristyn lately." According to WJXT4, the photo would have been taken after Bailey was killed.
St. Johns County Sheriff Rob Hardwick declined to comment on the Snapchat photo to reporters on Monday, but said that investigators were reviewing "all social media" that may help their case, WJXT4 reported.
Bailey's body was found in a wooded area around 6 p.m. on Sunday by a neighbor who was out searching for her. The discovery came roughly eight hours after her family first told police she was missing at 10 a.m. that day.
According to a press release, Bailey was last seen by her family at around midnight on Saturday night. At the time, she was seen wearing a "cheerleading skirt and a dark colored shirt."
A cause of death has not yet been released by the sheriff's office, but Hardwick said Monday that Bailey's body was fully clothed when she was found, WJXT4 reported.
Police said they arrested Fucci on Monday due to his "admissions during questioning."
"We were able to obtain numerous search warrants which led to the location of multiple items of evidentiary value," a press release added. Those items have not yet been disclosed to the public.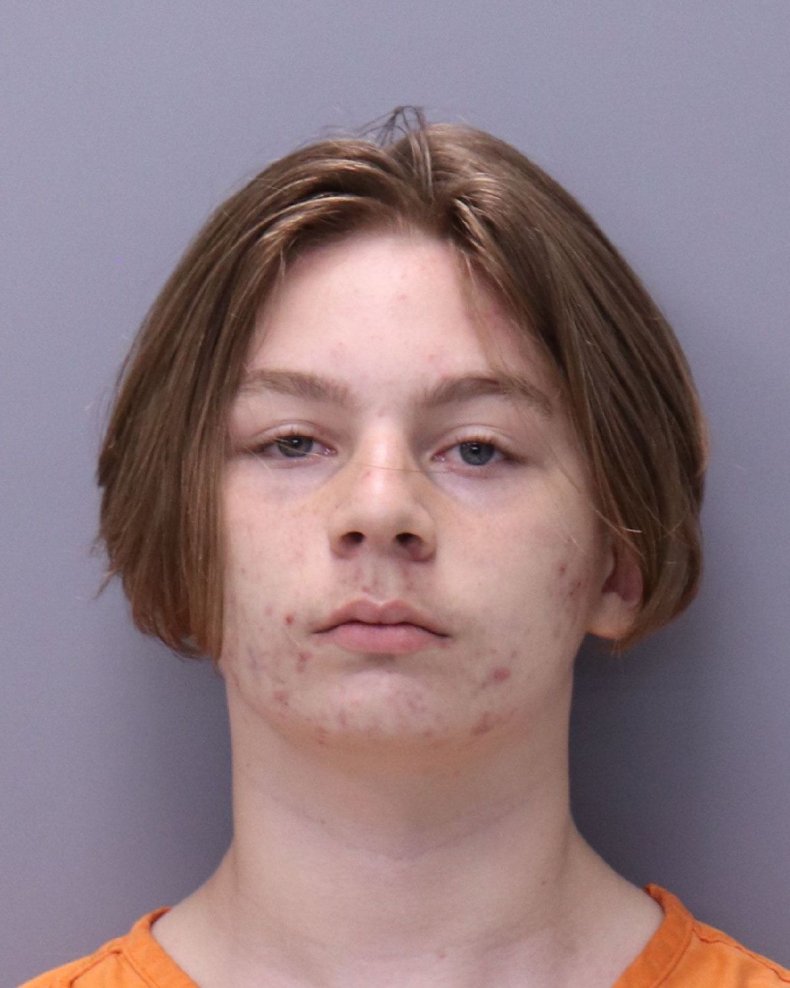 Hardwick said Monday that both Fucci and Bailey attended the same school, which he identified as the Patriot Oaks Academy in St. Johns, but declined to comment on the extent of their relationship.
"Justice is being served, but we know that the community is angry. This is a very tight-knit community," Hardwick said. "They've taken this personally."
"Let us do our jobs. Let the medical examiners do their job. And let's let the attorney's office prosecute this case," Hardwick added, while declining to comment further on Fucci's background. "I'm more worried about Tris and her family," he said.
Fucci was scheduled to make his first court appearance at 8:30 a.m. Tuesday. The state attorney is working with the Sheriff's Office to determine whether or not he'll be tried as an adult.
Police said the investigation is still ongoing, with authorities searching through multiple crime scenes, including ponds in the neighborhood where Bailey lived, WJXT4 reported. Though Fucci has so far only been charged with second-degree murder, Hardwick said he could face additional charges as more information becomes available.
Newsweek contacted the St. Johns Sheriff's Office for additional comment, but did not hear back in time for publication.