Police Abolitionists Fight on as Democrats Retreat From Defunding Cops
Amid nationwide protests sparked by the killing of George Floyd in 2020, a movement to defund and even abolish the police gained traction.
But a recent uptick in violent crime has mainstream Democrats thinking differently. With President Joe Biden's blessing, many U.S. cities are now increasing funding and resources for police departments. A majority of voters at 59 percent also believe more money for police would lower crime—an increase of 13 percent since last year.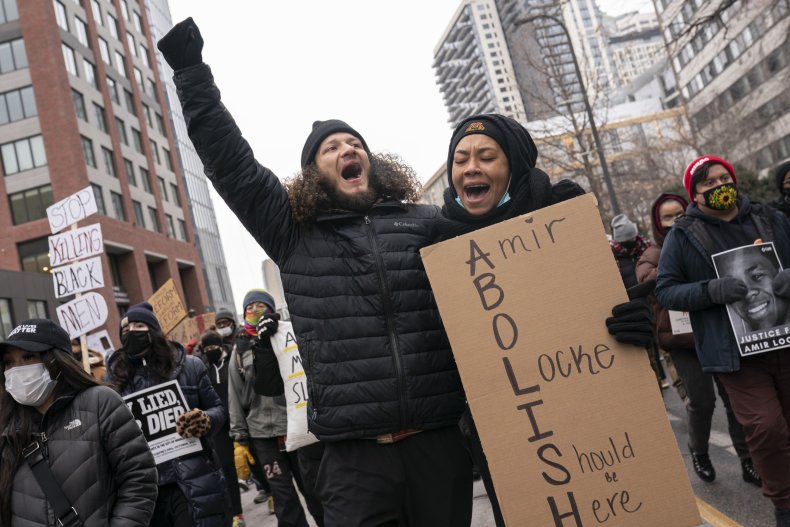 So where does this leave police abolitionists?
"This abolition movement has always recognized that both the liberal and the conservative approach to policing are part of the problem," Micah Herskind told Newsweek. Herskind is an organizer and co-creator of #8toAbolition, a police and prison abolition resource generated during the Black Lives Matter protests.
"Most abolitionist organizing has a grander vision beyond how some Democrats are responding right now," Herskind said. "That work is still continuing."
Rachel Kou, another #8toAbolition author and a scholar, noted abolition doesn't mean just diverting funding away from police departments.
"It's about how do we build up different systems and structures so people can access care and safety in non-punitive and non-carceral ways?" Kou told Newsweek. "It's also thinking about the relationship between the police, military units and things like tech capital. We have to really begin to fundamentally untangle these relationships, and that process can take a long time but the energy is there."
Many groups are focusing on political education to shift the public perception that more policing equals more safety. Others are fighting against state and local budgets or working to close city-based jails like beleaguered Rikers Island in New York.
In Atlanta, the community-based Policing Alternatives and Diversion Initiative just partnered with 311 to cut down on arrests. Residents are encouraged to call 311 for non-emergencies and concerns related to homelessness, mental health or substance abuse.
Criminal justice and policing have re-emerged as top issues amid the nationwide uptick in homicides and gun violence. Last week, Biden and New York City Mayor Eric Adams took a tough-on-crime approach as they met following the deaths of two police officers shot during a domestic violence call. "The answer is not to defund the police," the president said during the meeting.
Some cities that initially took steps after Floyd's death to reinvest police funding into community programs have since restored millions of dollars to their police departments.
The U-turn from some Democrats also coincided with losses during the 2020 election cycle. The Democratic Congressional Campaign Committee (DCCC) said in an election autopsy that Republican attacks on defunding the police "carried a punch."
But not all elected officials are making the change. Representative Cori Bush, who represents Missouri's 1st congressional district, recently said she wasn't going to stop saying "defund the police" despite pushback from her party.
"I always tell [fellow Democrats], 'If you all had fixed this before I got here, I wouldn't have to say these things,'" she said, according to Axios.
New York City Councilwoman Kristin Richardson Jordan, who ran on abolishing the police, recently told The Nation that the surge in crime hasn't changed her views.
"We have these cycles of violence...and [eventually] we realize we need to address the root causes of crime itself," she said. "Then we have an uptick in crime again, and we're back in the cycle. What I've been articulating: This is where we need to disrupt the pattern of violence. We need to look at how poverty and violence are inextricably linked. What are we doing to address poverty? Mental health and wellness and violence are inextricably linked—what are we doing to invest in mental health? What we need to do is invest in solutions and prevention, which I've been saying from day one."