Police Allege Woman Tried to Feed Chocolate-Covered Mothball to Barking Dog
A house sitter was arrested and charged after she allegedly tried to feed a chocolate-covered mothball to a neighbor's dog. She reportedly told police she was "frustrated" by the dog's constant barking but did not intend to hurt it.
According to a press release issued by the Southington Police Department, which was also published on the department's Facebook page, Sandra Sullivan turned herself in and was charged with criminal attempt to commit cruelty to animals.
Officers said a homeowner told police said he saw a woman walking along his fence line on the neighbor's side of the fence.
"The witness reported recognizing the female as a house sitter staying at a neighboring home," the release stated. "He reported watching as the female placed a small round item on a tree stump in a neighbor's yard. As he was returning into his house, the witness noticed a similar item was on his back stairs, he described as a cream filled chocolate covered candy."
When the man took a closer look at the candy, he told police it had a "strong and distinct odor." He learned it was a chocolate-covered mothball and was worried the woman tried to feed it to his dog.
A spokesperson with the department told Newsweek the dog did not eat the item and was unharmed.
According to Veterinary Emergency Group, chocolate is toxic to dogs and may result in death or lasting health problems.
The organization said the two problems most noticeable in chocolate toxicity in dogs include vomiting and diarrhea. Those may be the first symptoms but they can progress to more severe symptoms, including excessive thirst and urination, restlessness and seizures.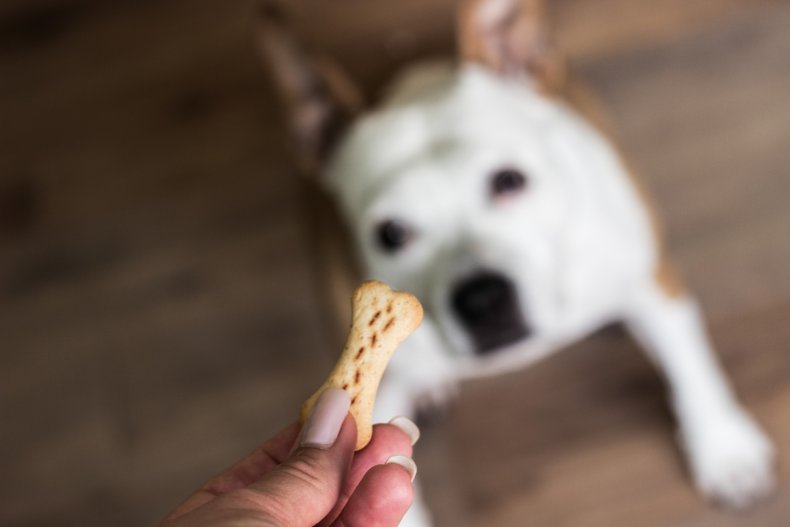 In addition to chocolate toxicity, dogs can also experience mothball poisoning. Just one mothball is enough to poison a dog, per VCA Hospitals.
Severe cases may result in damage to the liver or kidneys.
Pet owners are recommended to take their dog to the emergency veterinarian if they know these items were ingested.
Police spoke with Sullivan, who said she did not know anything about the "treats," but allowed officers to look around the backyard. There, they found an item on a tree stump that was identical to what the man described to officers.
"When questioned about the item, Sullivan admitted the item was a cream filled chocolate covered candy that she opened, then hid a mothball inside," the release stated.
Police said she told officers she was frustrated with the neighbor's dog that was reportedly constantly barking. Sullivan said she made a treat for the dog to see if he would "stop barking."
"She said her intent was not to hurt the dog, she just wanted the dog to stop barking excessively," the release stated.
A warrant for Sullivan's arrest was issued and she turned herself in on January 25. She was released on a $1,000 bond and is due in court in February.