Escaped inmate Daniel Cavalcante told law enforcement that he was "almost stepped on" three times during the intense manhunt that ended in his arrest, according to Supervisory Deputy U.S. Marshal Robert Clark.
Cavalcante, sentenced to life in prison for the murder of his ex-girlfriend, was apprehended in a wooded area of southeastern Pennsylvania on Wednesday morning after a nearly two-week search. On August 31, he pulled off a dramatic escape from Chester County Prison, where he was awaiting transfer to another facility to serve out his sentence.
The manhunt for Cavalcante was peppered with multiple sightings and images of the fugitive taken from surveillance cameras. Cavalcante managed to dodge a large law enforcement search team for an extended period by spending most of his time hidden in the woods. Days before his capture, he had stolen a .22-caliber rifle from the garage of a resident.
During an interview with CNN's Erin Burnett on Wednesday night, Clark said that Cavalcante had "hunkered down" in a wooded area that was "very, very secluded" and that he "answered a lot of questions" about his time on the run shortly after his arrest.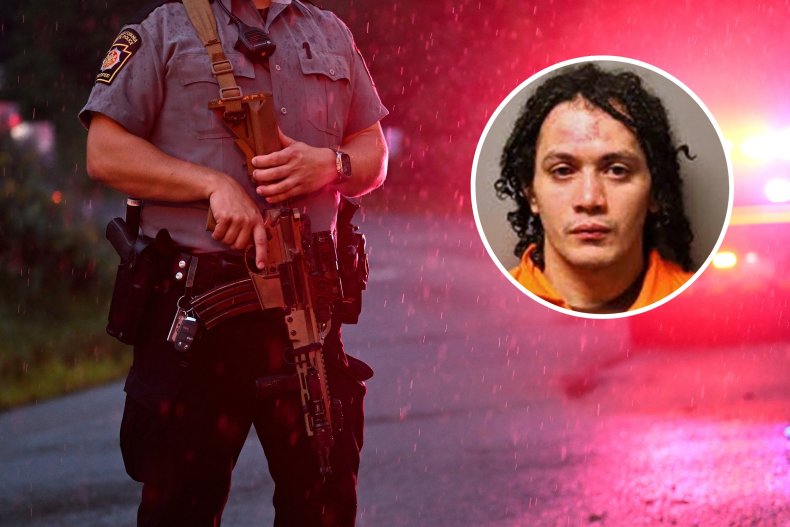 "He didn't move for the first couple days, he said," Clark told Burnett. "He survived on a watermelon that he found at a farm. He drank stream water. He was hiding his fecal matter under leaves and foliage so that law enforcement couldn't track him. He was a desperate man."
"He said that on numerous occasions, three times, he described that law enforcement officials almost stepped on him," Clark continued. "But that just proves to you how thick the vegetation and the foliage was."
Clark went on to say that the search area was "immense," while adding that "extreme heat and extreme conditions" made finding Cavalcante extremely difficult.
Newsweek reached out for comment to Pennsylvania State Police via email on Wednesday night.
In comments to Philadelphia ABC station WPVI, Clark said that officers were only "five or six feet away" from the fugitive as he narrowly avoided being stepped on at several different points of the search.
Cavalcante, a Brazilian national also wanted for a killing in Brazil, purportedly told investigators that he had planned to evade authorities by carjacking while armed with his stolen rifle.
"He said law enforcement presence was becoming so heavy in the past couple of days," said Clark. "He knew he had to get out of there. He intended, within 24 hours, to carjack somebody."
Cavalcante reportedly planned to escape to Canada following the carjacking. He was captured while laying on top of the stolen rifle.