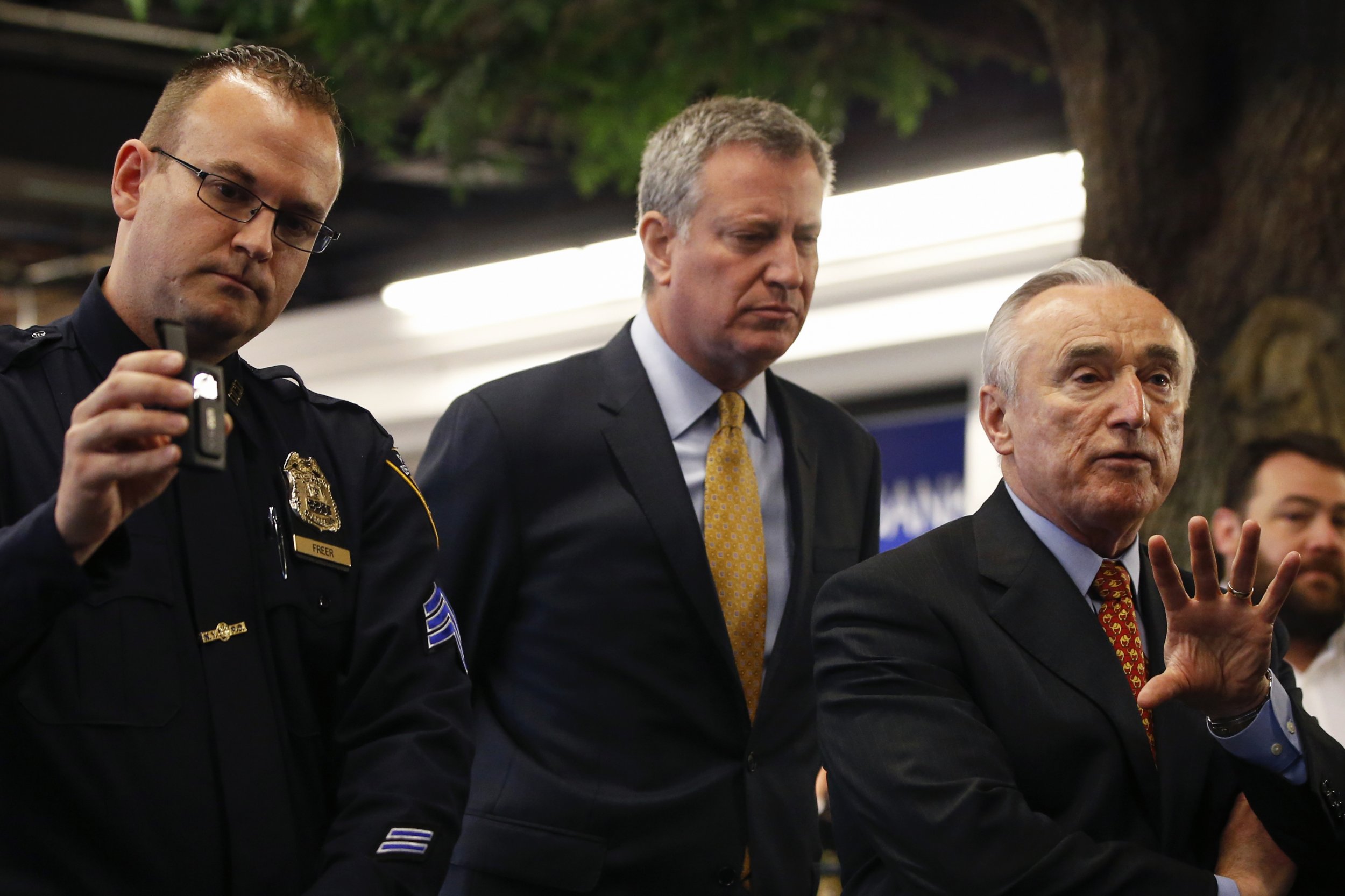 On Wednesday, New York Mayor Bill de Blasio announced that the city's police department would accelerate the process of equipping police officers with body cameras, small recording devices that are expected to improve police-community relations in the wake of several deadly altercations between cops and people of color in recent months.
Wednesday evening, the mayor was back behind a microphone, this time as protests took hold of the city after news that a grand jury would not indict the cop who placed a black, unarmed Staten Island man in a chokehold that caused his death. The grand jury decided not to charge the officer in the death of Eric Garner even though there is video of the incident. His final words were caught on a viral video: "I can't breathe."
The death of Garner, 43, who was placed in a chokehold against New York police protocol and wrestled to the ground during an arrest for allegedly selling cigarettes illegally, is one of several incidents of white cops killing unarmed black men in recent months. A few weeks after Garner's death, the fatal shooting of Michael Brown, an unarmed black teenager, by a white police officer in Ferguson, Missouri this past August, sparked weeks of protests and riots. Presented with conflicting testimony about what happened, a grand jury decided in late November not to indict the officer who shot Brown—a situation where video footage could have added some clarity.
The events in Ferguson have galvanized local departments like New York City's to push for the adoption of so-called "body cams" for police officers. On Monday, President Obama proposed $75 million over the next three years to help equip cops around the country with cameras. "This is not a problem just of Ferguson, Missouri. This is a national problem," the president said.
As local police departments increasingly turn to body cameras, research shows the cameras improve public trust in the police and reduce complaints about police behavior. But with the benefits of oversight and transparency come serious privacy and civil liberties risks. And of course, there's the question of whether cameras will lead to consequences for police misconduct. In Garner's case, video taken by a witness did not lead to an indictment.
"Some people are thinking this is literally a magic bullet and it's going to solve all our communities' problems," said Charles Katz, a criminologist at Arizona State University who has conducted research on a body camera test program at the Phoenix Police Department. "It's not going to address the fundamental, underlying problems within a community that take time to address."
Katz's concern is that expectations for body cameras are too high. Perhaps the most oft-cited research on body cameras in the United States comes from Rialto, California, a small city that used body cameras as part of an overhaul of a troubled police force on the brink of being dissolved. In the first year, complaints against officers dropped nearly 90 percent and the use of force by officers fell by 60 percent. "What people have been glomming onto is the study that was conducted in Rialto," Katz said. "The research that is starting to come out suggests that you are going to have a reduction in complaints and that it appears as if it really is helpful. ... But it's not going to be near the extent in most communities the way it is in Rialto."
On the bright side, the Rialto example showed how body cameras, in concert with other reforms, can help turn around a troubled police force. It's a lesson that could be repeated in other parts of the country, perhaps even in towns like Ferguson, where stories of police misconduct are plentiful. But Katz does worry that expectations are too high.
"Police in Ferguson have lost legitimacy," said Katz. "Cameras are a reasonable mechanism to use to increase the amount of transparency in this type of government service that allows people to increase their faith in what's going on, because fairness is achieved through transparency."
As part of his research in Phoenix, Katz conducted eight officer surveys over a period of about two years with the Maryvale Precinct both before and after cameras were introduced. To test the new technology, about 50 officers were outfitted with cameras and about 50 were not. Since the study's conclusion, the Phoenix chief of police has stated his intention to implement body cameras department-wide.
One of Katz's more surprising findings from his work with the Phoenix police had to do with civilian complaints. While complaints overall went down for officers wearing cameras, when complaints were lodged against them, the department was more likely to find the officer was in the right or not to discipline the officer than in complaints against cops without cameras. "The community expects that if there's a camera there, they're going to be found that they were acting out of policy and there's an issue there. We're finding just the opposite," he said.
In other words, there's misalignment between what civilians think a police officer is allowed to do and what the department feels is acceptable behavior.
Katz also found an uptick in enforcement, which could ultimately be a negative consequence of camera use. Before using body cameras, the officers in the study predicted that the cameras would have a chilling effect on enforcement—that they would be less likely to stop someone or make an arrest. But the opposite turned out to be true. "Actually, they're more likely to stop people and it increases the probability in which they're going to make an arrest if you're wearing the camera," Katz said. "We have not examined if those arrests are more likely to be major or minor or somewhere in between, but we do know arrests increased as a consequence of wearing a camera."
From his research, Katz also cites downstream concerns: the drain on resources for a prosecutor's office to go through hours of video footage, the high cost of video storage, even increased paperwork for police officers. On the other hand, the costs of the technology could be recouped in fewer lawsuits over police conduct.
Besides the practical effects, civil liberties groups warn about privacy concerns that come from increased surveillance of the public. Last fall, the American Civil Liberties Union (ACLU) released a report to help local departments using cameras to implement protocols that protect the privacy of both officers and civilians.
"They have a very real potential to serve as a powerful oversight mechanism for police and a powerful corrective to police abuse," Jay Stanley, who authored the ACLU's report, told Newsweek. "And there are also very real privacy concerns to this technology."
As one example of privacy concerns, Stanley noted that a lot of police work involves answering domestic violence calls. Police go into homes and see "people in the worst moments of their lives and there will be a lot of footage captured that is absolutely of no public importance whatsoever and never should see the light of day," he said. There is always a fear that footage could be leaked online.
Stanley's report looks for the right balance in terms of when police turn cameras on and off, when they inform people they are on camera, where and how long footage is stored before being destroyed. Thus far, all such policies are being developed at the local level.
As the use of body cams becomes more common, problems will arise. As The Wall Street Journal recently reported, an officer in Albuquerque, New Mexico, was fired recently for failing to turn his camera on. The department had recently settled an investigation with the Department of Justice into police shootings.
"We've seen instances where police tried to turn their cameras off. We've seen instances where there has been controversial incidents of police officers and police departments that have refused to release the video," Stanley said. Overall, however, "most of the police departments that are using it are finding that it works fine."
Despite any concerns, Katz and Stanley say police body cameras are here to stay. The technology was first used in Canada and the United Kingdom, and police departments in the United States only began to look at it seriously around 2011 and 2012. Since then, an untold number of departments around the country are slowly testing the new technology and some particularly troubled departments have embraced them.
"This was a train that was barreling down the tracks already," said Stanley. "The president's proposal for money has added momentum to something that already had a lot of momentum."
For Katz, it's obvious that body cams will spread to police around the country in the coming years. The big question is what other sectors of life will adopt them next. "When people talk about it, they talk about it as if this is going to be restricted to the police," he said. "But in fact the technology has become cheap enough, and after enough police departments use it it's going to become even cheaper, and it's going to be adopted in other sectors of the community."
Will we start taping doctor's visits? Surgeries? Classrooms? Once cameras become normal and cheap, Katz predicts they won't be limited to police.
"That's the unintended consequence," he said.