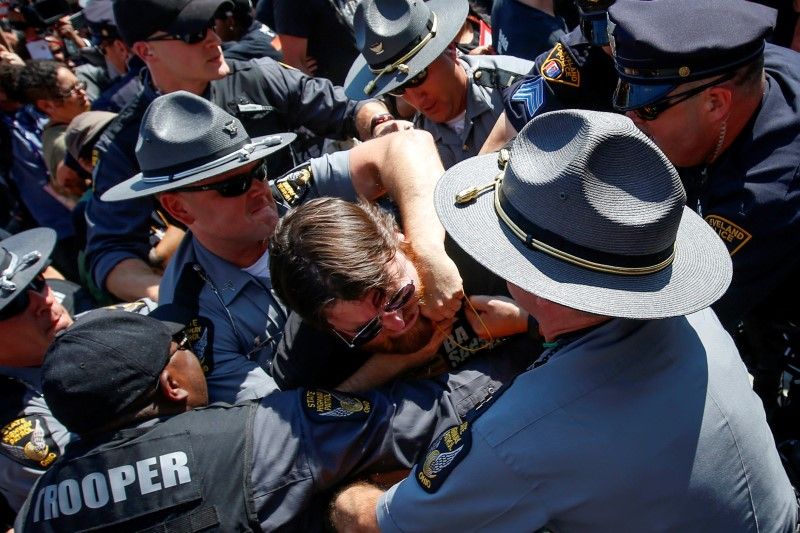 CLEVELAND (Reuters) - Cleveland police arrested 17 protesters on Wednesday after scuffling with demonstrators who tried to set an American flag on fire near the crowded entrance to the arena where Republicans made Donald Trump their presidential nominee, the city's police chief said.
Two of those arrested were charged with felonious assault on an officer after officers tried to confiscate the flag, Cleveland Police Chief Calvin Williams told reporters. Some of the protesters' pants caught fire during the incident.
"Whatever they tried to do with the flag, as we were trying to extinguish it and they were trying to keep it away, their pants leg caught on fire," said Williams, who was at the protest.
"The charge was assault on an officer because the officer tried to put it out when he saw it getting burned, and there were also counter demonstrators who were trying to take it away," the chief said.
The other 15 people arrested were charged with a misdemeanor offense of inciting violence near the crowded Quicken Loans Arena.
Burning the American flag is protected by the First Amendment of the U.S. Constitution, which protects the right to free speech. None of the protesters were charged for burning the flag.
Two police officers were injured during the scuffle, sustaining what Williams described as "minor bumps, bruises."
Wednesday's incident saw the largest number of arrests during the four-day convention, which ends on Thursday, and brought the total number arrested to 22, according to Williams. Previously, five people had been arrested in three different incidents.
A group calling itself the Revolution Club had alerted reporters that they intended to burn the flag to protest U.S. policies, particularly military intervention overseas.
Previous protests around the convention have been largely peaceful.
"There are people that their only reason for being here is disruption, disorder, chaos, hurting people and damaging property," Williams said. "Those are the only people at this point that are giving us any kind of trouble at all."
Trump, a wealthy New York real estate developer, has drawn the ire of many Americans with proposals that include building a wall along the U.S.-Mexico border and restricting immigration from Muslim-dominated countries. He was nominated on Tuesday evening.
Police have confiscated items including gas masks, tent stakes and metal screws inside the secured zone around the convention site, where police are restricting such items, Williams said.
"Almost every prohibited item we have confiscated," Williams said.