Police Arrest Champion Boxer Filmed Battling Officers on Paris Bridge During Anti-government Protests
French authorities detained a protester who was filmed battling with riot police on one of Paris's central bridges this weekend.
The man, named by Le Point magazine as 37-year-old former professional boxer Christophe Dettinger, was taking part in the yellow vests, or gilets jaunes, anti-government protests that have been bringing French cities to a standstill since mid-November.
Read more: Will the yellow vest protests spread? Leftists threaten mass protests in Germany
Dettinger was captured somersaulting into a confrontation this weekend, throwing a series of punches at a riot police officer guarding a bridge crossing the Seine river, which runs through the French capital. As fellow demonstrators followed in his wake, Dettinger could be seen driving four officers back despite their riot shields, body armor and batons.
According to The Guardian, another video shot shortly afterward showed Dettinger, who was named French light-heavyweight champion in 2007 and 2008, kicking a grounded police officer in the face and head.
French police union SCPN wrote on Twitter, "Monsieur, you have hit a colleague on the ground. You have been identified. For a boxer, you apparently don't have a lot of respect or the rules. We're going to teach you those of the law."
Police attempted to arrest Dettinger, who now works in a town hall, at his home in Essonne, in the south of Paris, but he was not there. A tweet sent out by the French interior ministry stated that he later gave himself up to police.
Dettinger ended his professional boxing career in 2013 with a record of one draw, four losses and 18 wins, seven of which were by knockout. Jacky Trompesauce, his former trainer, told reporters that Dettinger's actions were "out of character" and urged Dettinger to surrender to police.
"I can see it's him from the pictures, but something must have happened that's not on the video," said Trompesauce. "He's a top-level sportsman, a respectful man not a yob … perhaps he couldn't stomach what the gendarmes were doing to people weaker than them."
Yellow vest–related violence, which has so far claimed at least 10 lives, continued elsewhere as citizens carried their disenchantment through to the new year.
In the Mediterranean city of Toulon, an internal police investigation has been opened into commander Didier Andrieux, who was filmed attacking multiple protesters. Andrieux said that one of those he had attacked had thrown a bottle shard at him, The Guardian reported.
Andrieux had previously been awarded the Légion d'honneur—France's highest award for gallantry—but also was issued a warning in 2015 following an alleged incident with a fellow officer.
Back in Paris, protesters were filmed using a forklift truck to try to break into a property housing government spokesman Benjamin Griveaux on Saturday afternoon. The spokesman was evacuated and taken out the back door to safety.
The French government said about 50,000 demonstrators took part in protests on Saturday and Sunday, marking the eighth consecutive weekend of action. The demonstrations began over a proposed fuel tax in mid-November, and have since grown to encompass a wide range of anti-government sentiments.
Though the movement is heavily decentralized, major demands include the resignation of President Emmanuel Macron and reforms to address the rising costs of living nationwide.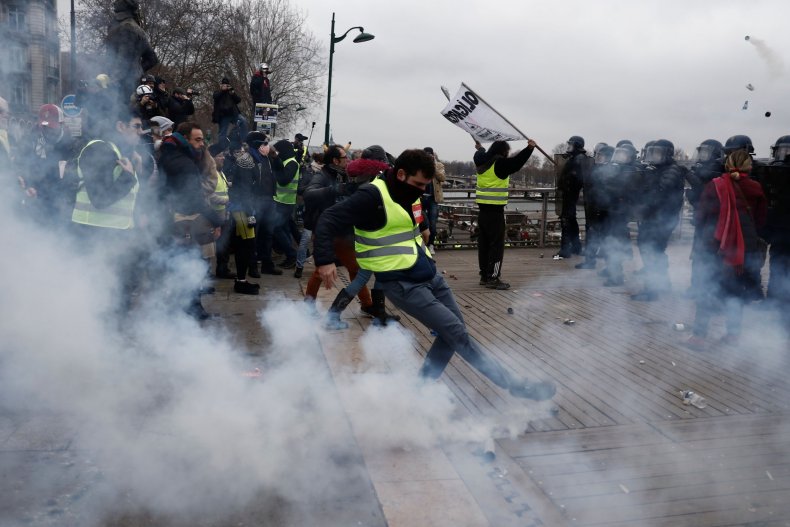 Police Arrest Champion Boxer Filmed Battling Officers on Paris Bridge During Anti-government Protests | World