Police Arrest Florida Woman Who Allegedly Tweeted She'd 'Shoot' Governor DeSantis
Police arrested a woman in Palm Beach County, Florida, over the weekend, after she allegedly suggested that she would "shoot" Republican Governor Ron DeSantis, as well as Republican Senators Marco Rubio and Rick Scott, in a tweet posted several days earlier.
The woman, identified as 55-year-old Karen Jones of Lantana, reportedly told Palm Beach County authorities the sentiment included in her Thursday tweet was meant as a "joke," according to the Miami Herald. Booking records filed by the Palm Beach County Sheriff's Office confirmed Jones was held in custody for one night following her Saturday arrest, and she was released on bond Sunday afternoon. Records additionally showed that Jones was charged with three counts of intimidation for sending "written threat[s] to kill." The charge is classified as a second-degree felony under Florida law.
Jones' arrest and charges came just over 48 hours after a post surfaced on Twitter, shared by an account that she ultimately claimed as her own, The Miami Herald reported. According to the newspaper, which obtained a copy of Palm Beach County detectives' affidavit, local authorities referenced the tweet directly in their documentation concerning Jones.
The social media post in question remained visible on Twitter late Monday afternoon. Retweeting a message from Washington Post reporter Hamza Shaban, which originally referenced a Miami Herald article chronicling the governor's push for "anti-mob" legislation in Florida, Jones reportedly wrote, "DeSantis, Rick Scott and Marco Rubio are looting my state. Imma shoot them."
DeSantis' proposal targeted individuals accused of crimes related to riots and looting, as part of his wider agenda to crack down on protests. The proposal followed months of demonstrations against police brutality and racism that erupted in Florida, and across the U.S., throughout the summer. Critics of the proposed legislation fear its passage would expand Florida's "stand your ground" law to allow civilian gun owners to shoot suspected looters or others suspected of crimes affecting businesses.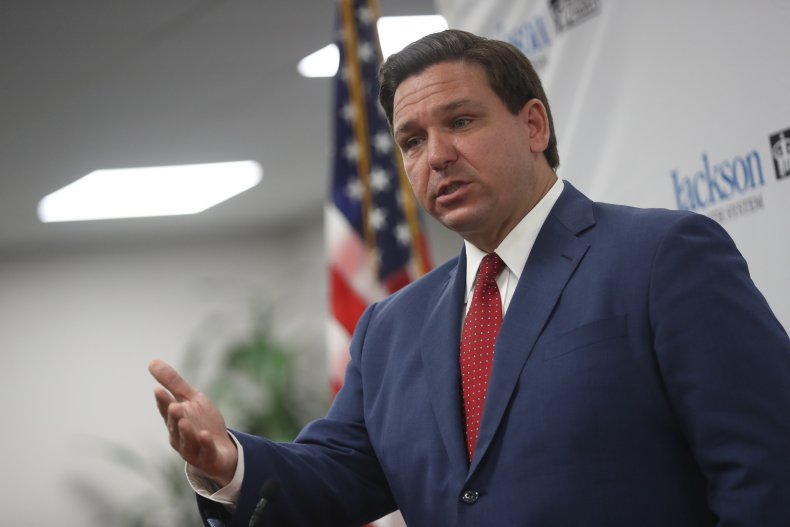 Palm Beach County Detective M. Horton reportedly acknowledged that Jones said the tweet was not shared with any intent to harm DeSantis, Scott or Rubio, in the affidavit related to her arrest.
"When I made the observation that there were no commonly used terminology to show the post was a joke, Jones stated that anyone who follows her knows her sense of humor," Horton wrote, according to the Miami Herald.
Newsweek reached out to the Palm Beach County Sheriff's Office for additional information and comments regarding Jones' arrest and charges but did not receive a reply in time for publication.