Police Arrest Gary Oliver for Stabbing Eric Adams Campaign Volunteer on New York Street
The New York City Police Department (NYPD) has arrested a man suspected in the stabbing of a man who volunteered on the campaign of New York City mayoral candidate Eric Adams.
On Friday morning, the NYPD identified the suspect as Gary Oliver. Oliver, 34, has been charged with attempted murder. Oliver is accused of repeatedly stabbing a 42-year-old campaign worker during an attack on the afternoon of June 20 on a Bronx sidewalk. The victim was hospitalized with injuries that weren't considered to be life-threatening and underwent surgery.
Police said they arrested Oliver at around 5:30 a.m. on Friday. The day after the attack, the NYPD announced they were searching for the attacker and another unidentified man in connection with the attack. No other arrests have been made as of press time.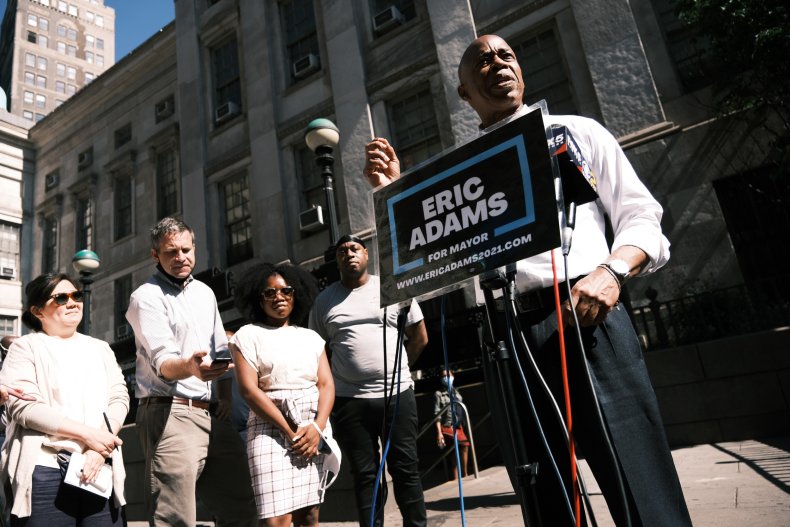 Following the incident, NYPD Chief of Detectives James Essig told the press the attack occurred outside a bodega and that the men appeared to know the campaign worker.
Video surveillance showed the victim shaking someone's hand when a man ambushed him from behind. Police later said they believe the man who approached from behind and allegedly carried out the attack was Oliver. The alleged attacker then left on foot with the man who had been shaking hands with the victim, according to police.
The NYPD posted video of the man they later identified as Oliver, as well as the other unidentified man accompanying him on Twitter. The man police said was Oliver was wearing a white tank top and a red bandana in the video, while the other man is wearing a grey sweatshirt and tan short pants.
Though the attack occurred two days before New York City's mayoral primary election, police said it was not thought to be politically motivated.
Following the attack, the NYPD said the victim initially was not being cooperative with detectives in the investigation. The victim also reportedly had more than 40 prior arrests himself, including for rape and firearms charges, police said.
Adams, the current Brooklyn borough president, tweeted about the victim hours after the incident. He wrote, "We pray for him. This violence must stop."
Fellow mayoral candidates Shaun Donovan, Kathryn Garcia, Scott Stringer, Maya Wiley, and Andrew Yang also tweeted about the stabbing.
Oliver, who is reportedly homeless, has been arrested more than a dozen times in the past, according to the NYPD.
The news comes as the results of New York City's primary for the Democratic ticket have not yet been officially announced. The City Board of Elections released numbers earlier this week that suggested Eric Adams had a slight lead over former Sanitation Commissioner Kathryn Garcia, but the officials later retracted their report after realizing test data that had not been cleared from its computer system caused further errors in the vote count.