Police Arrest Man Illegally Carrying Gun and Ammo Near White House, Asking About Oval Office
A man was arrested for illegally carrying a gun and ammunition near the White House after he asked about the Oval Office, according to police in Washington D.C.
Macias Santiago, 37, of Midland, Texas, was arrested on Friday, two days after President Joe Biden's inauguration, for carrying a firearm without a license, unlawful possession of a firearm, unregistered ammunition, and unlawful transport of a firearm.
According to court documents, he drove down Constitution Ave near The Ellipse on January 22 and parked his pickup truck in front of a parking meter, before asking a nearby D.C. police officer whether he could stop at that location. Santiago also told the officer that he "needed information about the Oval Office."
Police asked whether he was carrying a weapon after spotting a firearm holster in his vehicle. Santiago confirmed he was, and a search recovered a pistol, two loaded 8-round magazines, and a box of 79 rounds of ammunition.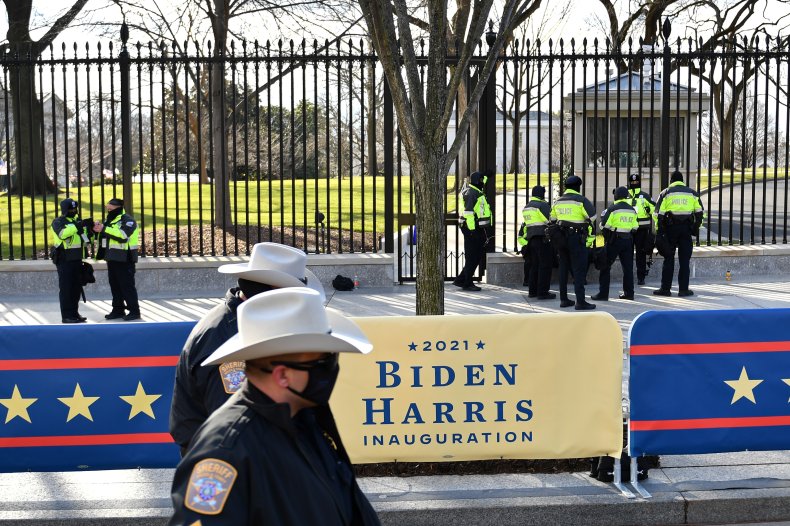 Santiago said he spoke little English and authorities provided him with a translator.
Newsweek reached out to the Metropolitan Police Department of the District of Columbia for additional information.
Meanwhile, authorities began removing security barriers that were safeguarding the vicinity hours after Biden's inauguration ceremony on Wednesday.
More than 25,000 members of the National Guard were deployed to D.C. in the aftermath of the deadly Capitol riot by a pro-Trump mob on January 6. Around 7,000 of them are expected to stay in the district until February, and 5,000 will remain until at least mid-March.
Following the Capitol siege, authorities and citizens feared that another attack could take place before or during Biden's inauguration. But the inauguration ceremony passed with few disruptions, following the increased security measures.
Multiple states, including Texas, California, Illinois and Pennsylvania, also increased their security measures or shuttered their capitol buildings in anticipation of potential violence on Inauguration Day.
First lady Dr. Jill Biden delivered cookies to Guard members on Friday to express gratitude for protecting the inauguration event's guests. "I just want to say thank you from President Biden and the entire Biden family," she said. "The White House baked you some chocolate chip cookies."
According to the FBI, more than 100 arrests have been made in connection with the Capitol insurrection and over 200 cases have been opened so far. The Justice Department has been inundated with information and are sorting through roughly 140,000 videos and photos that were received after authorities asked the public for tips and information.