Police Arrest Some Canadian Protesters, Prepare to Remove Truck Blockade
The Ottawa Police Service has begun arresting protesters as they prepare to clear a three-week-long blockade of the Canadian capital by truckers.
After warning the protesters, who are angry about the country's COVID-19 restrictions, to either leave on their own accord or face charges, police officers took action on Friday. Two of these arrests have been made public, with more expected to come throughout the day.
These arrests could mark a critical turning point in the trucker protests, which have been occurring throughout Canada over the past three weeks. They have resulted in blockades that shut down border crossings into the U.S., as well as Prime Minister Justin Trudeau's enactment of the Emergencies Act for the first time in 50 years, which gives his government greatly expanded powers.
"There is a large police presence on Nicholas Street, protesters are being advised to leave immediately," the Ottawa police wrote on their Twitter account. "Some protesters are surrendering and are being arrested. We ask protesters to remain peaceful and lawful."
The arrests come after the Ottawa Police Service established a secured area where the remaining truckers were located. This order was made to protect government buildings in case tensions escalated. On Thursday, the police said they were getting ready to remove more than 300 trucks, according to the AP.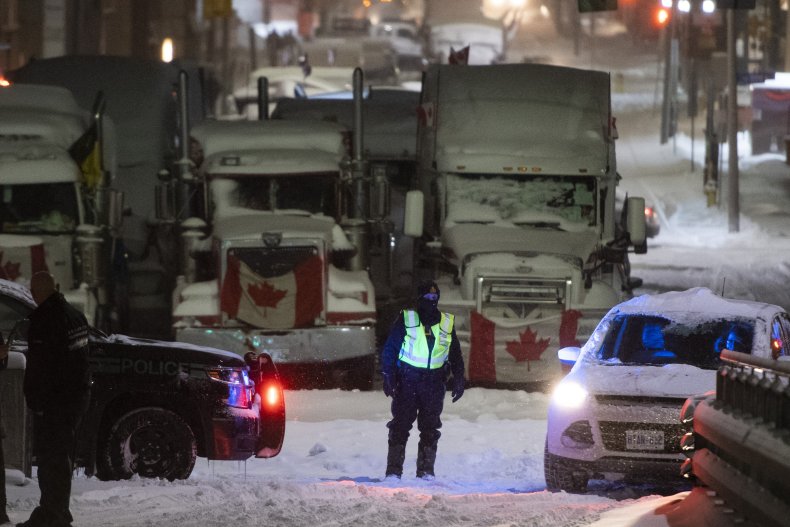 "We do not take this decision lightly, we know this will impact the residents. Please bear with us while we work to return the city to a state of normalcy," said interim Ottawa Police Chief Steve Bell in a statement announcing the secured area. "We want to reassure everyone that if you live, work or have a reason to be in the area that your access will be minimally impacted."
Among those arrested were Chris Barber and Tamara Lich, two prominent organizers of the truckers' Freedom Convoy. Newsweek has reported that the former's arrest was posted on Facebook. Both organizers have been charged with counseling to commit the offense of mischief, while Barber faces additional charges of counseling to commit the offenses of disobeying a court order and obstruction of police.
"We'll follow any direction of law enforcement," Barber had said on Tuesday. "We've said it right from day one: If you're confronted by a police officer and the handcuffs come out, put your hands behind your back. Take it like a man.
Lich expressed similar sentiment this past week over what she called her "inevitable" arrest.
"I'm OK with [being arrested," she said in a video, "and I want you to know that I am not afraid."
As arrests continue, the Children's Aid Society of Ottawa advised citizens to not engage with children that might be connected to the protests. The organization also urged parents to make "necessary alternate care arrangements if they become unable to care for their children" as the protests and arrests go on. No children have been transferred to society's facilities as of this writing.
Newsweek reached out to the Ottawa Police Service for comment but did not hear back before publication.
Update 2/18/2022, 10:28 a.m. ET: This story has been updated with background information.