Police Arrest Suspected 'Boogaloo' Member For Alleged Threats Toward California Health Official
Police arrested a man in Northern California last week for his alleged involvement in a series of threats sent to Santa Clara Health Officer Dr. Sara Cody throughout most of the new coronavirus pandemic.
Alan Viarengo, a 55-year-old statistics teacher at Gavilan College in Gilroy, faces charges for stalking and threatening a public official. According to an incident report filed by the Santa Clara County Sheriff's Office and acquired by Newsweek on Tuesday, Viarengo's suspected connection to two dozen concerning letters—mailed to Dr. Cody over a period of five months—also indicated his ties to right-wing extremist group, "Boogaloo."
Cody began to receive "irate and profane letters, emails and phone calls" after issuing a countywide shelter-in-place order at the onset of the COVID-19 outbreak in March, the incident report noted. Authorities assigned the health officer a security detail, which consisted of Sheriff's Office deputies, sergeants, and detectives, as a result.
The security team detected Viarengo's fingerprints while screening additional letters sent to Cody's residence during their assignment, the Sheriff's incident report continued. Detectives later initiated surveillance to monitor him, which, according to the report, allowed them to intercept one of the letters in question after Viarengo delivered it to a U.S. Postal Service location.
"After further investigation, detectives believe Viarengo sent a total of 24 letters o Dr. Cody, with the letters becoming increasingly aggressive, offensive and threatening," the police report stated.
The Sheriff's Office proposed "one anonymous author" wrote and dispatched all 24 letters, and suggested the individual's affiliation to Boogaloo, the extremist anti-government group allegedly behind various acts of violence committed during recent protests around the country. Its report said letters mailed to Cody "contained indicia of the 'Boogaloo Movement.'"
One envelope displayed a picture of an igloo, a symbol associated with the group, and the words "Let's Boogie," according to a report from KNTV, a Bay Area NBC affiliate that obtained documents related to Viarengo's August 27 arrest and subsequent court proceedings.
The incident report detailing Viarengo's arrest included photographs of 138 firearms, "thousands of rounds of ammunition," and explosives found Gilroy home when authorities took him into custody. It pointed out that Boogaloo members have become known for their pro-gun ideologies.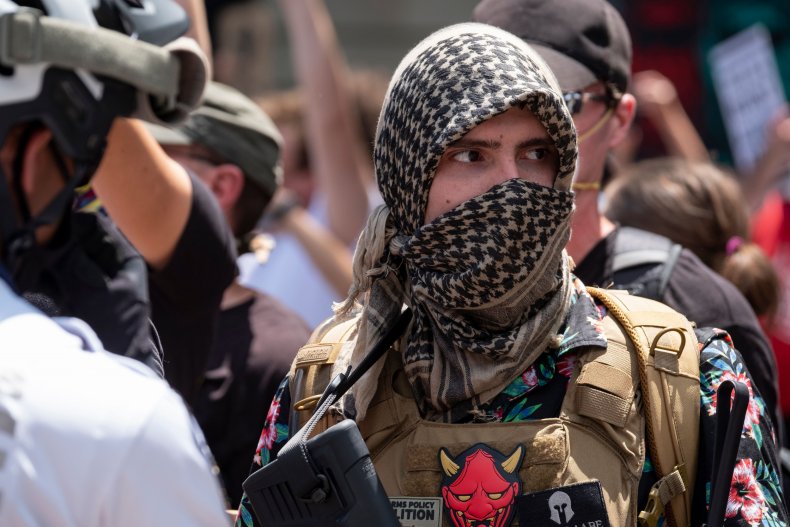 Arrest records confirm Viarengo is being held without bail at Santa Clara's Elmwood correctional facility, where he was booked on Monday after originally posting bond late last week.
Viarengo appeared in Santa Clara County Superior Court earlier that day, where Alexander Adams, the deputy district attorney, reportedly ordered his return to custody. Adams told KNTV the decision "was based on both the nature of his letters he sent to the victim, as well as the in excess of 100 firearms and thousands of rounds of ammunition and explosives that were found in his house."
Attorney Cody Salfen, who represented Viarengo during a court appearance last week, described the charges against him as "as full-blown sucker-punch style attack on Alan's character, his livelihood, his family, and apparently against the United States Constitution" in a public statement denying the court's claims.
Newsweek reached out to the Santa Clara County District Attorney's office for additional comments but did not receive a reply in time for publication.