Police Arrest Texas Man Who Set Fire to Democratic HQ Over 'Problems With the Country'
A Texas man has been charged with arson and possession of a prohibited weapon after he reportedly set a fire inside the Democratic Travis County Party Headquarters in Austin, police said.
Austin Fire Department arson investigator, Captain Jeffrey Dean, said that 30-year-old Ryan Faircloth on Wednesday reportedly threw a Molotov cocktail device inside the building, CNN reported.
Investigators believe that Faircloth intentionally set fire to the building for political reasons.
"I think it was one of those things, you know, that this person was not happy with the current political climate, he blamed this office and who they represent for a lot of the issues that he saw as problems with the country and for that reason this was an intentional act," Deane said.
He added that Faircloth was "forthcoming" and admitted that he lit the building for those reasons.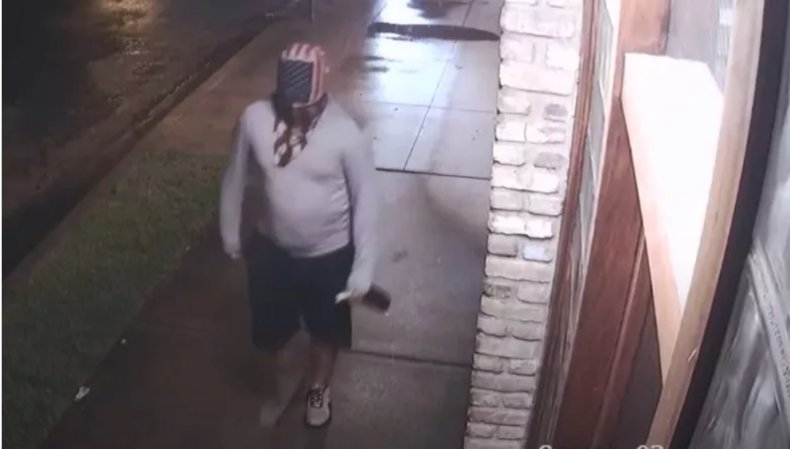 "This was politically motivated violence, and an attempt to scare Democrats away from political activity—to us, that's clearly domestic terrorism and we hope further charges will reflect this," executive director at the Travis County Democratic Party, Cynthia Van Maanen, told Newsweek. "We are relieved that there is some measure of closure already and await updates from the Austin Fire Department and the FBI."
Authorities said that the fire caused slight damage to the building and that no staff members were inside at the time.
Maanen said that the fire damaged some floorboards and the explosives caused some minor damage to the walls and ceiling.
"The damage might have been much worse, but our neighbors at a bar across the street heard the explosive and ran over with a fire extinguisher. They were able to put the fire out pretty quickly, which certainly prevented further damage," she added.
A Travis County Sheriff's Office spokesperson told Newsweek that Faircloth has been detained at the Travis County jail since October 1. According to CNN, he is being held on a $40,000 bond, according to arrest warrants.
The Austin Fire Department learned of the fire at the headquarters after responding to an incident involving the "use of an incendiary device" at the building on Wednesday. Neighbors managed to put out the fire using fire extinguishers.
In surveillance footage obtained by Newsweek, Faircloth was seen covering his face with an American flag bandana as he approached the building, carrying a bottle with a rag sticking out of the top.
Faircloth first threw what appeared to be a rock to break the window before he threw the Molotov Cocktail inside and fled the scene.
He also left a threatening note at the scene, according to Katie Naranjo, chair of the Travis County Democratic Party, which she said was political in nature.
Authorities didn't disclose what was specifically said in Faircloth's note, but Deane said that the gist of the letter was that Faircloth didn't want the Democratic party to have an influence on his city and state, according to CNN.
"In addition to that, he alluded that this may just be a warning and there could be future incidents," Deane added.
Maanen also didn't disclose the exact wording of the note, but she said that Faircloth made it clear in his note that his motivation was strictly political and the threat is targeting them because of their work of engaging voters and electing Democrats.
Maanen said that their party's office has been vandalized before in different incidents that were generally politically motivated and typically communicate some sort of threat, but "the incident this week involved a note with an explicit threat."
Naranjo insisted that the Democratic party in Travis County will not be threatened by such incidents.
"The Democratic Party believes in free speech, believes in your right to vote, and we will not be intimidated and we will not be threatened by any individual who will take such a cowardly act as to attack a democratic institution," she said during a recent press briefing outside the building.
"The only thing he did was light a fire for us to continue our call to tell people that they have a right to vote, [that it] is their duty to vote, is their ability to exercise their voice and participate in their democracy," she added.
Newsweek contacted the Austin Fire Department for comment but didn't hear back before publication time.
Update 10/3/21 at 3:44 p.m. ET: This story has been updated to include comments from a Travis County Sheriff's Office spokesperson and the executive director at the Travis County Democratic Party, Cynthia Van Maanen.