Police Attempt to Arrest Man Who Allegedly Spent Night In a Tree and Refuses to Come down
New York Police are working with a negotiation team in an effort to remove a man from a tree that he climbed up more than 24 hours ago.
NYPD responded to a 911 call about a domestic dispute inside a home in Queens, New York at approximately 12:45 p.m. Wednesday. The dispute involved an argument between the 44-year-old man and his mother where she claimed he threatened her. News4 reported that there was no physical altercation.
When police arrived at the house on 145th Avenue in Brookville the man started running away from them. ABC7 reported that the man then climbed onto a nearby roof and into an adjacent tree where he allegedly spent the night.
Police closed down the street as they waited for him to get out of the tree. But allegedly the man refuses to get down. "They tried to get him out but I guess he says he wants to stay up there," a neighbor told ABC7.
Another neighbor told ABC7 that some of the man's friends attempted to coax him out of the tree but had no luck. "They are going there and just aggravating him more," the neighbor told ABC7.
According to police, there is a previous warrant out for the man's arrest for allegedly punching a 50-year-old woman in Queens on September 30.
One of the man's neighbors, NYPD Chaplain Reba Perry, said that this was not the first time he has climbed into a tree. According to neighbors, the man did climb into his home window a few times throughout the day.
"This is something that he does all the time," Perry told ABC7. "He gets in the tree. It's not unusual for him to be in the tree. He's from Haiti. They climb trees."
Perry, along with hospital workers, a priest, police negotiators, and the man's brother all gathered under the tree in negotiation efforts, but the man allegedly refused to come down. Police even left a large mat in the front yard for the man to safely land on.
"Unfortunately when you have a psychological program that isn't claimed, you have to approach it differently," she told ABC7. "He's come down five times. It's unstable. He hasn't eaten since yesterday."
ABC7 reported that the man shouted from the tree that he was abused the last time he was behind bars, which was three years ago. "Don't tell him he has warrants for his arrest," another neighbor told ABC7. "When he thinks he's going to jail, and that's what he thinks now, he's not going down."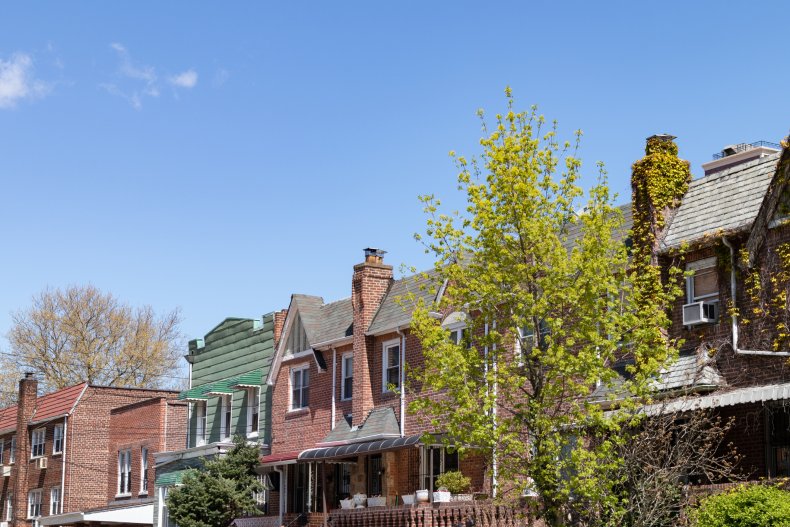 But this isn't the first time a suspect has tried to escape police by hiding in a tree. In Oregon, a man attempted to evade police by running through a field and hiding at the top of a tree. In June, the Linn County Sheriff's Office got a report about a disturbance where the suspect left the scene in a green Mustang.
When police located Adam Ames, he was found at the top of a tall tree in a field. According to police, Ames refused to come down from the tree. But a deputy trained in crisis negotiations was able to talk him into coming down.
Ames was taken into custody and booked on several charges including two counts of violating a restraining order, two counts of reckless driving, elude on foot, elude in vehicle, and violating a release agreement, according to police.