Police Barricade Pro-Donald Trump Activists Inside London Bar to Protect Them From Anti-Trump Demonstrators
A small group of supporters of President Donald Trump has been barricaded inside a bar in Central London by police for their own safety, as tens of thousands of Britons march against the president's state visit.
According to The Independent, the group of some 20 pro-Trump demonstrators was dragged into the Lord Moon of the Mall pub near Trafalgar Square, where anti-Trump demonstrators gathered this morning for a march towards Parliament Square.
The newspaper quoted police on the scene who said a confrontation arose as a result of a "verbal disagreement" between pro- and anti-Trump activists, after which officers decided to isolate the pro-Trump marchers for their own safety.
Cries of "Nazi scum off our streets" rang out as police—including officers on horseback—corralled the pro-Trump supporters into the bar, while demonstrators also chanted: "Police protect the fascists."
Footage shot by the Metro showed officers pushing Trump supporters into the bar as anti-Trump marchers surrounded the small group.
Though hugely outnumbered by anti-Trump demonstrators, supporters of the president have been making their voices heard as the commander in chief reaches the halfway point of his state visit.
The below graphic from Statista shows the opinion of the British public towards a selection of American politicians, indicating the low opinion of Trump in the U.K.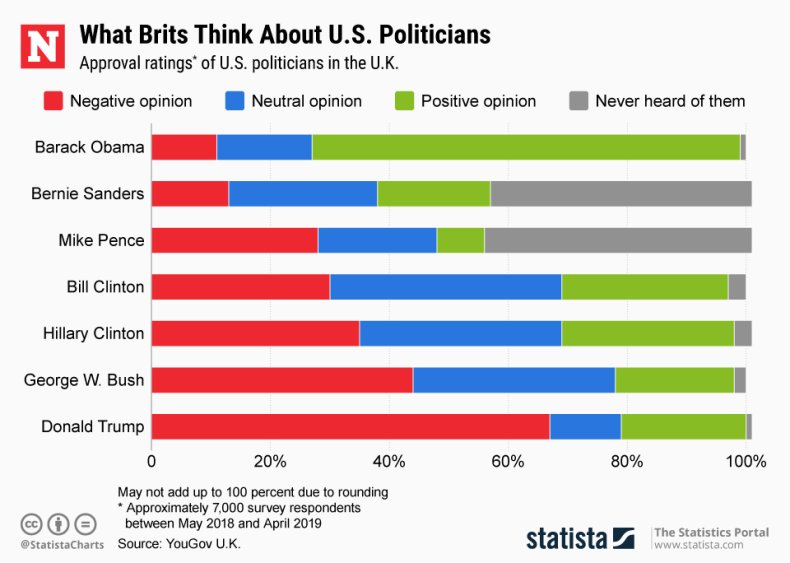 The Independent said that around a dozen officers remained outside the bar keeping the activists separated. They were joined by members of the bar's security team, who can be seen alongside police in photographs from the scene.
As police moved anti-Trump demonstrators back towards Trafalgar Square, clashes broke out between officers and activists from both sides. Police were then forced to close part of the road to clear the demonstrators. Officers at the scene told The Independent there had been "a melee between opposing political groups," describing the situation as "chaos."
The Lord Moon of the Mall pub refused Newsweek's request for comment on the incident.
London's Metropolitan Police Service confirmed that there had been an incident, and told Newsweek that a "small counter-protest group" was "escorted into a nearby public house" after officers became aware of a "rise in tension" between marchers. "No arrests were made and no injuries were reported," a spokesperson explained.
Past pro-Trump rallies have been organized and attended by British far-right activists, often in concert with events supporting anti-Islam provocateur and former soccer hooligan Tommy Robinson—real-name Stephen Yaxley-Lennon.
The Independent spoke to several Trump supporters, including one wearing a "Free Tommy" badge—a reference to Yaxley-Lennon's conviction for contempt of court after he was charged with breaking reporting rules by filming defendants during a court hearing.
One of the men told the newspaper that many of those marching against the president did not really "believe in what they were saying," an apparent allegation that protesters had been paid or otherwise incentivized to attend.
A pro-Trump attendee who gave his name only as John, told The Independent he was marching in defense of free speech. The 22-year-old former soldier said the president "has a right to be here. It is a matter of free speech." John claimed that anti-Trump marchers "are undemocratic."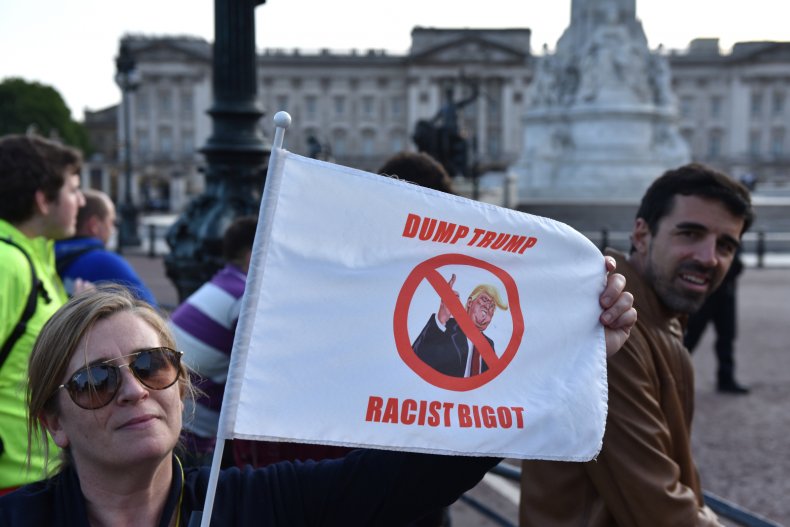 Police Barricade Pro-Donald Trump Activists Inside London Bar to Protect Them From Anti-Trump Demonstrators | World