Police Burned With Acid As Hundreds of Migrants Charge Border Crossing
Seven policemen were burned by battery acid and quicklime when hundreds of migrants charged a border fence between Spain and Morocco on Wednesday, according to The Telegraph.
One hundred and sixteen out of around 300 migrants made it into Ceuta, Spain's North African enclave, while Moroccan police were at a prayer ceremony at around 9 a.m., AP reported.
"All my support to those security forces who are facing the migratory challenge in an exemplary way, especially the agents who were injured today," Pedro Sanchez, the prime minister of Spain, tweeted following the incident. "The government works for dialogue and cooperation with countries of origin and transit for a common, efficient and humanitarian management of migration."
Migrants allegedly threw the battery acid and quicklime at officers while crossing the border according to the Guardia Civil. Five of the 116 migrants who made it to Ceuta were injured and required hospital treatment.
Fifteen police officers were hurt in a similar incident last month when about 800 people stormed the border fence with shears and hammers. Five hundred and eighty-six of the 602 people who made it across the border were taken to a temporary reception center.
"In an attempt to stop the Guardia Civil getting close to the break-in area, the migrants…[pelted] officers with plastic containers of excrement and quicklime, stick and stones, as well as using aerosols as flame-throwers," the Guardia Civil said in a statement at the time, according to The Guardian.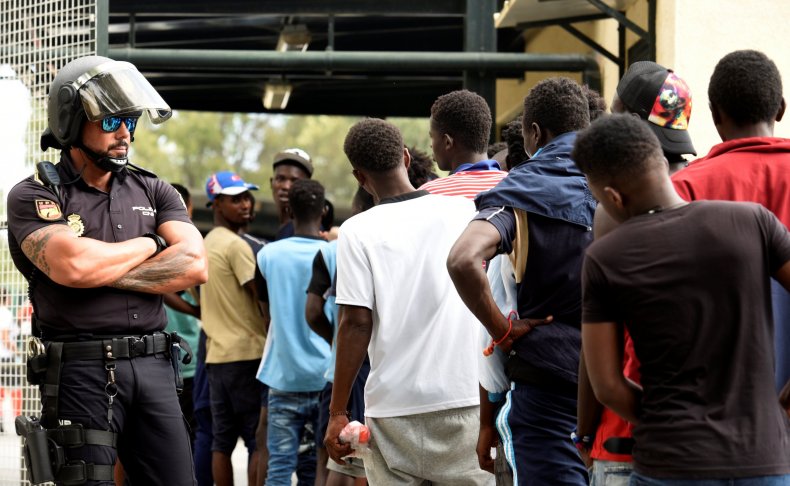 Every year, migrants attempt to cross barbed wire fences into Ceuta and Melilla, another Spanish enclave to the east, reported AP.
Thousands of migrants have entered Spain this year having traveled across the Mediterranean Sea. According to the International Organization For Migration, "63,142 migrants and refugees entered Europe by sea in 2018 through August 16, with 26,350 to Spain, the leading destination this year."
Officials in southern Spain are beginning to worry because they don't have the means to manage the arriving people.
"We've never, ever, ever had 1,000 migrants arriving in Spain each weekend. And all this could just be for starters: There's a lot of the summer left and there are thousands and thousands of migrants arriving on the coasts of North Africa and thousands and thousands more who have been waiting to cross for months or years," said José Ignacio Landaluce, the mayor of Algeciras, reported The Guardian.